The Forbidden Planet chain of comics stores is actually two chains of comic stores. They split in the '90s to become Forbidden Planet South and Forbidden Planet Scotland, later Forbidden Planet International as the latter grew beyond Scotland to include stores throughout the Midlands, in Wales, Northern Ireland, Ireland, and majority ownership of two stores in New York City.
While Forbidden Planet consolidated stores in the South of England, including London, as well as northern stores in Newcastle and Liverpool.
Forbidden Planet has the website forbiddenplanet.com while Forbidden Planet International has the website forbiddenplanet.co.uk.
Both are used as online retail operations — or at least they were. Because on forbiddenplanet.co.uk, the following notice was just posted, announcing that the online store aspect of the site will be shuttered in a week.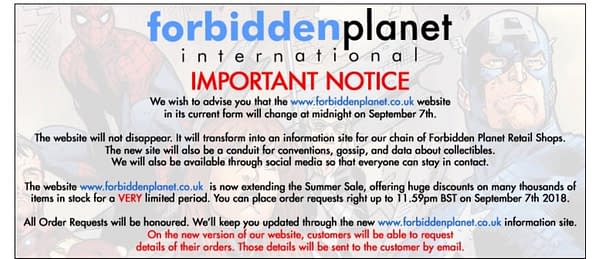 While the Forbiddenplanet.com site has issued the note:
"Please note that this website is Forbiddenplanet.com and we have no connection with the co.uk site. We are not ceasing to trade and all orders will continue to be dealt with as normal."
Most retail operations are moving towards online sales. Forbidden Planet International seems to be taking the opposite tack…
Enjoyed this article? Share it!