Okay, so this may have partially been my fault. Only partially. In February last year, John McCrea and Gerry Duggan announced their new crime comic, Dead Rabbit and published an ashcan edition of the comic. Shortly afterwards the Dead Rabbit bar in New York, which published its cocktail lists as Dead Rabbit comic books, that can be bought separately, filed a registered trademark for the phrase in relation to comic books.
When Dead Rabbit was then published by Image Comics, the bar sent a cease and desist notice to Image Comics and the New York branch of Forbidden Planet, selling the comic, announcing they would sue for millions. Image Comics and Diamond issued a mandatory recall of the comic book.
And now, a year later, the comic book will be republished as Dead Eyes. And it looks like the 'rabbit' theme and imagery has been dulled down. This is how the cover looks now…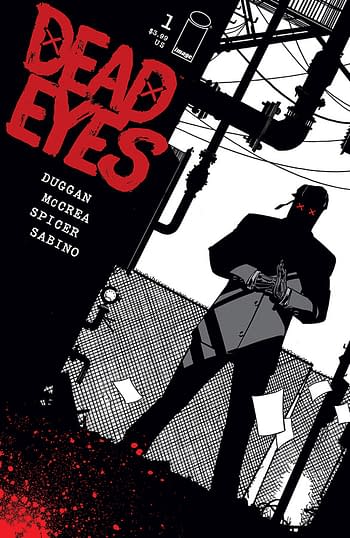 …as compared to last year.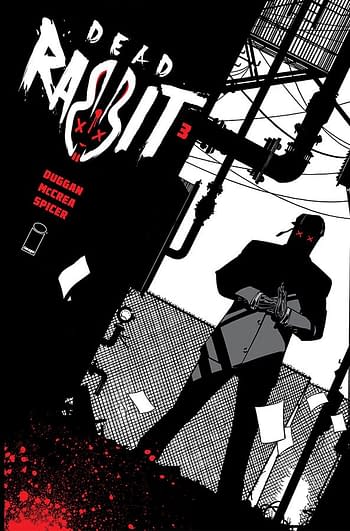 The name Dead Rabbit came from an Irish street gang in the Five Points. Infamous proto-supervillain, the Catwoman-like Hell-Cat Maggie was an early member Dead Rabbit in the 1840s. Indeed, lots of superheroic and villainous iconic imagery comes from that time.
But Dead Eyes will do. The series will now relaunch with an oversized first issue this October. And no one mentioning Dead Rabbit anywhere at all…
Set in the 1990s, "Dead Eyes" was a prolific stick-up man and hoodlum in Boston until he took down one last big score and disappeared. Nobody ever discovered the truth. He retired to be with the love of his life, but now he's back in the mask to save her. No one—not his wife, the mafia, or the cops—is happy that he's out of retirement.
Dead Eyes hits comic shops on Wednesday, October 2.
Enjoyed this article? Share it!