Glorious SPX – Gary Panter on Manifestos, Acid Trips, and Being In a Secret Cult of Writers
One of the special guests for Small Press Expo this year is Gary Panter, whose most recent book, Daltokyo, debuted at SPX last year, leading to plenty of fans walking around with the elongated green volume like some kind of military weaponry peeking out of their bags. Panter's more than varied, and more than influential career, as well as his engaging social media presence, has made him a kind of godfather for a multidisciplinary approach to comics and so all-embracing that artists from a wide range of mediums feel he's a guiding influence. Bill Kartalopoulos introduced Panter for their question and answer session after a long, filing line waited his arrival, and decribed Panter as "extremely progressive across multiple media, comics, painting, TV, print-making, sculpture, drawing, and animation" to the point that it "feels like one body of work". The goodwill that Panter generates may be partly based on his ability, as Kartalopoulos described, to "embrace the world of art and bring it into the world of comics".
Kartalopoulos started off by saying, "mainly today I would like to talk about Facebook", which prompted plenty of amusement from the audience. He was referring to the Facebook page "Gary Panter Fans" where a seemingly bottomless well of strange and interesting Panter work is regularly posted. Panter commented that it makes him feel like people are asking, "Haven't you done enough drawing already? Just retire". Kartalopoulos had a different take on the Facebook phenomenon, describing it as a "retrospective of your career curated by a robot run by some kind of number randomizer", and displaying some of the rarities and stranger items for the audience, asking for commentary from Panter.
It's getting easier to find Panter's "rarities" these days, as Kartalopoulos observed, in contrast to the extremely limited print runs that have previously rendered Panter's work a kind of magical "rumor" in the comics community. The biggest "totem" from Panter's work was the series Jimbo, a trophy to find in print. Panter feels that his readership is still essentially a cult following, though recent years suggest he's reached a solid comics-influencing status to the younger generation as well.
"My readership has never been large, always the right 2000 people", he said.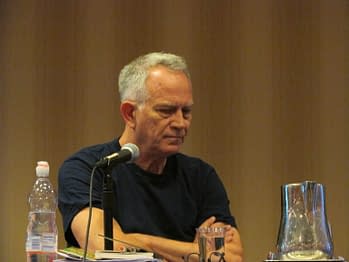 Panter described his need to get out of the limitations of his childhood environment through art, "Growing up in a little town where culture came from the drugstore, or maybe television". It was highly motivating for Panter, who decided: "I wanted to be one of those people who could give people some kind of mental triggers" to reach beyond their environments to a more questioning state.
Kartalopoulos presented an image of a notorious article written by Panter, "The Rozz-Tox Manifesto" and asked Panter how seriously it should be taken as a commentary on culture. Panter clarified that it was "a joke manifesto", but "if there is content in this", it's a diatribe against "shitty cartoons from the 70's" which he felt were likelt to "destroy kids brains". 70's cartoons, for Panter, were built on "one sound effect and tune behind every story". It was long after this that ground-breaking animated shows like Wren and Stimpy and The Simpsons provided edgier and more varied alternatives for kids to watch. Panter described "hanging out a lot" with Matt Groening and discussing how important it was to both of them to get "messages out into culture".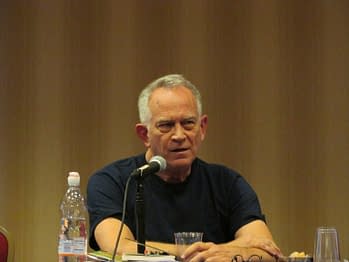 Panter discussed his legendary work designing the sets for the show Pee-wee Herman, and confirmed that he felt there was an "explicit connection" between working on a kids show like that and writing the "Rozz-Toxx Manifesto". He had always wanted to design a kids show since he himself was a kid, but it was a job with certain limitations for him. When you're a commercial artist, he said, "you really need to solve peoples' problems" rather than be a "stylistic innovator". Though the Pee-wee Herman work was a "job" and "only for a few years", it's the most well-known pop culture aspect of Panter's career. Panter said people come up and say, "Oh you're the guy that designed Pee-wee Herman. Forever. But that's ok".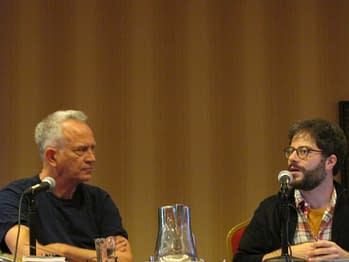 Panter commented on his identity as a writer, one that he feels is still developing, and not an area of great confidence for him. He's in a "secret cult" of writers, 100 in number, which he was invited to join online, and that has contributed to his sense of moving forward. He's approaching "longer works", such as a version of Milton's Paradise Regained. He's trying to move into "traditional storytelling", actually, and hopes it will be "the normalist thing I've ever done" in comparison to his otherwise "giant body of experimental work" so far.
There was also plenty of talk in the panel of acid trips both good and bad where Panter saw "commercials from the future", hippie beads that need to come back into fashion, and the different expectations that Panter feels between paintings, which need to be "magnetic" and comics, which need to flow and move. He's a man on the move, and regardless of his impression, none of his fans, Facebook or otherwise, are wondering when he'll "retire". They are watching, carefully, and with great enthusiasm, for what comes next for Gary Panter.
Hannah Means-Shannon is senior New York Correspondent at Bleeding Cool, writes and blogs about comics for TRIP CITY and Sequart.org, and is currently working on books about Neil Gaiman and Alan Moore for Sequart. She is @hannahmenzies on Twitter and hannahmenziesblog on WordPress. Find her bio here.