 Gary Gray, our Senior Scottish Correspondent, writes;
Grant Morrison opened his talk at this years Edinburgh International Book Festival with openly acknowledging his debt to Alan Moore. How strange considering how fractured their relationship has been in recent years. Morrison revealed that his own route back into comics was by reading Alan Moore's comics in Warrior. Morrison's talk was in the much larger Baillie Gifford main theatre with 570 comics fans packed in. This was the third year in a row that Morrison has had a talk at the Book Festival, and while it wasn't quite sold out it was damn near close. Chairing this event was Joe Gordon of Forbidden Planet Edinburgh. A shop that started out as the Science Fiction Bookshop where a certain Grant Morrison got his first break as the seminal Near Myths comic was published by them. Appropriate then, that Bryan Talbot was in the audience. Talbot who wrestled the comic away from the guys who sat round doing too much weed and created the extremely hard to find influential issues.
Joe chose Near Myths as the first topic of discussion, synchronicity was in the air. Grant discussed the comic at length, about it being the first adult comic (quite a claim) The audience was lapping up the talk of dope and chips and mad ideas. Morrison loved the dope and chips reference so much he decided it would be the title of his autobiography!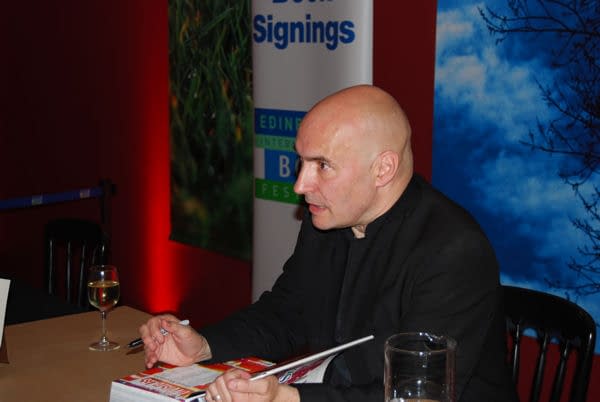 Mad ideas was the theme of the talk, from discussing the Her Majesty's love of 'Shade the Changing Man', to Dan Dare really being a fascist, to we're all actually living in a parallel earth. Bonkers fun, and Joe Gordon really was the perfect chair. It's often the case that the chair is there to promote themselves and dominate the chat. Not Joe, he knew exactly the right questions and when to throw the talk over to the audience. Subjects ranged from his run on Action comics, where he revealed he was as bored with superheroes acting as soldiers fighting for the military industrial complex and not liking Superman killing Zod in the movie. On Wonder Woman, Joe showed his class as Morrison had discussed at length this project for the last two years running and many in the audience really didn't want to hear it again (there's so much more we want to know about) and we got a quick anecdote about how he approached the sexuality of the piece as super bizarre formalised!
'Seaguy Eternal' was also touched upon with some of the plot revealed for the first time, with Seaguy off on an adventure to Lostralia and Morrison wanting this book to be his book about death and maturity. Another of his upcoming works, 'Multiversity' was discussed and what would happen in a Nazi dominant culture where the architecture would be amazing, but society corrupt.
Comic questions were what the audience were desperate to ask. What comics he is reading: Scott Snyder's Batman and Michael Kupperman's Tales to Thrizzle. Revealing that he read Snyder's Batman was a bit of a surprise, especially when he was asked if he was missing writing Batman to which he brought the house down as he wouldn't have Bruce Wayne inside his head telling him to go for a run in the morning which was growled in his best Batman impression. This led to, in my mind, the best anecdote of the night as he was asked what characters he would like to play in a film, and he reckoned he'd make a great Wolverine's Dad, finally settling on Lex Luther – "Now You're Fucked Superman!" Which sounds so much better spat in a soft Glaswegian accent!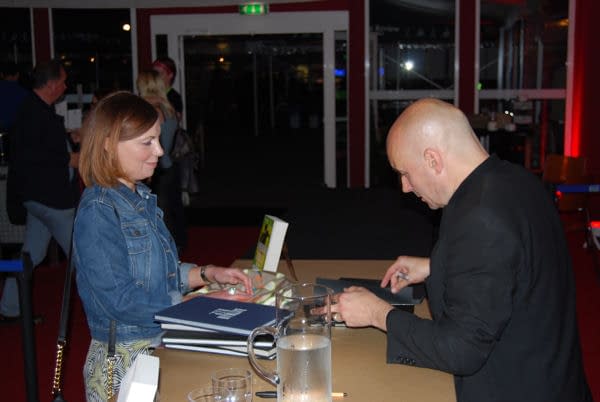 All this talk about Batman and Superman almost inevitably led onto what he thought of Ben Affleck's casting as Batman. Now fanboys you've been breaking the internet senselessly for the last week over the news of the casting, so read the following words that Morrison had on the casting very carefully "LET'S SEE THE PERFORMANCE." Wise words from Mr. Morrison.
The last question was a sublime end to a surreal talk. Yes, he was asked about his experiences in Kathmandu, and off he went giving the full story of silver aliens taking him to Alpha Centauri. It was like the time Led Zeppelin got back together and actually played like they used to, yes it was that good a performance.
You'd have thought that Morrison would have been shattered at this point, but hell no; the audience then followed him to the signing tent where he signed for at least the next three hours, and no simple thanks 'I love your work' signing was this one. Morrison was heard to be discussing "The Imagination and Fifth Dimension" with many of the fans.
There the first night of the Stripped strand at the Book Festival ends. Now normally this would be more than enough for comics fans. But this was only the warm up. There was a massive 35 or so events still to come…..