Guardians Of The Galaxy #13 Review: Cosmic Adventure
Throneworld under threat! The nascent alliance of the Kree and Skrull peoples calls Throneworld 2 its capital. Still, the techno-organic Progenitors have come to play, grabbing citizens, subjecting them to impromptu mutagenic experiments, and consuming whatever is left for research purposes. This calls for a response from Emperor Hulkling, leader of the alliance, and his husband, court magician Wiccan.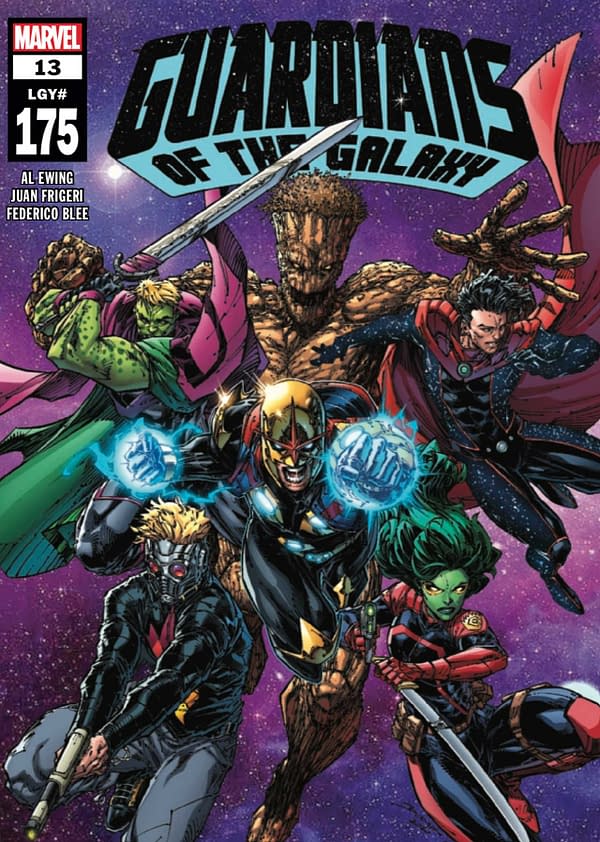 The character moments here have some nice resonance — Star-Lord is back from the perception of death, the Emperor makes a dashing figure on the battlefield, Nova makes a show of being a tough guy and the appearance at the end? That's the way to make a freaking entrance. This Al Ewing script excels in single moments but doesn't connect those moments so well.
There's fantastic visual work done here by Juan Frigeri, Federico Blee, and Cory Petit, giving some fantastic scenes (that last scene, for certain), great action, and a crowd shot that's really impressive. It's well worth noting that the matching jackets are a great touch and seeing the Super-Skrull coordinating everything from the big board.
If you love cosmic adventure, this is enough fun for a momentary diversion, but it feels like it's intended for the trade, not giving you the whole business in this single issue installment. RATING: HONORABLE MENTION.
Guardians Of The Galaxy #13
By Al Ewing, Juan Frigeri
A NEW AGE OF SPACE STARTS HERE! They were soldiers, misfits, mercenaries, thieves and a family. They were heroes but times have changed. The galaxy no longer needs heroes. It needs super heroes! Now, when the call goes forth – whether it's from a stranded team of planetary explorers or Emperor Hulkling and his Kree/Skrull Alliance – the Guardians of the Galaxy answer! The New Age of Space brings a new artist! New headquarters! New costumes! New teammates! And an all-new enemy you'll have to see to believe! Get on board, true believer – it's going to be the ride of your life!