Retailers have been told that if they want a retailer exclusive cover of DC Crimes Of Passion #1, as seen in the recent DC Comics February 2020 solicitations, they had better hurry up. Retailer exclusive variant covers for DC Crimes of Passion will be strictly limited to only the first five retailers who request them. All retailer exclusive variant covers for this title will feature one of the following DC duos, available to retailers on a first-come, first-served basis.
* Batman and Catwoman
* Harley Quinn and The Joker
* Nightwing and Batgirl
* Green Arrow and Black Canary
* Batwoman and the Question, Renee Montoya
Harley and Joker together again? After all the hard work Jimmy and Amanda did? And it seems, no Harley Quinn and Poison Ivy. Which may be no surprise seeing the cover for the final issue of their series, out the same month.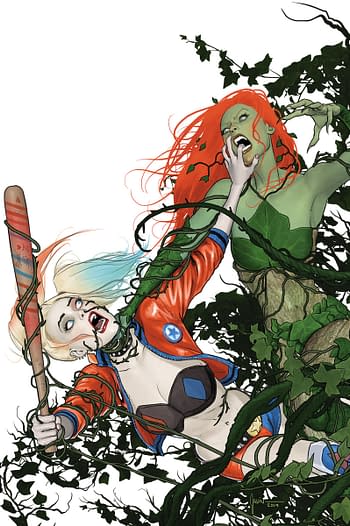 HARLEY QUINN AND POISON IVY #6
written by JODY HOUSER art by ADRIANA MELO and MARK MORALES cover by MIKEL JANÍN
It's the end of the road for our Gotham City sirens…and the revelation of Poison Ivy's shocking secret will rock you to your core! Will Harley Quinn be able to make the ultimate sacrifice to become the hero she so desperately wants to be? Or will old habits die hard and end Harley and Ivy's friendship forever? ON SALE 02.12.20 $3.99 US | 6 OF 6 | 32 PAGES
Other, less restricted retailer exclusive covers for February also include The Flash #750 and DCeased: Unkillables #1.
For more info on required order quantities and pricing please contact Stuart Schreck, DC's Manager – Sales, no later than Monday, November 22nd. All orders for custom retail variants must be finalized by Friday, January 17. No orders will be accepted after that date…
Enjoyed this article? Share it!