DC Comics have plenty of promised deaths in the upcoming Heroes In Crisis series by Tom King and Clay Mann. One prominent DC character and plenty of canon fodder. And no, that's not a typo.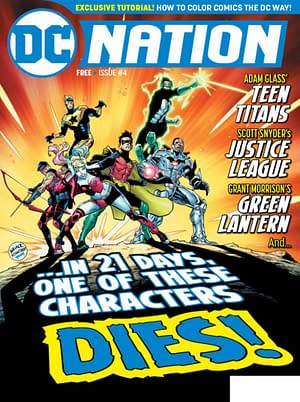 Bleeding Cool has already revealed the first confirmed death of the series. A relatively minor character, and you can read who that is right here.
But I understand it wasn't the original choice.
At a writers summit where this was decided, King originally told the assembled throng that the first death would be that of Bunker. A character created for the Teen Titans for the New 52 relaunch, but who hasn't been seen much of late.
UPDATE: I have been getting significant spin back on the original article above, rather that it was DC Comics who included Bunker on their List Of Death Possibilities and Tom King and Jamie Rich who removed him from the death list. After publication, I got a response from Tom King who clarified things, confirmed that Bunker was on the list but rejected by himself and editor Jamie Rich at the Writers Summit. However, further sources indicate there was a meeting with DC writers in which it is possible this narrative was confused – people believing the decision was made in the room, rather than it being acted out for the participants to demonstrate the decision…
The article follows as before with a couple of noted amends…
However, as soon as it was stated out loud, DC editorial pushed back, with Bateditor Jamie Rich stating that DC Comics wasn't going to kill off their only teenage gay Mexican character. Even if they aren't actually publishing him in anything right now.
Not saying the replacement character isn't also problematic. But maybe not quite as problematic. Merely Civil War or Civil War II-style problematic…
Also, it took Scott Snyder two years before he was able to cut off Alfred's hand. So beware, Bunker, Tom King DC may still be gunning for you…
HEROES IN CRISIS #1 (OF 7)
(W) Tom King (A/CA) Clay Mann
There's a new kind of crisis threatening the heroes of the DC Universe, ripped from real-world headlines by C.I.A.-operative-turned-comics-writer Tom King: How does a superhero handle PTSD? Welcome to Sanctuary, an ultra-secret hospital for superheroes who've been traumatized by crime-fighting and cosmic combat. But something goes inexplicably wrong when many patients wind up dead, with two well-known operators as the prime suspects: Harley Quinn and Booster Gold! It's up to the DC Trinity of Superman, Wonder Woman and Batman to investigate-but can they get the job done in the face of overwhelming opposition? In Shops: Sep 26, 2018
SRP: $3.99
Enjoyed this article? Share it!