Sean Phillips is at Portsmouth Comic Con, selling his work, sketching and signing, and talking about his work from Image Comics with writer Ed Brubaker. What he isn't talking about (yet) is a new original graphic novel is drawing and colouring, also written by Brubaker, called My Heroes Have Always Been Junkies. I only know about it because there's an Amazon listing for My Heroes Have Always Been Junkies, which describes it thus:
The first original graphic novel from the bestselling creators of CRIMINAL, KILL OR BE KILLED, THE FADE OUT and FATALE.

Teenage Ellie has always had romantic ideas about drug addicts, those tragic artistic souls drawn to needles and pills have been an obsession since the death of her junkie mother ten years ago. But when Ellie lands in an upscale rehab clinic where nothing is what it appears to be… she'll find another more dangerous romance, and find out how easily drugs and murder go hand-in-hand.

MY HEROES HAVE ALWAYS BEEN JUNKIES is a seductive coming-of-age story, a pop and drug culture-fueled tale of a young girl seeking darkness… and what she finds there. A gorgeous must-have hardback from the award-winning team of Ed Brubaker and Sean Phillips.
Out in October. If you are at Portsmouth Comic Con, why not come by his booth and ask him about it, and watch him be unable to answer for now?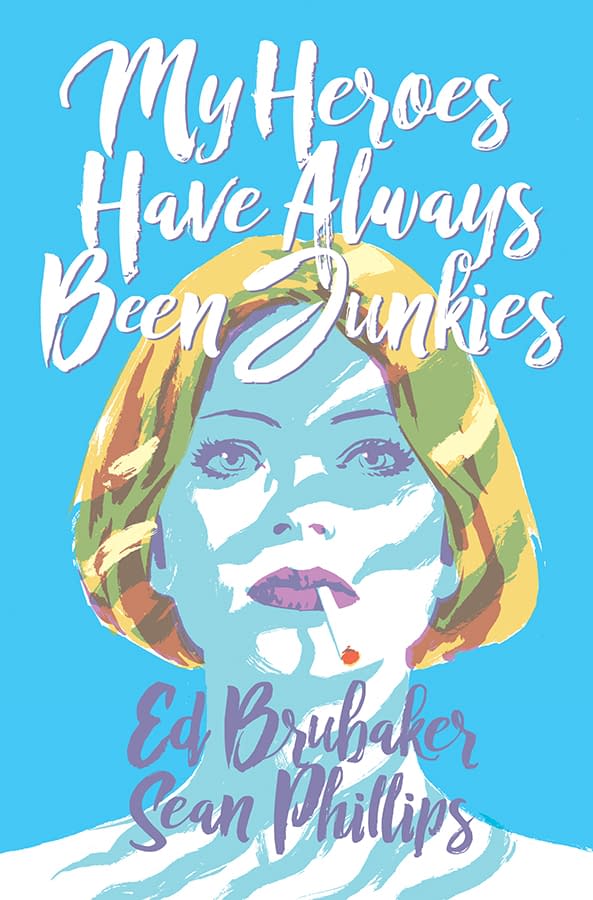 Oh, and yes, for those unfamiliar, 'My Heroes Have Always Been Cowboys' was recorded by Waylon Jennings on the 1976 album Wanted! The Outlaws, and further popularized in 1980 by Willie Nelson as a single on the soundtrack to The Electric Horseman. 'My Heroes Have Always Been Cowboys' was written by Sharon Vaughn.
Enjoyed this article? Share it!