How Leviathan Rising Turns Lois Lane Into a Bad Role Model (Spoilers)
Leviathan Rising, the DC Comics one-shot that kicks off not only "The Great One" Brian Bendis's Event Leviathan event comic, but also the Lois Lane series by Greg Rucka and Mike Perkins and the new Jimmy Olsen comic by Matt Fraction and Steve Lieber, makes some big, shocking changes, and no, we're not just talking about Jimmy Olsen's new wife.
It all starts when Clark Kent allows himself to be kidnapped by Talia Al Ghul, but when something goes wrong and Clark doesn't make it out, Lois begins to get worried. And it's then that the vices take over. Starting with… excessive coffee drinking.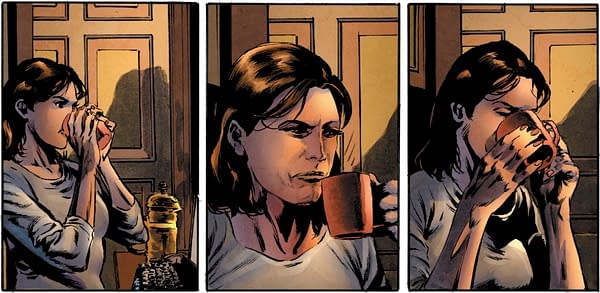 But it doesn't end with the reckless consumption of caffeine. What's that on your desk, Lois? Is that a bottle of whiskey?
But none of that compares to what happens next. As the hours stretch on with Clark nowhere to be found, Lois cracks open the freezer for some emotional binge eating. Inside, she grabs a pint of ice cream which actually contains a phone, a hotline to contact Batman. But that's not all Lois finds in the freezer…
Yes, that's right. Cigarettes. Lois does make that call. And when she goes to meet Batman, well…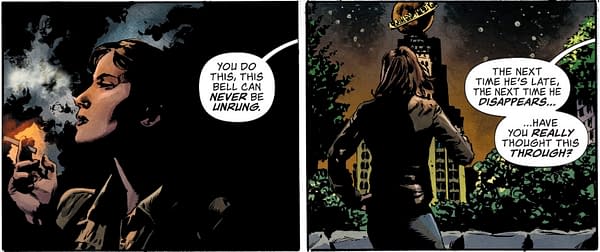 Oh yeah. She lights up. She inhales. Lois Lane is a smoker. Something generally not allowed in Big Two superhero comics, unless of course you're John Constantine, and he can hardly be considered a role model — the guy hangs out with Batman while Batman hangs dong. But Lois Lane, ace reporter, tough as nails… she's someone to look up to. Or she was.
Look, all I'm saying is that I read Leviathan Rising on Wednesday, and now I'm a half-pack-a-day smoker. Yes, I was also a half-pack-a-day smoker before reading the comic (it helps take the edge off the crack), but is that really relevant here? The point is, think of the children. You know, all the children who pay… *checks notes*… $9.99 for a comic book, see their hero, Lois Lane, smoking a cigarette, and immediately go out and, presumably, rob a liquor store to get their hands on some smokes because they're nearly impossible to buy these days, almost as expensive as comic books.
Is Lois Lane a bad role model? Are comics the new gateway drug? Where's Frederick Wertham when you need him? All these questions, and more… well, okay, none of those questions, but some other ones, can be answered by picking up Leviathan Rising, in stores now.
Superman Leviathan Rising Special #1
(W) Brian Michael Bendis, Matt Fraction, Greg Rucka, Marc Andreyko (A) Steve Lieber, Mike Perkins (A/CA) Yanick Paquette
An all-star roster of writers and artists highlight the new threat of Leviathan, but also tees up new ongoing series for Jimmy Olsen by writer Matt Fraction and artist Steve Lieber, and Lois Lane by writer Greg Rucka and artist Mike Perkins, coming in June! As Leviathan enacts a plan to take down Superman, it's up to Lois, Jimmy and the heroes of the DC Universe to rescue the Man of Steel.
In Shops: May 29, 2019
SRP: $9.99