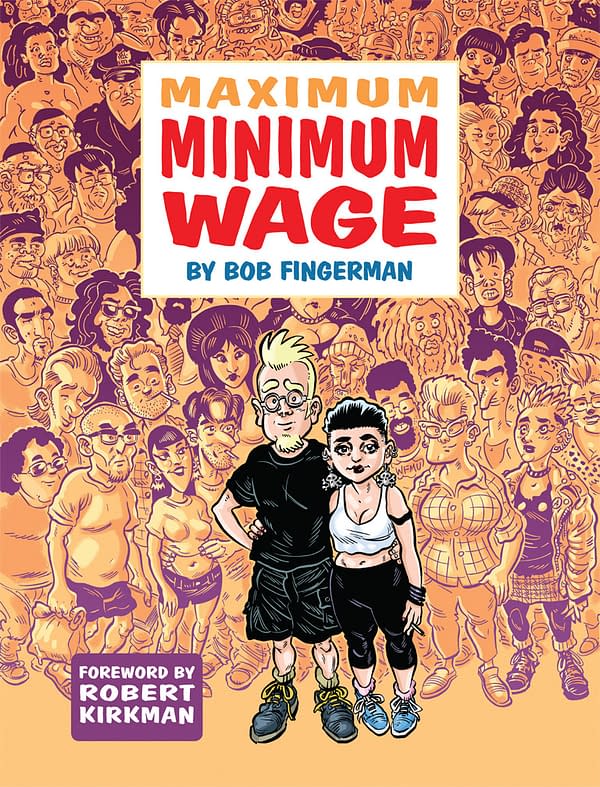 I feel instrinsically linked to Bob Fingerman's Minimum Wage. A slice of life/semi-autobiographical comic, I read it in my early twenties and found myself in part judging myself and my life against it. I measured my sex life against the comics' narrative, my ambitions, my social life, all my #firstworldproblems. It meant a lot.
One person who probably did the same was Robert Kirkman. He used to write fan letters in to the comic, and twenty years got Image to publish Minimum Wage as Maximum Minimum Wage in a massive 384 page hardcover from his Skybound studio at Image Comics. It has an additional gallery with congtributions from Mike Mignola, Kevlin Nowlan, Gilbert Hernandez, Dave Johnson, Jill Thompson and more, and a Kirkman introduction.
And now I get to visit again. The collection is piblished March 20th. It belongs on your bookshelf. Under your bed. On the side table. And then lodged permanently inside your head.
Here's what some more people have to say about it. Some of them are famous.
[youtube]http://www.youtube.com/watch?v=GJ6ciypGsGw[/youtube]
Enjoyed this article? Share it!