Tomorrow sees the publication of Uncanny X-Men #10 (concluding the Disassembled story) with all manner of mutants pitted against a Nate Grey-possessed Legion, trying to remake the world in the image of everyone else. But realizing, even as a god who has rid the world of religion, it's not that easy.
And so, at the conclusion of the issue, so SPOILERS ON everyone, Nate Grey, realizing that the X-Men always win no matter what, decides to do something about that.

By getting rid of them all. No More Mutants, or rather…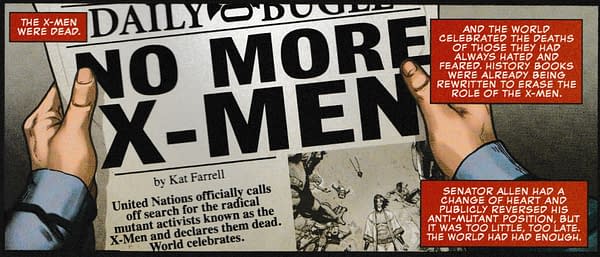 …No More X-Men. And everyone volunteering their children to take the anti-mutant vaccine.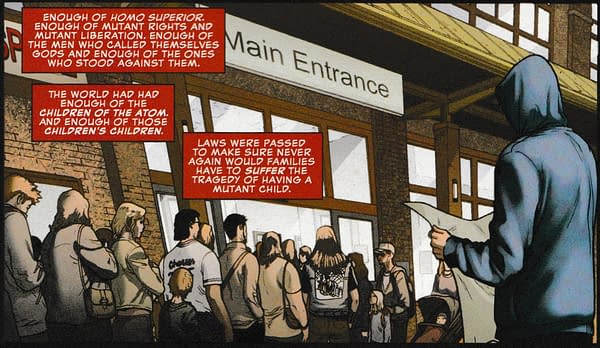 ….although they may have missed one…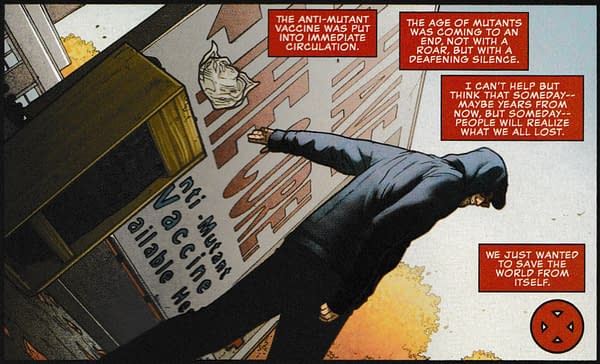 ….did you get that? The final panel, realize what was going on? If not the back matter has you covered.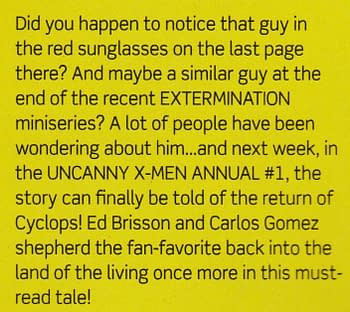 Red sunglasses…I suppose if you squint. If you have to point out what was actually in the final panel for people to get it, it may be worth revisiting. Also making red sunglasses a bit more obvious.
Age Of X-Man will show us where the mutants went–to a world of mutants, but one missing a very important factor. Is that what Nate Grey fears most? The influence of love, of family, of relationships?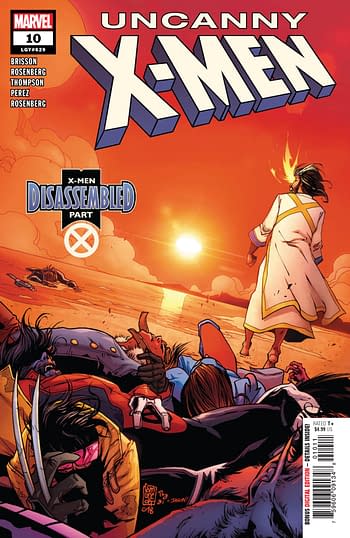 UNCANNY X-MEN #10
(W) Ed Brisson, Kelly Thompson, Matthew Rosenberg (A) Pere Perez (CA) Giuseppe Camuncoli
From the Age of Apocalypse to the end of the X-Men…and the dawn of the AGE OF X-MAN???
Rated T+In Shops: Jan 16, 2019
SRP: $4.99
And you know what is coming…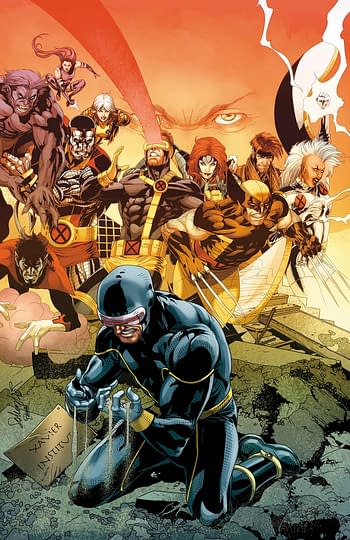 UNCANNY X-MEN #11
(W) Matthew Rosenberg (A) John McCrea, Juanan Ramirez (A/CA) Salvador Larroca
SPECIAL OVER-SIZED ISSUE!
After the devastating events of "X-Men Disassembled," it falls to Cyclops to rebuild the X-Men in the face of overwhelming hatred. Thankfully, he's not the only X-Man to have just returned from oblivion. Scott and Logan are together again, and they are mutantkind's only hope. Writer Matthew Rosenberg and returning superstar X-Artist Salvador Larroca lead the X-Men into their darkest hour…and beyond!
Rated T+In Shops: Feb 06, 2019
SRP: $7.99
Enjoyed this article? Share it!