"I Never Visit Manhattan Or Outer Space Without A Good Fedora" – David Avallone On Altered States: The Shadow
Mark Rahner, writer of Twilight Zone: Shadow and Substance #3, talks with writer David Avallone about Altered States: The Shadow one shot, both on sale now. Cover art by Billy Tan.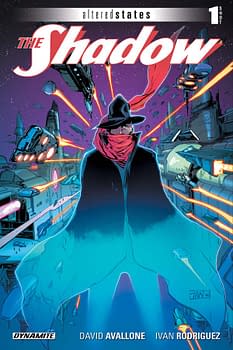 MARK RAHNER: What's the elevator concept for Altered States and how The Shadow fits in.
DAVID AVALLONE: The elevator concept for Altered States is essentially "Dynamite's What If Elseworlds". They asked me to put the Shadow in a futuristic setting, and maybe take his physical body away from him. And so I did.
MR: I always thought The Shadow was very much a character of his time – with the fedora, scarf, pistols – who'd look absurd anywhere else. But I also think that about Superman. What's your take on that?
DA: I never visit Manhattan or Outer Space without a good fedora, scarf and pistols, but to each his own. For me, the stark iconic costume of the Shadow is kind of timeless and I always like seeing it. Superhero costumes are a harder sell for me. Black goes with anything. Brightly colored skintight combat leotards I have much more trouble with.
MR: It's a Shadow science fiction story! How do you think Shadow purists will react to the story? And is there a name for them? "Silhouettes," maybe?
DA: I would hope the Shadow purists will recognize their hero, even in this setting… but you can't please everybody. Not even the "Silhouettes". That sounds a little bit like a 1950s vocal group. I prefer to call them "The Sons of Shrevnitz." (Google it.)
MR: Related: Are you a Silhouette? What's your history with The Shadow? Have you been a fan of the original pulp novels?
DA: I am not a purist, but I am a big fan. I read the pulps when I was a kid. (I'm not 90 years old, but my dad had them.) I always loved the character. I've mentioned this elsewhere, but I even worked one day as an extra on the terrible Alec Baldwin movie, out of fondness for the Shadow.
MR: As an H.P. Lovecraft freak, I perked up at your title, "The Shadow Out of Time." How much Lovecraft is in the story, and are you the same sort of freak?
DA: I'm glad you caught it. I remember a time when there were no Cthulhu plush toys and H.P. was largely forgotten except for lunatics like you and me. There is no explicit Lovecraft reference in the story (aside from a few tentacled and multi-eyed monsters), but I thought it would be fun to use the title and mean a different kind of Shadow.
MR: Remedial Part 2: You're primarily a film editor? Can you give us a brief montage of your assorted film and comic work?
DA: I have worked long and hard to ensure that my bizarre, meandering career makes no sense to anyone, least of all me. At one time or another I have worked most jobs in the film industry, and came to comics on the advice (and with the help) of my friend Allison Baker. I've edited feature films, I was one of the first directors to try a web series (in 1999, long before it was smart), and generally bounced around Hollywood doing whatever nutty thing I could get paid for. (I was a grip on the first season of Power Rangers, for example.) Interested parties could check out my web page (davidavallonefreelance.com) and be further confused.
MR: What are your thoughts on Ivan Rodriguez' art?
DA: Ivan's art is fantastic. I couldn't love it more. There's not a lot of dialogue in the piece (I don't' think the Shadow is chatty), and the art really has to carry the story… create awe and excitement and danger. The comic is in many ways my tribute to my favorite cosmic comics the late 70s/early 80s and Ivan's work evokes the same feelings for me that those books did.
MR: True or false: There are few problems that can't be solved with a couple of pistols and a scary laugh.
DA: I think it was Al Capone who said, "You can get more with a kind word and a gun than just a kind word." All kidding aside, one of the keys to this story is that it's not the guns (those fail him instantly), but his keen intellect that makes The Shadow so dangerous. The scary laugh is just the icing on the Cake of Justice he's serving. Yes, I said Cake of Justice.
For more on Altered States: The Shadow, click here.