IDW's "Big Panel" At Baltimore Comic Con – From Ragarok To Bruce Wayne Eating Pizza, Starfleet Academy And More Featuring Walter Simonson, Dirk Wood, James Tynion IV, and Greg Goldstein, IDW's Big Panel panel kicked off with a discussion of the 15 year history of Simonson's book Raganarok. Simonson explained the ways in which his series was similar and differed from the traditional myth of Ragnarok, since different creatures survive, such as the Midgard Serpent. The "great enemies have won" and hundreds of years pass, but Thor comes back "not knowing what happened". Learning of the death of his family, he takes his hammer and goes looking for his enemies. The first 6 issues are this story, and the collection of the first 6 issues concludes that first arc. Thor is about to go hunting at the end of 6. Simonson adds a "black elf assassin and his daughter and wife" in the new arc. The story will also involve the "Lord of the Dead" since there has been a changing of the "order". Hela appears not to be in charge of her domain anymore, but instead a Lord of the Dead has arisen. He, unlike most others, is aware that Thor is still alive. The "consequences" of those actions is in the second arc coming in December. Simonson says he has 5 years' worth of stories and a complete time-line planned for a longform story. The book is colored by Laura Martin and lettered by John Workman, Goldstein added.
Asked how he presents Thor in this story, Simonson said that in Ragnarok, he sees Thor in a "grim" way. Since Thor has had the "world he knew destroyed", and the gods are dead with surviving enemies, the 9 worlds are out of balance and have collapsed into "one vast landscape" called "The Dusklands". It's all that's left of the 9 worlds. An example of the character's personality is in this dusk world itself.
In Norse Ragnarok mythology, there are wolves who consume the Sun and the Moon, and die doing so. So now there's no acting sun and moon in Simonson's story. From inside the rotting carcasses, the world continues to exist, and that's why it's called "The Dusk Lands". That informs Thor, Simonson said. He's very "choleric". He's also not "dumb" though he has a temper. He goes nuts for moments, but sucks it back in. "I want a character who's not an Einstein, but not a dumb guy, but full of anger, who's decided his mission is to go out and kill a very large number of things".
Simonson is also creating "lesser bad guys", like Lord of the Dead, based on a guy with a cursed sword from Norse mythology. His character will be defined by his world, his foes, his purpose in life, and the way he interacts in this world completely full of death. Hell is also broken in this story, though that won't be discussed until the 3rd story arc. But because of that, Thor will find that find the world is full of "Norse zombies", and "nar". (oathbreakers, adulterers, murderers, from the deepest part of hell) and the "draugr". Thor is given to protect mortals. This is a medieval world, even though it's predominantly non-human. Thor's main purpose is not to set the place to right, but if he meets mortals, who are serfs and slaves, he will protect them. It's an agrarian world, though the dwarves have created "teleportation gates" to get around and trade in gold to do so. The first time Thor uses one of these gates, Thor has no lower jaw and is asked how he talks, to which he responds "it's a trick". He faces an attack using the gate from dwarves, and threatens them if there are any problems getting where he needs to go. There is some humor behind how Thor interacts with others, despite "depth of knowledge" of war and "quick anger".
"It's a light-hearted romp through a world of dead guys", Simonson joked.
James Tynion IV took the focus of the panel next, and Goldstein spoke about the ways in which IDW have done crossovers with companies you might otherwise see as "competitors" to the company. One of the most recent is Batman/Teenage Mutant Ninja Turtles to be written by Tynion IV. Tynion described the crossover as "the definition of a teenage dream" to use two properties that have never interacted before. The story is going to "take the Turtles into Gotham City from New York and take place in the DC Universe, but they did not come alone". Shredder and the Foot Clan are also part of the conflict. Batman and the Turtles are going to have to "understand each other" to survive and make sure "everyone can get home". Tynion said he completed the second script this week and has seen the art come in on the first issue. Writing it the "first time I got to put words in the Turtles' mouths is only comparable to the first time I got to put words into the mouth of Batman". There's a "true voice" that writers are trying to get to for these iconic characters, but it's changing with the times as you try to reach an "iconic core".
To sit down with the Turtles and see them "come to life" has been something "very special", he said. He's still at the point of the story where Batman and the Turtles are "clashing" and there are "pizzas in every issue", Tynion said, laughing. When Goldstein heard the series was greenlit, he said, "I just want to see Bruce Wayne eating a pizza". Tynion said he wants to see the "moment before that" which would be Alfred accepting a stack of pizzas at the door of Wayne Manor for delivery. Goldstein said that Freddie Williams has been a perfect choice for artist since he'd be someone they'd look at as a new Turtles artist anyway. Eastman has been doing the variant covers, and this is "something he's been wanting to do for years", Dirk Wood said.
There are two other crossovers Kevin Eastman wants to do, Goldstein said, and it's his "Mission Impossible" to make them happen. They would be "just as great", Goldstein teased.
Goldstein said that IDW has been "quiet on the Rocketeer front" for a while and have been looking for the right project for the character. Now they're ready for "Rocketeer at War", a 4 issue miniseries launching in December. A print related to the series will be arriving at New York Comic Con, capturing the retro feel from the era. Archie Month is coming up in December with variant covers touching on different eras of Archie, capturing that "spirit". This is all ahead of Archie's 75th anniversary next year. Archie is about "diversity", and have a long history of making accessible comics. Most of the licenses they approached are Archie fans and were happy to jump onboard. All these licensors and creators learn to "trust" IDW and are more inclined to let them follow their ideas after seeing how they work out. Sabrina, for instance, went perfectly with X-Files.
There are "not a ton of comics meeting a 50th issue" this year, Wood said, but it's gratifying to see Turtles hitting that number. Kevin Eastman has been an "integral part" of the series, and it's been on time as a monthly book consistently. He's helped develop storylines that had been a "pipe dream" for him previously.
Star Trek is hitting #50 in time for the 50th anniversary of Star Trek next year, and that sets us space for Starfleet Academy as a series. This series will deal with the learning period behind becoming an officer, has a nice feel, is "fresh and young" and is a great YA/entry point comic. Derek Charm is the artist on the series. He's been allowed to "design new races" to mix in with the "current crew".
Transformers is coming up on Sins of the Wreckers.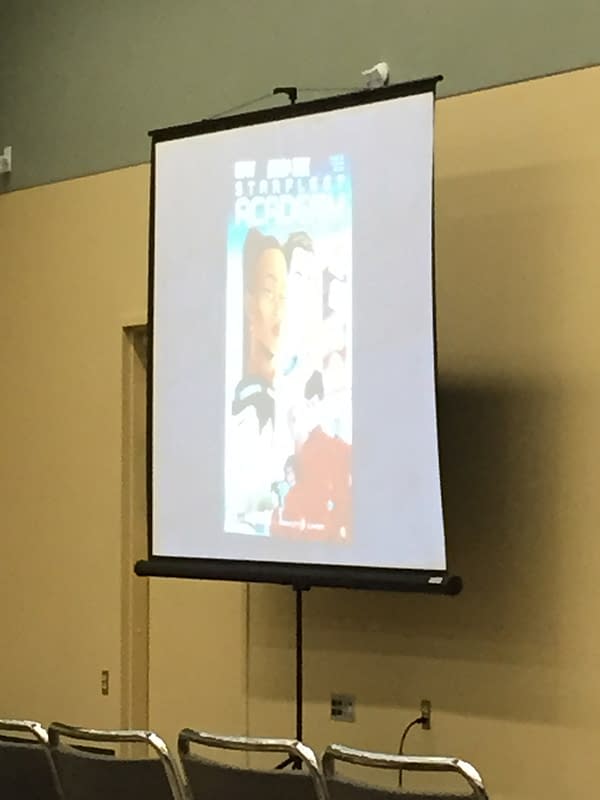 Back to the Future is coming up from IDW, and the date that Marty McFly travels to in the film happens to be in about a month on a Wednesday, the day the first comic will arrive. About a year ago, after many years of approaching Universal/Amblin about the comic, Goldstein started hitting the "panic button" on them since 2015 was approaching. He finally got the go ahead and had to act quickly to put the series together in time for the date in the film.
Ghostbusters was a property like Back to the Future, that they'd been courting beforehand. Fans just come out of the woodwork and are pleased with the series' interaction with the original property.
Fear and Loathing in Las Vegas was up next and Dirk Wood assured us, but did not show us, his Hunter S. Thompson tattoo from many years ago. IDW was nervous about the book since it was such an iconic property but Troy Littles has "knocked it out of the park".
Empire, by Mark Waid and Barry Kitson, is coming out in print, in the arc "Uprising". This was originally a Thrillbent series, and the Thrillbent-originated series The Eighth Seal will also be coming out from IDW this December, Tynion's first ever creator-owned series as writer. It was also his first non-superhero series.
Star Wars is coming up as the first Artist Edition, containing material from the first 10 issues and the rest is from the adaptation of the movie, created by "many hands". Next year they'll be working on Empire Starts Back and Return of the Jedi. Micro comic collector's packs are coming from IDW based on Star Wars, including movie adaptations, some which need 3D glasses. They'll be in a "trading card" type box for sale.
IDW Games has had a big interest in Machikoro, especially since it's family friendly, and will continue to support the property.
The Micronauts team will be announced soon, most likely at New York Comic Con, and release in the first quarter of 2016. Rom will not be far behind.
There's a My Little Pony Art Book coming out in time for the holidays, being "wrapped up" at the moment.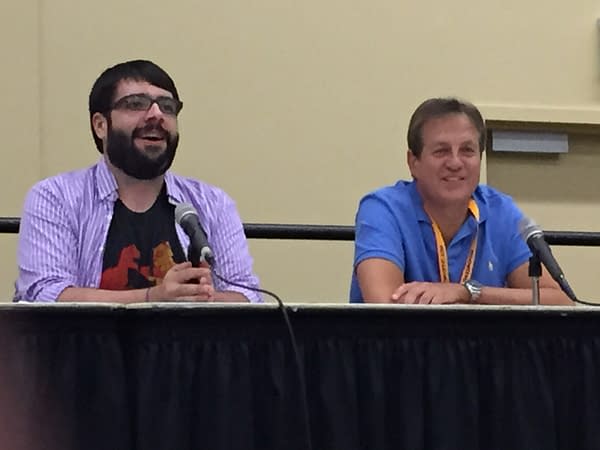 Asked about Rom comics, Goldstein said, this is not a "continuation", but an updated Rom "in his own universe with IDW". But hopefully containing many elements that fans like. But much as they've updated Jem and Transformers to create "new paths", so will they do with Rom.