This April, Image Comics will publish a new graphic novel from Nicholas Afleje and Sarah DeLaine called Little Girls, and to promote it, they're sending the creators on a national concert tour. And no, this isn't one of those times Image sends out a press release announcing a book signing tour and we hype it up like it's a rock tour. This time, they really are concerts. Seriously. Just look at the press release:
PORTLAND, OR 03/11/2019 — In celebration of Little Girls hitting shelves, debut creators Nicholas Aflleje and Sarah DeLaine will go on a 12 city national book tour this May—with events featuring live band performances—to promote the release of this haunting new standalone graphic novel.
Sadly, it looks like Afleje and DeLaine will not be delivering the musical performances themselves. Instead, they'll be at comic shops where there are live bands playing. Below, see the list of tour dates. Little Girls hits stores on April 24th.
Something hunts people on the outskirts of town…

Sam and Lielet are two new friends living in Ethiopia. They're dealing with the kind of problems that all kids have: judgmental social cliques, condescending adults, alienation… and a legendary brain-eating monster straight out of folklore. Sure, it's not going to be easy, but all they have to do is live through it. Showcasing a quietly unsettling plot and building tension similar to Nick Drnaso's Sabrina and Adrian Tomine's Killing and Dying, Aflleje and DeLaine construct a poignant story of otherness and mystery.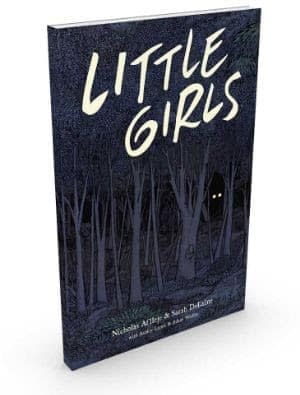 April 27 – Jacksonville, Florida
Coliseum of Comics – Riverside
featuring Sleepless and Glazed
May, 6 – Orlando, Florida
BAMF! Comics & Collectibles
featuring Vivian K and Body Heat
May, 7 – Charlotte, North Carolina
Heroes Aren't Hard To Find
featuring Petrov and more
May, 8 – Washington, D.C.
Fantom Comics
featuring BRNDA and more
May, 9 – Philadelphia, Pennsylvania
Brave New Worlds – Old City
[bands TBA]
May, 11 – Brooklyn, New York
Anyone Comics
[bands TBA]
May, 12 – Pittsburgh, Pennsylvania
New Dimension Comics – Waterfront
at 3 Rivers Comicon
May, 13 – Chicago, Illinois
Challengers Comics + Conversation
featuring KACHI the BAND and Gentle Heat
May, 14 – St. Louis, Missouri
Apotheosis Comics & Lounge
featuring Jr. Clooney and more
May, 16 – Dallas, Texas
Red Pegasus Games & Comics
featuring Two Knights and more
May, 17 – Austin, Texas
Austin Books & Comics
featuring Luvweb and Mean Girls
May, 18 – New Orleans, Louisiana
Crescent City Comics
[bands TBA]
Enjoyed this article? Share it!