Image Comics has canceled the print run for Near Death Vol. 3 OGN, originally scheduled for release next month, and will instead release the book as a digital original on ComiXology and Image's website. Writer Jay Faerber made the announcement on Twitter, revealing that Image did not feel there were enough orders to print the comic.
Some disappointing news: pre-orders on the upcoming NEAR DEATH OGN were so low that Image has opted not to print the book. It'll be made available instead as a digital original, via Image's site and @comiXology. Comics is a tough business, friends. pic.twitter.com/oMpd0M1SGh

— Jay Faerber (@JayFaerber) January 10, 2019
Comics industry professionals frequently tell readers that pre-orders are important to keep comics from cancellation, a result of a flawed direct market system that tends to incentivize base gimmickry, like reboots, variant covers, and super-mega-crossover events, over-compelling storytelling, and quality production. Still, it's the only system we've got for now, so if you do want to see your favorite comics survive–especially if they're not top sellers–pre-ordering so that your retailer knows how many copies they should buy from the publisher is currently your best bet.
The paperback version of Near Death is currently still listed for pre-order on bookseller sites including Amazon but is not listed on PreviewsWorld. Presumably, the release date for the digital version will remain the same. You can pre-order the digital version, now the only version, here.
NEAR DEATH, VOL. 3 OGN TP
WRITER: Jay Faerber
ARTISTS: Gigi Baldassini, Ron Riley, Simone Guglielmini
COVER: Garry Brown
Series: Near Death
Published: February 6, 2019
Diamond ID: NOV180072
ISBN: 9781534310353
Age Rating: T+
Cover price: $16.99
Former hitman Markham returns! He's setting out to balance the scales after a near-death experience, using his mercenary skills to save people—instead of killing them. In this original graphic novel, Markham is offered an early parole from his prison sentence. There's just one catch: he'll have to extract the warden's daughter from a dangerous group of anti-government separatists. "A killer crime book with a very sharp hook."—BRIAN K. VAUGHAN (SAGA, PAPER GIRLS)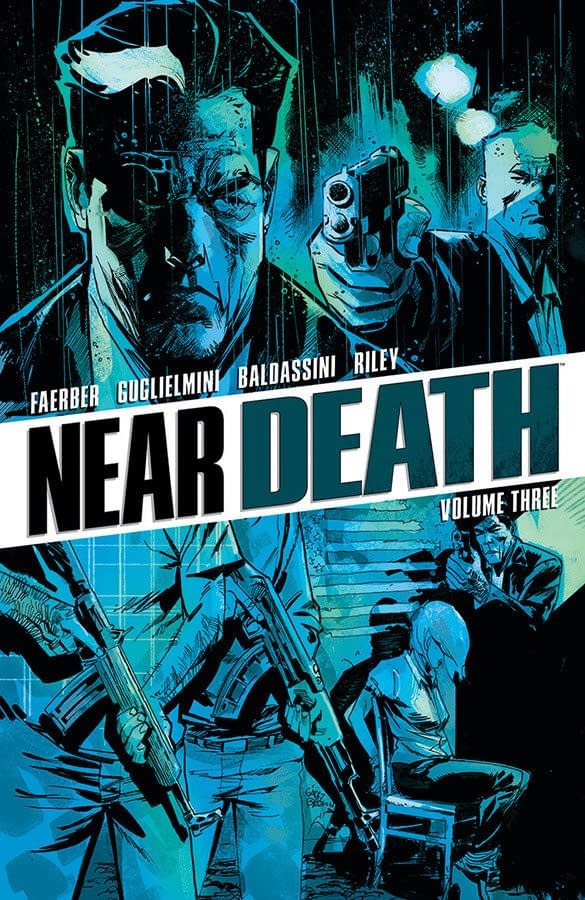 Enjoyed this article? Share it!