Today, Al Ewing and Joe Bennett give life to some of Roxxon's pet projects with some rather cute names, in Immortal Hulk #29. Who all seem a little… animated.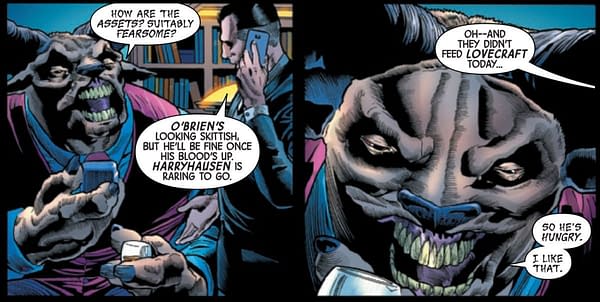 Horror writer HP Lovecraft is well known for the undescribably horrors of the Great Old Ones, who bear humanity hardly any heed at all, some them with tentacles. His fame is rivalled by Ray Harryhausen, legendary stop-motion animator of monsters throughout famous mobies of the fifties, sixties and seventies, long before CGI was conceivable. Here we have a multi-headed Hydra creature from Jason And The Argonauts.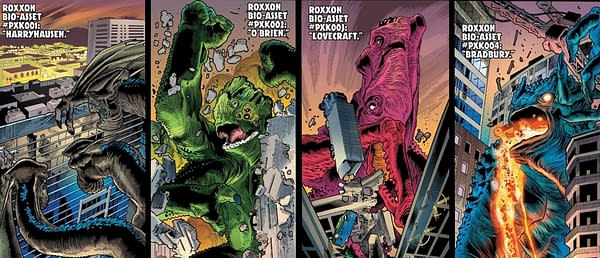 Willis O'Brien was the animator on 1933's King Kong for all stop-motion creature action, including Kong and the dinosaurs of Skull Island. O'Brien was very much a pioneer in this field, and inspired the later, more famous work, of Harryhausen. Indeed, O'Brien critiqued Harryhausen's early models and urged him to take classes in graphic arts and sculpture to hone his skills, around the same time that Harryhausen became friends with an aspiring writer, Ray Bradbury.
Bradbury and Harryhausen joined the Los Angeles-area Science Fiction League together. The first film that had Ray Harryhausen in full charge of technical effects, The Beast from 20,000 Fathoms from 1953, was originally called Monster From The Sea. However the producers became aware that Ray Bradbury, had sold a short story called The Beast from 20,000 Fathoms, later retitled The Fog Horn, about a dinosaur drawn to a lone lighthouse by its foghorn. Because the story for Harryhausen's film featured a similar scene, the studio bought the rights to Bradbury's story to avoid any potential legal problems – and brought the title with it. Harryhausen remained firm friends with Bradbury until death. Bradbury is now best known for writing Fahrenheit 451, The Martian Chronicles, The Illustrated Man, and I Sing the Body Electric, but described his work as that of conjuring up monsters and angels…
And Roxxon are happy for their memory to be preserved in monstrous forms…
Immortal Hulk #29 is published by Marvel Comics today. I bought mine from Piranha Comics in Kingston-Upon-Thames. Piranha Comics is a small south London comic store chain with a small south-east store in Kingston-Upon Thames's market centre, which runs Magic The Gathering nights on Fridays, and a larger south-west store in Bromley, which also runs Magic nights and has an extensive back issue collection and online store. If you are in the neighbourhood, check them out.

IMMORTAL HULK #29
(W) Al Ewing (A) Joe Bennett (CA) Alex Ross
• Giant monsters have been unleashed in Phoenix, Arizona. The Roxxon Corporation is unavailable for comment.
• The people need help. They need the crusading outlaw with a heart of gold they read about in the Herald. They need their secret hero.
• Instead, they're getting the IMMORTAL HULK.
Rated T+In Shops: Jan 08, 2020
SRP: $3.99
Enjoyed this article? Share it!