In This Preview of War of the Realms #1, a Character Will Die! (Spoilers)
Everybody knows that you can't take a super-mega-crossover event seriously unless it features at least one, but preferably more than one, shocking character deaths. The preferred format is to start things off with a lesser shocking character death in the first issue to show readers you mean business and then to save the really shocking character death until the end.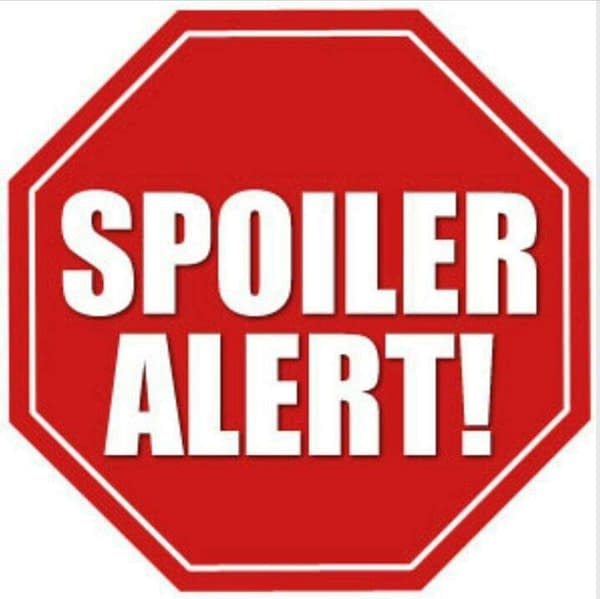 We already know to expect a shocking character death in the finale of War of the Realms, but we don't know who it will be. We do, however, thanks to this preview of next week's War of the Realms #1, know who will die in the opening shocking character death. Apparently, it's Odin, who's moping in his empty throne room as usual in the preview when he's visited by Malekith's assassins…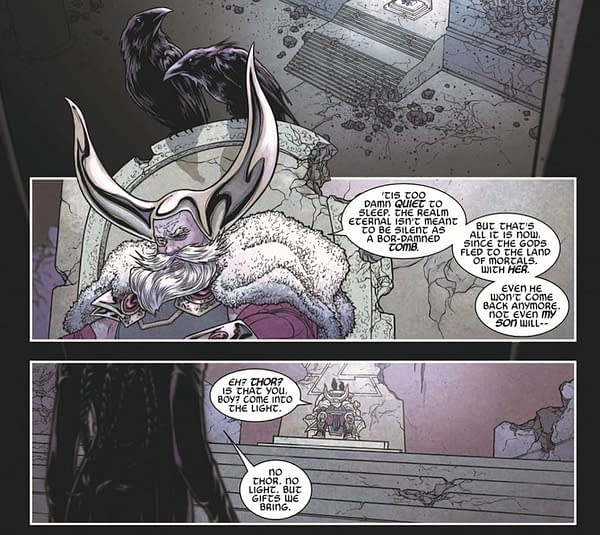 Gifts? Well isn't that nice. Maybe Malekith isn't that bad after a– oh, wait, the gift is a knife in the gut…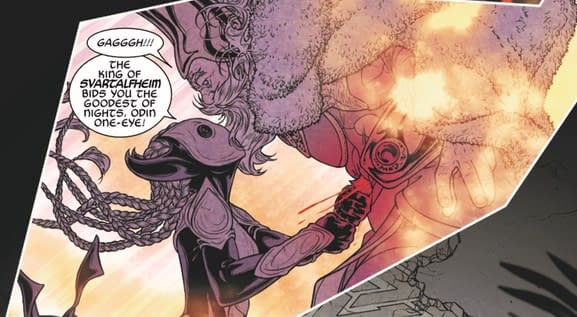 And then a Game of Thrones style group shanking.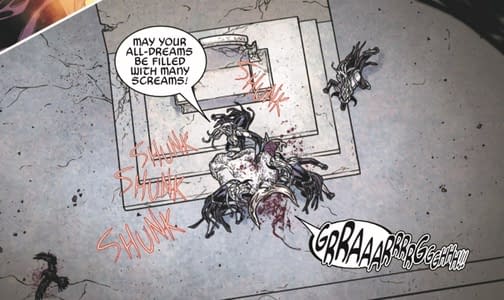 When the All Father is your lesser character death, you really gotta wonder who's gonna bite it in the last issue.
War of the Realms #1 hits stores next Wednesday. Marvel gave this preview to their compliant media partner CBR first as an EX-X-XCLUSIVE, and we stole it from them.
War of the Realms #1 (of 6)
(W) Jason Aaron (A) Russell Dauterman (CA) Arthur Adams, Matthew Wilson
Asgard. Alfheim. Heven. Jotunheim. Muspelheim. Niffleheim. Nidavellir. Svartalfheim. Vanaheim. All of the Ten Realms have fallen to Malekith and his army except one: Midgard. Home to Thor's beloved humans. Home to heroes and gods alike. Now, at last, it burns. And Thor won't even be there to see it.
All hell breaks loose in New York City as Malekith and his allies begin their invasion – and the greatest heroes of the Marvel Universe watch as the Earth falls!
Rated T+
In Shops: Apr 03, 2019
SRP: $5.99