Last month's MCM London Comic Con had Jim Shooter as a guest, and at his table were a number of folders, binders, full of memos, sketches, artwork from his long career at DC, Marvel, Valiant and more. He graciously allowed Bleeding Cool to take shots of a few of them, but these are just the tip of the iceberg of the folders he often brings to shows. But for Thanksgiving, Bleeding Cool will be sharing a few of them, and you can check the rest with this handy dandy tag.
Such as this note from Stan Lee to Jim Shooter from November the 8th, 1981.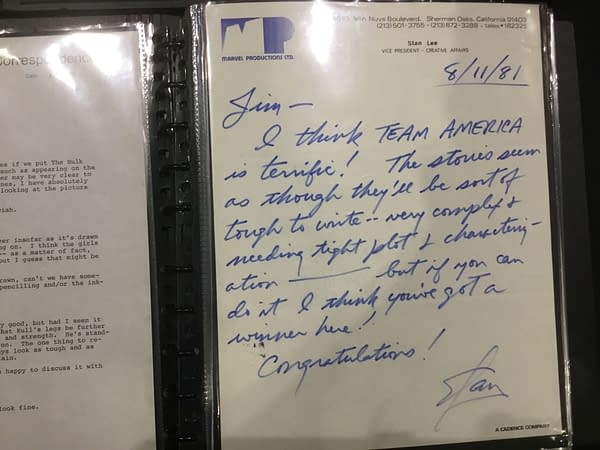 Jim – I think TEAM AMERICA is terrific! The stories seem as though they'll be sort of tough to write — very complex and needing tight plot & characterisation – but if you can do it, I think you've got a winner here! Congratulations! Stan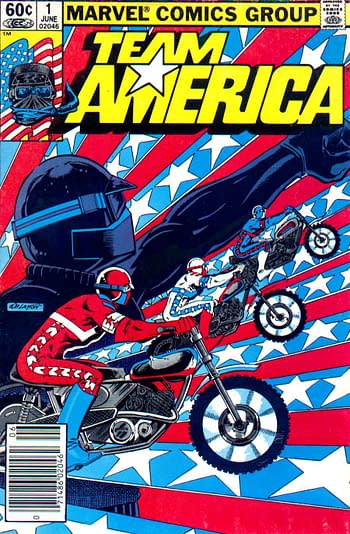 Team America was a concept that Captain America writer J. M. DeMatteis described "another one we kind of got forced into doing." The comic books were based on a toy line by Ideal Toys, an attempt to replace their successful Evel Knievel toy line after Knievel was convicted for battery in the late 1970s, and it used many of the same moulds and designs. The month following their May 1982 preview appearance in Captain America, the team's monthly self-titled series launched, written by Jim Shooter, drawn by Mike Vosburg. It was cancelled with Team America #12 in 1983.
Of course, stunt motorcycle Evel Knievel being subject to cancel culture in the seventies never seemed to reach the UK where every kid with well-to-do parents seemed to have one of his toys.
While Knievel was healing from his injuries, the book Evel Knievel on Tour was released. Written by Knievel's promoter for the Snake River Canyon jump, Shelly Saltman, the book painted an unflattering picture of Knievel's character, alleging that he abused his wife and kids and used drugs. Knievel, with both arms still in casts, flew to California to confront Saltman, by then a VP at 20th Century Fox. Outside the studio commissary, one of Knievel's friends grabbed Saltman and held him, while Knievel attacked him with an aluminium baseball bat, declaring, "I'm going to kill you!" According to a witness to the attack, Knievel struck repeated blows at Saltman's head, with Saltman blocking the blows with his left arm. Saltman's arm and wrist were shattered in several places before he fell to the ground unconscious. It took numerous surgeries and permanent metal plates in his arm for Saltman to regain the use of his arm. Saltman's book was withdrawn by the publisher after Knievel threatened to sue. Saltman later produced documents in both criminal and civil court that proved that, although Knievel claimed to have been insulted by statements in Saltman's book, he and his lawyers had actually been given editorial access to the book and had approved and signed off on every word prior to its publication. On October 14, 1977, Knievel pleaded guilty to battery and was sentenced to three years' probation and six months in county jail. After the assault of Saltman and time served in jail, Knievel lost most marketing endorsements and deals, including Harley-Davidson and Ideal Toys. With no income from jumping or sponsorship, Knievel was eventually declared bankrupt. In 1981, Saltman was awarded a $13 million judgment against Knievel in a civil trial, but he never received any money from either Knievel or Knievel's estate.
And he clearly wasn't going to get anything from Team Ameria either.
Enjoyed this article? Share it!