I was still relatively new with BC when the first rumblings were hear that John Romita Jr. was moving over to DC Comics. The guy was pretty much the quintessential Marvel artist. A legacy bullpener with his dad, John Romita, Sr. having iconic runs on characters like Daredevil and Spider-Man. You saw JRJr's work and it just said Marvel. And then suddenly he was changing webs and shields for lassos and batarangs. It's been a few years now, but still… it seems weird. He recently sat down in the DC Comic Art Academy and sketched out Batman while answering questions in front of a live audience at a comic convention.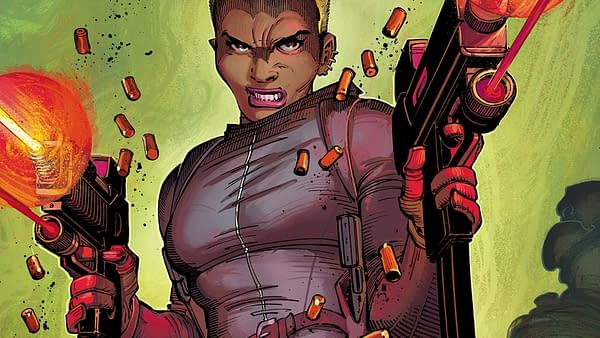 Romita is the artist on the brand new DC series The Silencer, written by Dan Abnett, inked by Sandra Hope and colored by Dean White. The first issue of the series just hit comic shops this week and the synopsis reads: She's one of the DC Universe's deadliest assassins…and you've never heard of her. Super-strong, highly trained, armed with devastating and stealthy meta-human abilities, the Silencer is virtually invincible. Or at least she was. After decades as Leviathan's chief assassin, Honor Guest put in her time and managed to get out with her skin intact. Now she lives a normal life with a normal family in a normal house on a normal street. But the past has come back to haunt her in the form of her old employer and a deadly new mission…and Talia Al Ghul won't take no for an answer.
Enjoyed this article? Share it!