Joywave Announce New Record, Obsession, on the Back of Marvel Comics Tomorrow
Joywave is an American indie rock band from Rochester, New York, consisting of members Daniel Armbruster (vocals), Joseph Morinelli (guitar), Kevin Mahoney (bass), Benjamin Bailey (keyboards), and Paul Brenner (drums). The band first became known for its collaboration with electronic music project Big Data, Dangerous, which peaked at number one on the Billboard Alternative Songs chart in 2014. After releasing two EPs, their debut album, How Do You Feel Now?, was released on Cultco Music/Hollywood Records in 2015. Their second album, Content, was released on July 28, 2017. The just put out a new single last month, Like A Kennedy.
And now they have something new – and a fun way to announce it. From the back of select Marvel Comics titles tomorrow, including Absolute Carnage #1, an original and official Avengers story to launch the new album written by James Asmus, drawn by JL Giles and coloured by Ian Herring, to launch the new song, Obsession. Which is available in a format that especially appeals to Steve Rogers…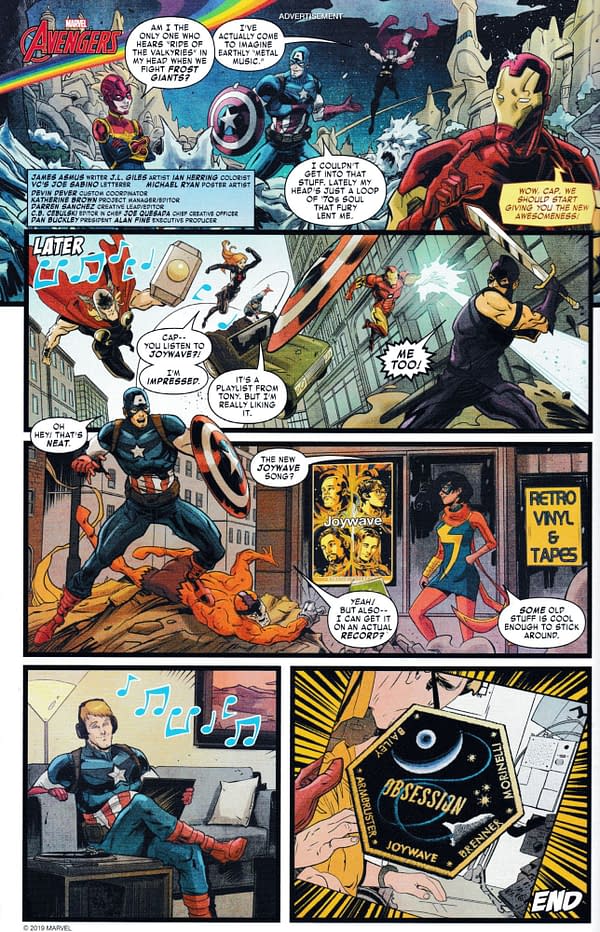 Joywave have played Obsession live a few times, but there was no indication it was being released as a single – or the name of a new album. Or EP. Or whatever. Until now. Joyride has used Marvel Comics to promote their work before… but this takes it up a notch.
You can see a live version of Obsession, and hear the recent release of Like A Kennedy below.