Joe Khachadourian writes for Bleeding Cool,
"Just get your degree, then you can do whatever you want."
That was my parents' mantra throughout the '90s after we moved to the United States in 1988.
Hey…what did I want? I wasn't sure. Being raised in the Middle East on a steady diet of comic books, superheroic animated adventures, and over-the-top action dramas throughout the 1980s had certainly left its mark. Deep down, what I wanted was to tell stories, these types of stories, scripting the escapades of the just as they stood up to evil in whatever form it took.
So, like a Kent leaving Smallville, I packed my bags and flew (drove) off to earn my degree from the University of California, San Diego and was so ready to do whatever I wanted!

Starting a career certainly allowed me to enjoy new aspects of life and, each day, I explored and flexed the right side of my brain in ways I never had before. During the early days of your first job, as many of us felt, I was hungry to grow and learn while on the job. And in the beginning, I tried – unsuccessfully – to balance my career with my personal passions — what the left side of my brain was craving. Looking back now, I know that with more discipline, I probably would have had more successful attempts, but hey – no regrets!
As the years passed, I began to accept that it was possibly time to change the focus of my passion. "Storytelling" sounded more and more like the juvenile fantasy that many had told me it was, and I started to accept that. Life went on: I met and married an amazing woman, we created our own Fantastic Four together, and I began a new career I was excited about. I was happy, I was successful, things were going well. I was doing what I felt I wanted. I had gotten my degree, right?!
Yet I still sensed that there was something missing; a small hole, Ant-Man in size, but noticeable.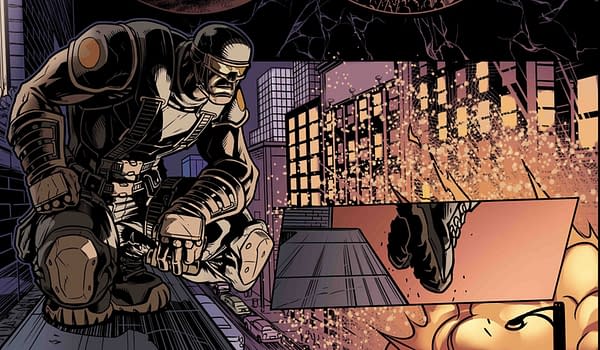 In 2014, something happened that I'm not entirely sure how to describe, a paradigm shift caused by a perfect storm of small, but significant events. Was it the challenge to create that I consistently heard on filmmaker Kevin Smith's "Fatman on Batman" podcast? Was it ComiXology's SUBMIT initiative, allowing for amateur graphic novelists to be distributed across more digital screens than ever before on a respected platform? Was it the advances in technology allowing for easier comic book self-publishing? Was it the quasi-Steve Rogers-like "drive" that I've heard many new fathers feel shortly after the birth of their first child? Or was it the well-timed, earnest, and strong words of encouragement and pledges of support I received from my wife and extended family? It was all of it and more.
It was then that I committed the tale of Jordanian-American stuntman Sami Nasser's mistaken identity misadventures to (digital) paper, in the form of a Lethal Weapon meets Unbreakable story titled Identity Stunt. And today, February 4th, 2019, Identity Stunt, my debut graphic novel, will be released to comic shops and bookstores globally, courtesy of my publisher, Markosia Enterprises.
These past near-five years have been one Hell of an adventure. I was fortunate to find myself in a place in life that now allowed me a comfortable work-life balance, unconditional family support to see my project through, and the discipline needed to use my free time wisely to pursue a true passion.
Much like my Middle Eastern protagonist, there were many times where I found myself to be an ordinary guy trying to come to terms with an overwhelming and extraordinary series of situations. From the story itself, to the story behind the story, I encountered a Psycho Pirate-level assemblage of emotions: excitement, fear, joy, heartbreak, endearment, and anxiety. And, again like my man Sami, I made it through to the end. Stronger, wiser, and ready to do it again. There were times I asked myself if the stress was worth it. The answer was — and always will be — "yes". The most challenging achievements are those that mean most to us, clichéd, but true. I'm certain others share this sentiment.

It wasn't all hurdles. After the digital launch of Identity Stunt, there was also me sitting behind a booth at Wizard World Austin meeting new fans; there were my appearances on "Fatman on Batman" and "The Geek Speak Show"; there was my long talk with Rob Liefeld, Deadpool's father; there were the interviews that I was honored to be part of, where I discovered that others actually cared about my voyage; there's my book's cover quote by Jimmy Palmiotti, one of my biggest creative idols. There's so freaking much to remember and be grateful for.
Where am I going with this?
"Just get your degree, then you can do whatever you want."
I'm 40 years old. It took me almost 25 years to see it, but my parents — technically — were right (don't tell them). Granted, the road leading here was longer than I expected, but every step was necessary, every lesson was a requirement. It's critical not to look at life's journey, the world's circumstances…your age, as obstacles. Rather, let these elements fuel you to achieve faster.
Life goes by at a breakneck pace, just ask the Flash. Don't let excuses be the reason that keep you from running your race. Maybe Earth-2 Joe would have accomplished at 24 what Earth-1 Joe accomplished at 40, only The Monitor knows for certain. But that has no effect on the sweet taste of fulfilment. So no matter where you are, no matter when you are, if you have passion, if there's a burning desire to see this one thing through, go do it. If you want to be Batman, then go be the God damned Batman.
Or, if you simply want to be a storyteller, there's nothing stopping you from doing that either. You can do whatever you want.
Stay awesome.
If anything I've written here resonates with you, then you'll probably enjoy my graphic novel, Identity Stunt, available now, from Markosia Enterprises. Conversely, if what you've read here ain't your speed, well, then I promise you that the artwork, at the very least, is astounding.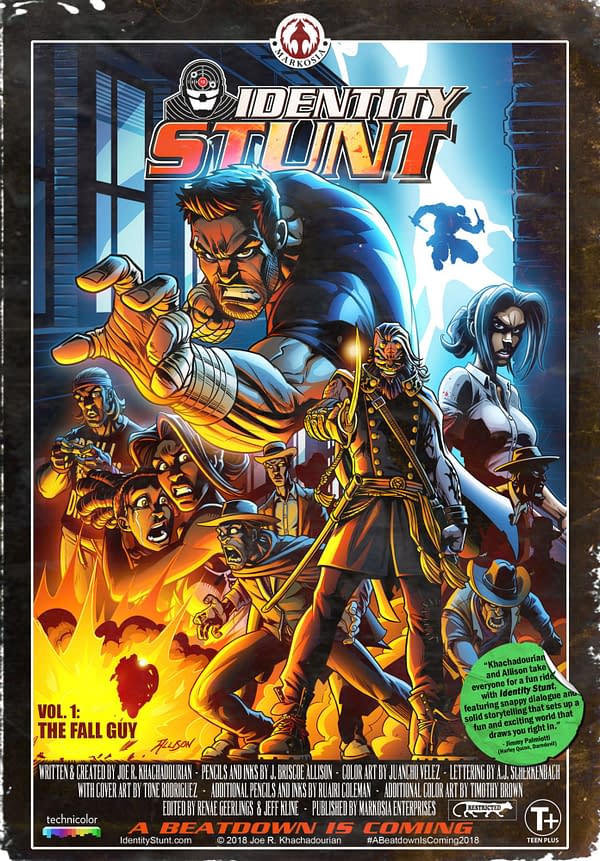 After being falsely outed as a vigilante, a professional stuntman must battle to reclaim his identity by circumventing the police, outsmarting bionically-enhanced mercenaries, and rescuing his family from the clutches of a notorious madman. Capturing the bombastic tones and dialogue of '80s and '90s action films, Identity Stunt is a relentless odyssey featuring complex characters, a touch of romance, and a fistful of masked lunatics.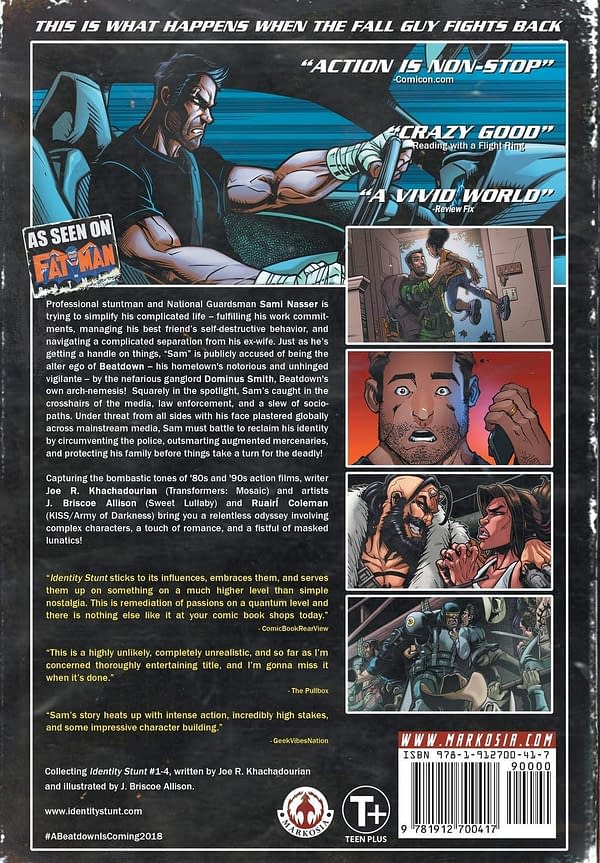 (W) Joe R. Khachadourian
(A) J. Briscoe Allison
(C) Juancho Velez
Additional artwork by Ruairi Coleman, Tone Rodriguez, & Timothy Brown.
Enjoyed this article? Share it!