He's done it everywhere else. But mostly at Thought Bubble in Leeds. And now The Wicked + The Divine's Kieron Gillen is to DJ at San Diego Comic-Con at the Comic Book Legal Defence Fund Welcome Party, hosted by Jock and Thought Bubble founder Tula Lotay.
It's all part of the British Invasion theme for the CBLDF Party, open to the public, and kicking off the show on the Thursday at 8 pm at the Westgate Hotel. There's a $20+ dollar donation at the door requested, but it's free to  CBLDF Members. Associate Membership including a card that gets you special access to CBLDF events across the country costs $30 a year.
CBLDF supporters will also be able to meet British creators including Richard Starkings, Andy Diggle and former Bleeding Cooler Joe Glass, alongside Will Dennis, Kristian Donaldson, Max Dunbar, Clive Hawken, Shawn Martinbrough, Kel McDonald, Hope Nicholson, MK Reed, Mark Sable, C. Spike Trotman, Jen Vaughn, Magdalene Visaggio, and Jim Zub.
The first hundred attendees will get an amazing gift bag that includes limited edition The Stone King posters from comiXology Originals. And Black Phoenix Alchemy Lab Our friends at BPAL will be bringing a brand new British Invasion exclusive fragrance to support the CBLDF. Any guesses what? Marmite? Salt and vinegar? Concentrated pipipness?
There will also be early access to CBLDF exclusives, and the original art up for grabs at Saturday's CBLDF Comic-Con Auction, including art by Walter Simonson, Cathy Guisewite, Stan Sakai, J.O'Barr, Frank Miller and more,
I can't be there. So go for me, find stories and take photographs…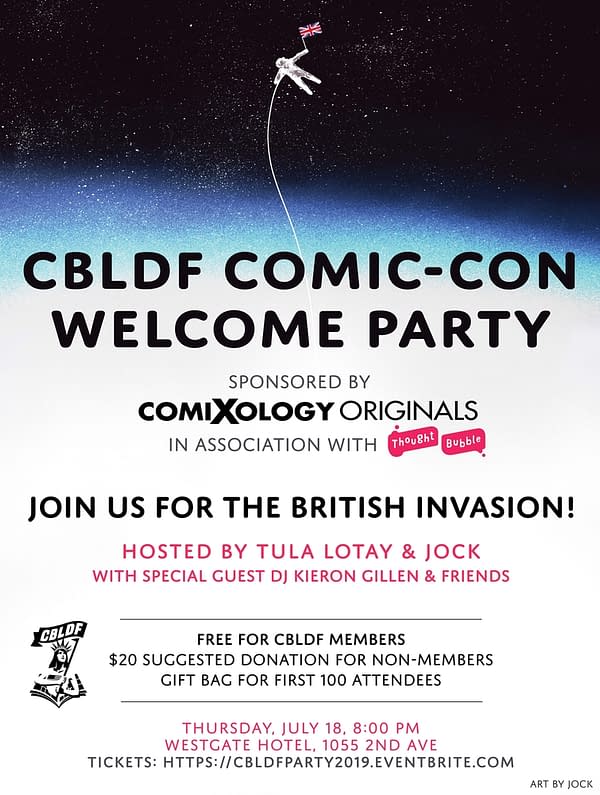 Enjoyed this article? Share it!