Today sees the launch of New Mutants #7, Wolverine #1 and Marauders #8. Three books – but Wolverine #1 is triple-sized, so it might as well be six books. New Mutants #7 begins by getting rather Deadpool-meta, which sticks only with the intro…
…but the general vibe runs throughout…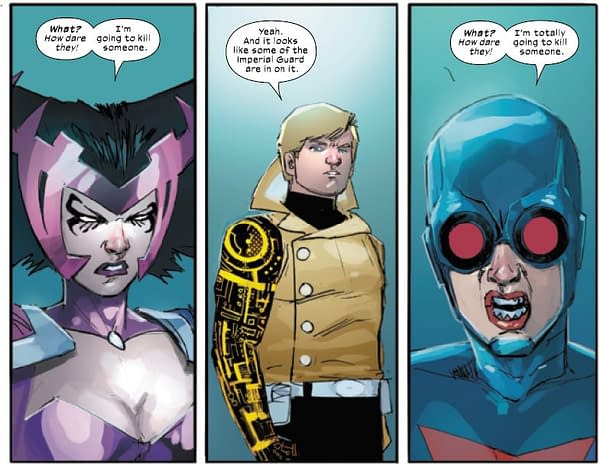 …with a superb answer to interminable fight scenes that don't actually go anywhere…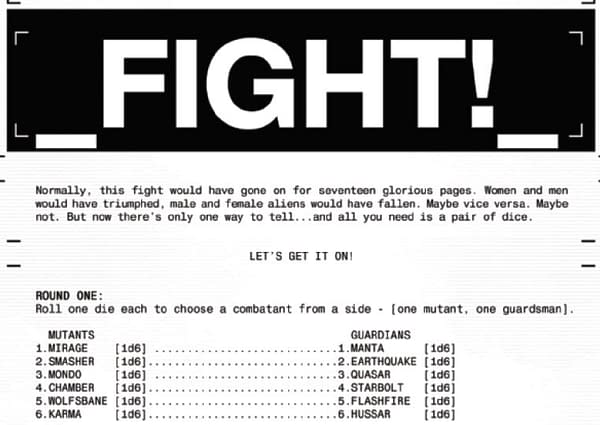 …and we get a new outpost for the Krakoan empire, deep in Shi'ar space.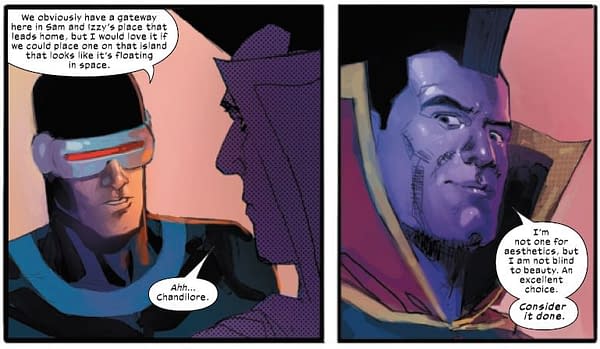 So we have a Cyclops seeking solitude on an island? Isn't that what he always ends up doing? Oh and in today's Fantastic Four #19…
…maybe they could have been nicer to Krakoan mutants in X-Men/Fantastic Four #1 and gotten a gate flower all of their very own. Because it's not just Shi'ar space that the flower gates reach to… in Marauders #8 we see the Krajoan factories on MArs manufacturing and growing the flowers, whcih fuel the Krakoan economy and relations with other countries…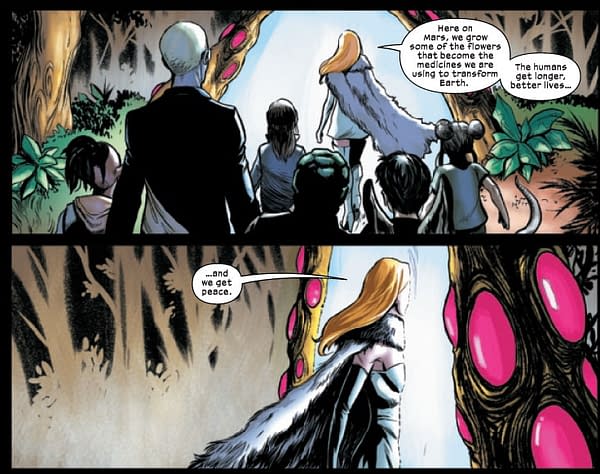 …creating drugs that extend life, cure diseases and cure dementia.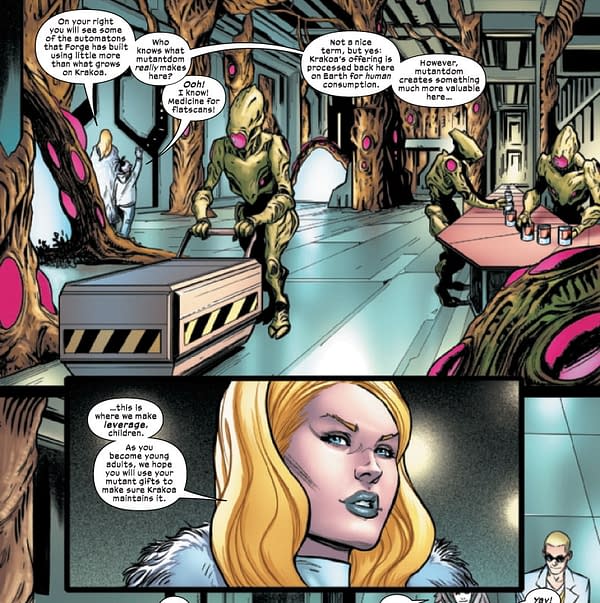 But in today's Wolverine #1, we see that not all of the petals make it for processing.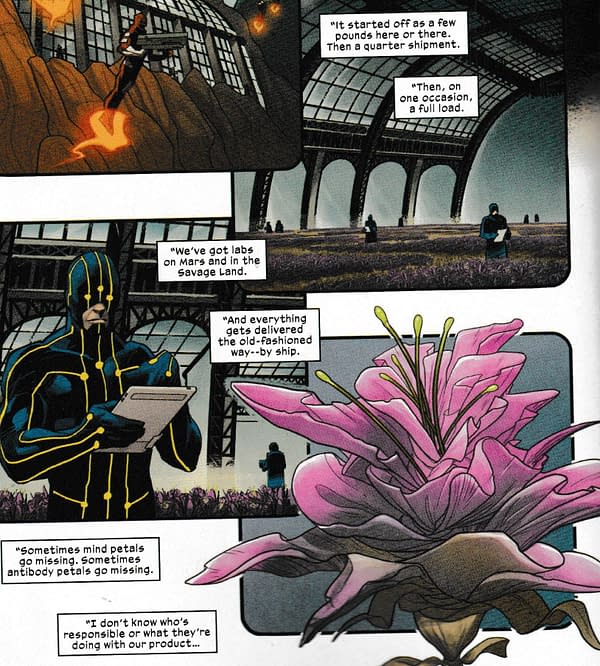 …without knowing where they are going. Known as 'shrinkage' in the comics business…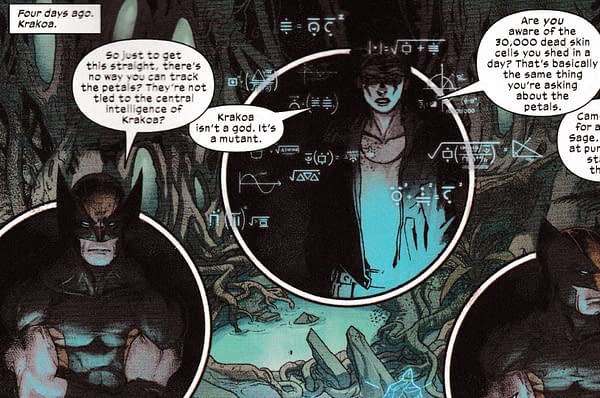 As some get used for… other purposes.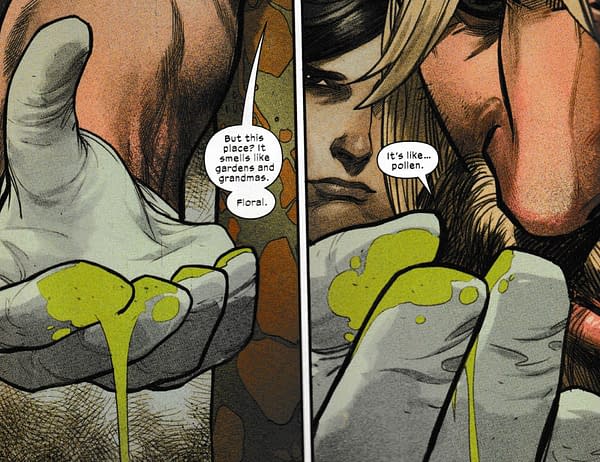 Pollen, the new Krakoan-derived narcotic doing a roaring trade. Couldn't they have called it Krakoan crack? Crack-koa? Krack? Anyway, it's fuelling a religious pro-mutant cult that can get a little too far in their desire for mutanity.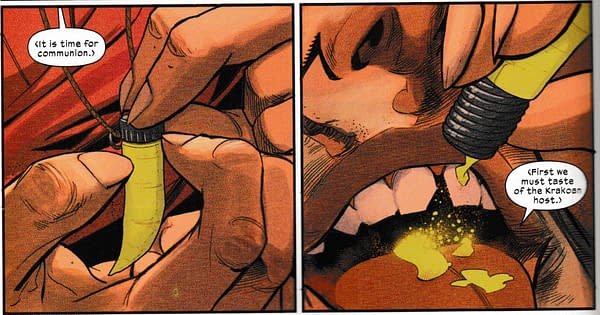 Some lovely stuff from Adam Kubert there… but the standout for Wolverine #1 is probably Viktor Bogdanovic who has really stepped up for this issue in channelling the spirit of early Jim Lee, Erik Larsen and Todd McFarlane, with layouts and detailed styling. Whether that's the close-cropped faces…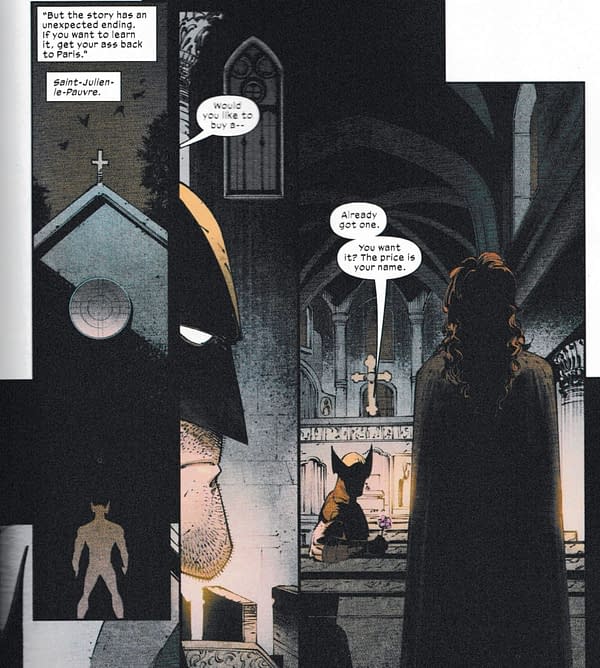 …the introduction of Jim Lee creation Omega Red…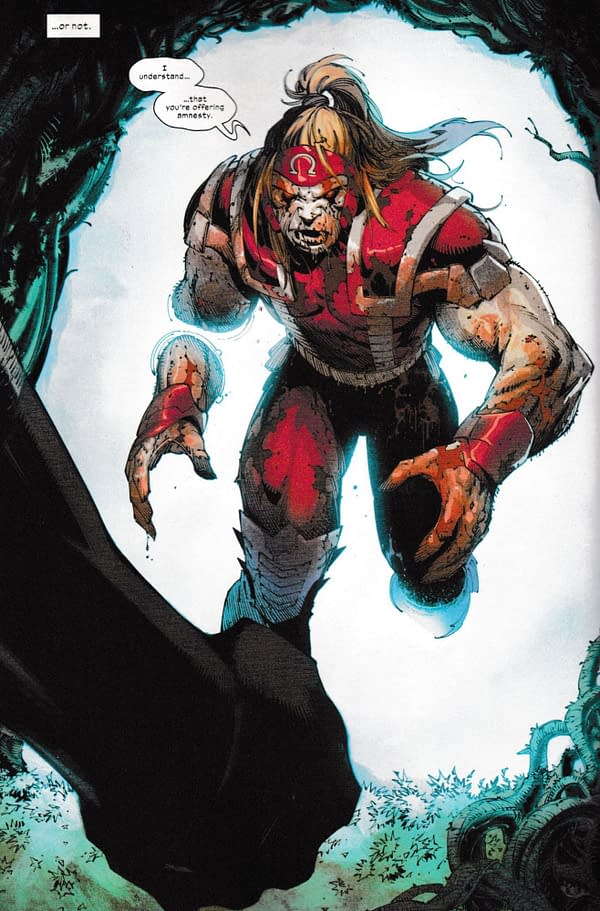 …the bursting out of the panel and close-cropped mouths…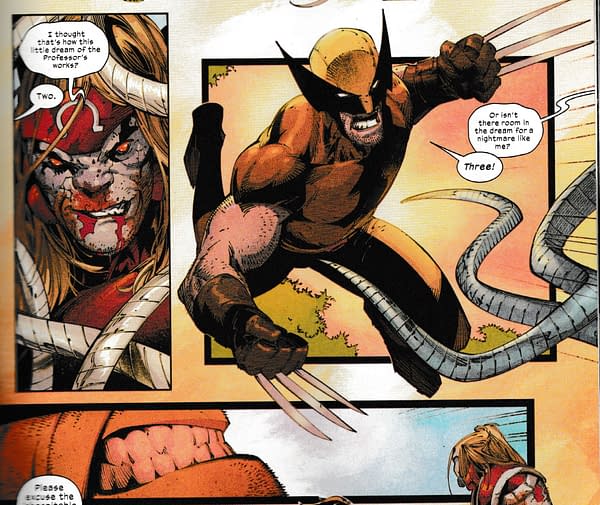 … if this was 28 years ago, Viktor would be being snapped up by the rest of the Image Comics founders. No question.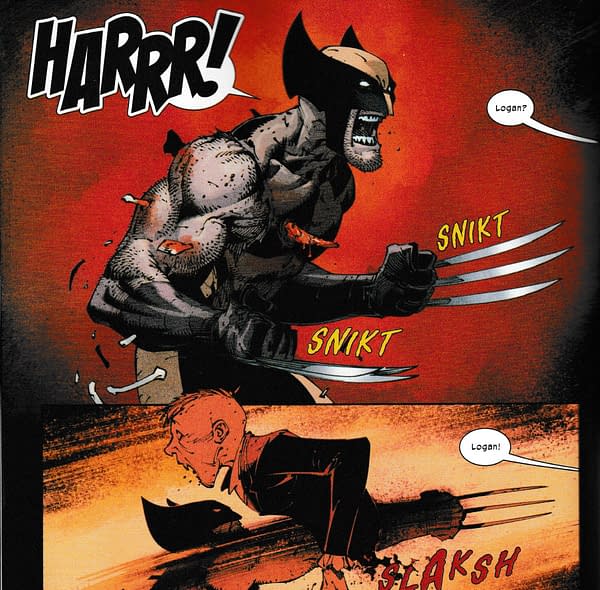 But there's someone else to talk about too. Kate Pryde. She died in Marauders #7 in a fashion which suggests it may not be as easy to resurrect her as the other mutants, because Krakoa, for some reason, has a problem with her. But we do see her in Wolverine #1 with a new skill.

Drinking shots by phasing through them. How does that work exactly? Isn't that like injecting cheap whisky into a vein? Drinking whisky extracts the alcohol which enters the bloodstream… not sure how this would work, without killing her. Though a moot point now it seems…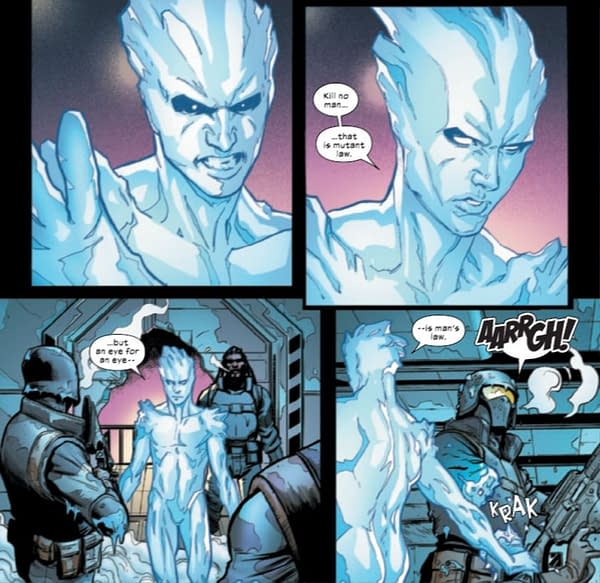 …as a vengeful Iceman (and former boyfriend) proves he is anything but armless. And mother figure Storm takes out on her former hate figure, and new mother figure, Emma Frost.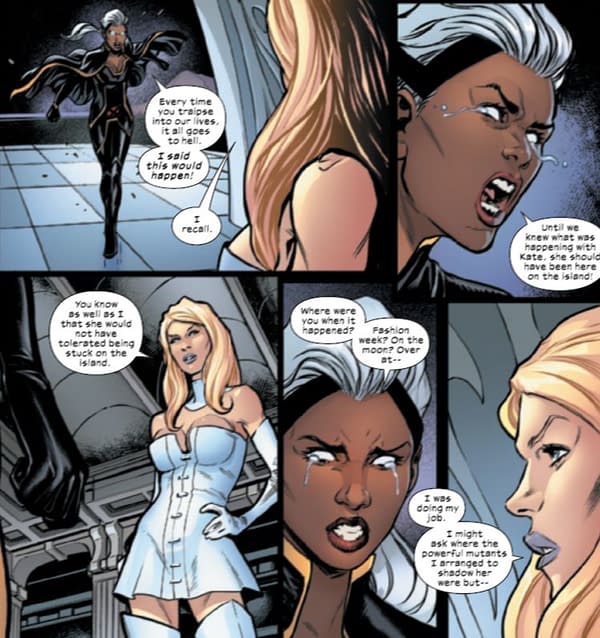 NEW MUTANTS #7 DX
(W) Jonathan Hickman (A/CA) Rod Reis
Deep in Shi'Ar space, the NEW MUTANTS have found themselves dead in the middle of an intergalactic power struggle. They're probably equipped to handle that, right? And back on Earth, the young mutants of Krakoa look forward to the future…whatever it may hold. Rated T+In Shops: Feb 19, 2020 SRP: $3.99

MARAUDERS #8 DX
(W) Gerry Duggan (A) Stefano Caselli (CA) Russell Dauterman
THE TREASURE OF ISLAND M!
As Verendi's plans against Krakoa grow, the Marauders find themselves missing something vital… something that brings Storm and the White Queen to blows. Artist Stefano Caselli (AVENGERS, AMAZING SPIDER-MAN) joins the crew of the craziest X-series of them al! Rated T+In Shops: Feb 19, 2020 SRP: $3.99

WOLVERINE #1 DX
(W) Ben Percy (A) Viktor Bogdanovic (A/CA) Adam Kubert
THE BEST IS BACK!
Wolverine been through a lot. He's been a loner. He's been a killer. He's been a hero. He's been an Avenger. He's been to hell and back. Now, as the nation of Krakoa brings together all Mutantkind, he can finally be… happy? With his family all together and safe, Wolverine has everything he ever wanted… and everything to lose. Writer Benjamin Percy (X-FORCE, WOLVERINE: THE LONG NIGHT) and legendary artist Adam Kubert (X-MEN, AVENGERS) bring the best there is to his new home! PLUS: The return of OMEGA RED! Parental AdvisoryIn Shops: Feb 19, 2020 SRP: $7.99

FANTASTIC FOUR #19
(W) Dan Slott (A) Sean Izaakse (CA) Nick Bradshaw
"Point of Origin" Conclusion!
The secret behind "Point of Origin", one of the greatest mysteries of the Fantastic Four, is finally revealed.
And now that he has the answer to the only problem he could never solve, there's only one thing in the universe that Reed Richards wants: Vengeance!
Rated TIn Shops: Feb 19, 2020
SRP: $3.99
New Mutants #7, Wolverine #1, Marauders #8, and Fantastic Four #19 are out today from Marvel Comics… I bought mine from Piranha Comics in Kingston-Upon-Thames. Piranha Comics is a small south London comic store chain with a small south-east store in Kingston-Upon Thames's market centre, which runs Magic The Gathering nights on Fridays, and a larger south-west store in Bromley, which also runs Magic nights and has an extensive back issue collection and online store. If you are in the neighbourhood, check them out.

Enjoyed this article? Share it!