Live Blogging Marvel's Secret Empire Panel From C2E2 Featuring Lots Of Nick Spencer, Hydra, And Special Guests Marvel is holding their Secret Empire panel at C2E2 right now, described as:
After years of civil strife, the heroes of the Marvel Universe find themselves united against a common foe, but it's one none of them would have expected! How will Earth's champions react to this world-shattering revelation? Learn those answers and more as Sales & Communications Administrator Chris D'Lando, Secret Empire writer Nick Spencer, and other Mighty Marvel Guests lead a discussion about Marvel's game-changing event!
Spencer kept himself to just a short Twitter rant last night, logging off before Midnight, so he should be well rested for the panel. Bleeding Cool has Ace Reporter Adam Ebert on the scene, and he'll be sending us live updates, which we will post below. So keep refreshing the page for those!
(Images added from Marvel's Ryan Penagos on Twitter.)
---
Adam Ebert writes for Bleeding Cool…
The panel included: Nick Spencer (Secret Empire), Margaret Stoll (Mighty Captain Marvel), Christina Harrington (writer), Wil Moss (Editor), Nick Lowe (Editor) and Chris D'Lando (Sales and Communication Administrator).
Overheard pre-panel: discussions of Nick Spencer's personal philosophy and Twitter etiquette as well as how he expresses his personal views on our current American climate. The Spencer/Chris Evans comparison was directly referenced in regards to the imbalance of outlook from the writer of Captain America and the actor playing Captain America. The panel started with the highlighting of a Baron Von Strucker cosplayer in the crowd. The crowd was gaged for their response to Secret Empire #0, to which there was applause and enthusiasm from the crowd. Nick Spencer then directed the audience to some images from Secret Empire #1 by Steve McNiven, Jay Leisten, and Matthew Wilson.
The story coming to fruition is "a dream come true," per Spencer as he's obviously been through the writing experience of this event for months. In typical panel fashion, the panelists invited an audience member up to read the first issue of the event. They picked the Baron Von Strucker cosplayer.
Issue #2, with art by Andrea Sorrentino, features street level heroes like Daredevil, Iron Fist, Cloak & Dagger, being trapped in New York City, specifically Mercy Hospital. Dimensional beings will be taking advantage of the situation. These things will be paying in later issues and stories in years to come. This issue will also focus on the Dark Force.
Issue #3 focuses on Carol Danvers and her endeavor to re-match with Steve Rogers, but she must deal with Chitauri soldiers searching for a Chitauri egg on Earth. Survival will be key. Mark Brooks' cover art was highlighted and the panelists pointed out that Hank Pym/Ultron will be making an appearance. A connection between the cover for issue #7 and other instances in the Marvel Universe were made (the first appearance of the Punisher). Marvel then introduced that local comic shops would be sent Cosmic Cube promotional items, similar to the eyeballs sent for Original Sin. D'Lando noted the cubes wouldn't have the same slime on them that the eyeballs did. The cubes would sent out for either Issue #6 or #7.
The main Captain America title will serve as a "Frontline" style angle to show what is happening in the rest of the world, outside of what is presented in the main event title.
Audience was then prompted if they wanted to read the Free Comic Book Day title. A fan in a Superman shirt stood and was denied. A young fan got allowed to read the first issue of Secret Empire.
Sam Wilson has stepped as he does not feel comfortable to wear the flag anymore. He's disillusioned, frustrated, and can't believe what has happened to his country. This will, however, lead him back to the fight. There is a new creative team for Doctor Strange: Dennis Hopeless and Nico Henrichon (Pride of Baghdad). Their first arc will explore what is currently happening to New York. Strange must try to make a difference with limited resources. He can't do it alone, so he must look for some strange (pun intended) bedfellows. "It's a charming book, but it's terrifying," noted Nick Lowe.
Amazing Spider-Man is going to tie in with Secret Empire as the Superior Octopus will be coming to prominence with issue #29. Huge ramifications in this arc for the character as we see more and more of his world fleshed out. Octavius' allies were discussed as it was noted that Doc Ock will be teaming up with some unusual folks. Axe Cop cosplayer was the next to read the first issue. In X-Men: Blue #7, the young X-Men will be involved in the conflict with Hydra. The young heroes will serve as resistance fighters as the world is changing. "They need to push back," said Harrington. Some dude is getting kicked in the face by Beast in the artwork from the issue and it looks great. Guest characters will be introduced in this arc that will have integral roles. New issue covers featuring Emma Frost and Polaris were displayed. Emma went underground after IVX and Cullen Bunn will be examining her new psyche. Harrington described it as "fabulous." She also noted that it will add some layers and complexity to the character as she moves into the new status quo. Polaris is there for "reasons we can't talk about yet," but will have connections to some other heroes and villains.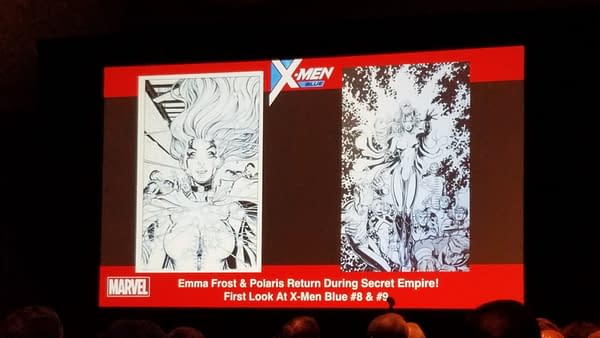 The panel transitioned to the Mighty Captain Marvel, which elicited cheers from the crowd. The story crossover here will explore different areas of her characters. "None of these crossovers happen without buy-in across the board," said Stohl. Carol will get to kick ass in space. Carol will be fighting for refugees and other people out there in space with her. Stohl cited Netflix's Five Came Back and noted that she was blown away by the epic WWII footage featured within. Carol represents this classic kind of herodom that no one else has really represented other than Steve Rogers. "If Steve Rogers can become this level of an asshole, then what is going on," she questioned about Carol. Issue #5 will feature art from Michele Bandini, an apprentice of Sara Pichelli. New characters will be introduced including a Wakandan with a drone, a Tony Stark-type with metal legs, and a character created for the Black Widow/Red Widow book. They will serve as cadets for Carol. "You will realize how young soldiers really are," noted Stohl. D'Lando noted that it is frustrating for Carol to not be able to go to Earth. But it is fun for her to play with the Ultimates and the Guardians of the Galaxy. Stohl and Spencer complimented each other on how they approached dialogue for Rocket Raccoon. Stohl also noted she loves writing Tony Stark AI jokes. The conflict with the Chitauri is being mentioned as a D-Day-level onslaught. Secret Warriors #1 is a new book launching out of the event. Wil Moss discussed the team and how they've come to this conflict and how the book starts after Secret Empire has already begun. The team grows out of the fact that Hydra is rounding up Inhumans into camps. The Secret Warriors will go all over the country in their effort to fight back. "It's the only Secret Empire book with dinosaurs eating people," noted D'Lando. The team will be fighting Mr. Hyde, Quake's father, in issue #4.
Secret Empire: Underground, Uprising, and United one shots will bridge the gap between issues #3 and #4.
Last tie-in discussed was Secret Empire: Brave New World. It will feature the Invaders and you will get some perspective on how characters like Namor and Black Panther react to what Rogers is doing. One of the issues will feature the perspective of the Daily Bugle in this whole world. That concluded titles and other issues. Spencer appeared quite excited to field audience questions.
Audience questions:
Is Carol looking to make up for her sins?
Spencer doesn't believe that Carol was doing all of the things she did with a good intention. But she has had to make exceptions to help more people. Same thing with Maria Hill in that she does some shady things. But the overall intention is to save lives, which is an important distinction. Stohl notes that there are many moving pieces with the conflict with Steve Rogers, but she has a priority with what's happening right in front of her face.
Will there any redemption for Steve Rogers? Will he go back to being "Captain America?"
Spencer wants to protect his ending, but feels strongly that this is a story he wants to tell. He noted all the people on the Internet that think he will just be hand waving this story off to move on, which Spencer noted will not be happening. He implored the fan to stick with it. He also saw how many fans were invested in the character. "It's about the journey, not the destination."
What possessed you to write this story?
Spencer says he will not take full credit, noting he took the book over from Rick Remender who left some ideas on the floor. Remender was planning a story where Hydra had infiltrated parts of the Marvel Universe, teams all across the world. Spencer said that was too big for him and looked for a place for one good plant. Steve Rogers fit the bill. The story worked and Spencer shifted it to what worked for him. "You can always blame Rick Remender."
A veteran noted that they identified directly with Steve Rogers and that this feels like a personal attack on veterans and soldiers in general.
Nick Lowe squashed any conflict, noting that there was no thought to reflect negatively on the armed force, but instead telling a story that tests who Steve Rogers is. The value of the story being worth the risk. Nick Lowe noted his father was a veteran of Vietnam and there was only the intention of respect and reverence. No negative intention in telling the story. Stohl noted that this is a complex story of American heroes and this is a dark chapter. There will be balance as that is how heroes work. Spencer noted that Steve Rogers means a lot to a lot of people and that is being manipulated against his will. There is no intention to denigrate the character. It's a case of putting the character through adversity.
How has the election changed the story?
The simple answer is no. The story was pitched in 2015. Creators want to talk about things that are bigger than the current moment and look at broader issues. Relevance found in the now are apparent and it's something Spencer has kept in mind.
Will Boomerang from Superior Foes of Spider-Man being showed?
Spencer: I've thrown all of my favorite characters in this.
Any hopes for the return of the Sentry?
Don't get your hopes up.
What's the fallout from the Kraken's identity?
Could be a big fallout, but that needs to stay a secret for good reasons. It's quite complicated.
They finally let the guy in the Superman shirt read the first issue of Secret Empire. He had to take the shirt off, though.
What about the new Patriot?
We want to honor the character's legacy and the new character makes his appearance in a big way.
Will Emma Frost and Polaris be getting re-designs as they're being reintroduced?
Nothing with Polaris. Emma will have a new, beautiful look. We will see Emma's crystal form again.
Will Magneto pop up?
X-Men: Blue will address that as he's in charge.
Any chance for the prophecy of Miles Morales killing Steve Rogers coming true?
Definitely.
Will Secret Empire play off the current conflicts coming out of previous events?
Of course. People will be caught off guard by Rogers.
End of panel.
Thanks for following along, and join us for our coverage of Marvel's Next Big Thing panel, starting shortly!