Lois Lane's New Book is Called 'My Life With Superman'… in Action Comics #1004
Bleeding Cool just got a peek of the first page of next week's Action Comics #1004 by Brian Michael Bendis and Ryan Sook, the issue which will lead up to this scene.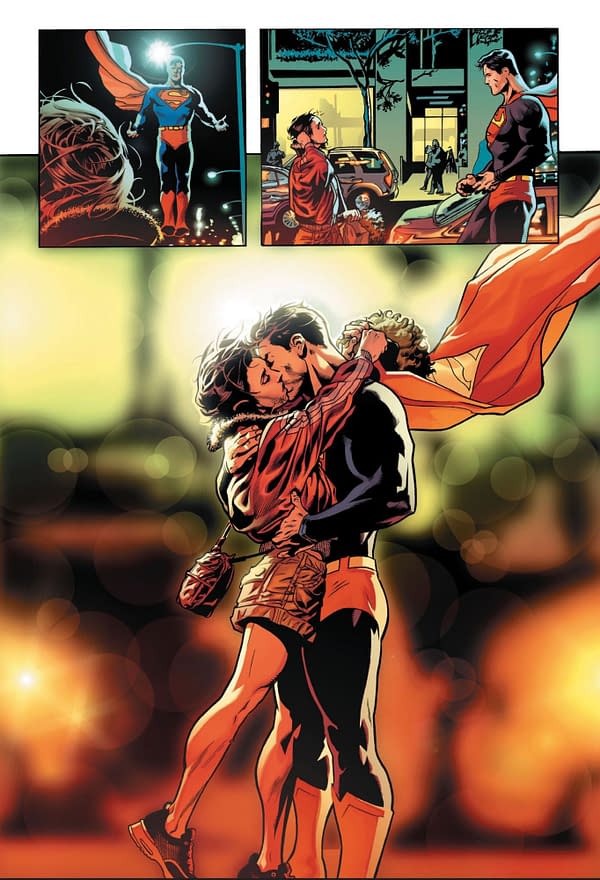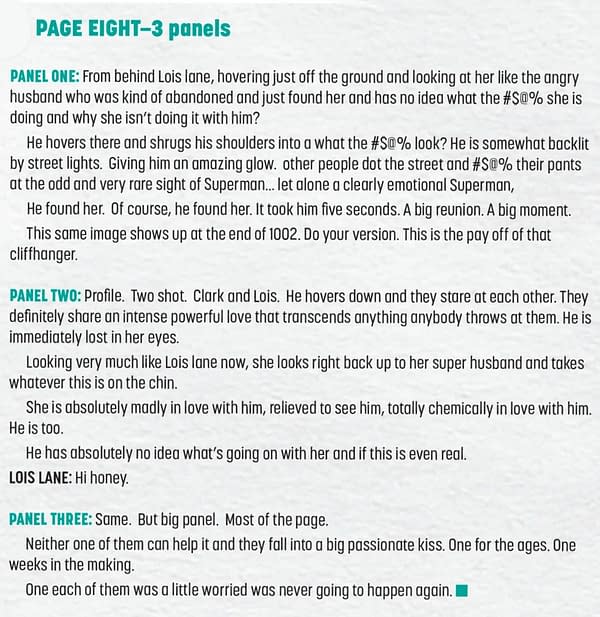 And all the implications that this may have for the relationship between Superman. And Lois Land. And Clark Kent. And Jonathan Kent. And how all the public see this. Props to allyngibson in the comments a couple of weeks ago who said 'It's 2018. Lois, Clark, and Superman come out as a polyamorous group.'
Well, who knows? Because the first page names Lois Lane's book that she has been holed up in a Chicago hotel writing while Superman thought she was in space with Jor-El and Jonathan Kent, as 'My Life As Superman'. And examining the motto of Truth, Justice and The American Way in a world where, as Lois Lane says, 'truth no longer stands as a universal concept everyone agrees on'.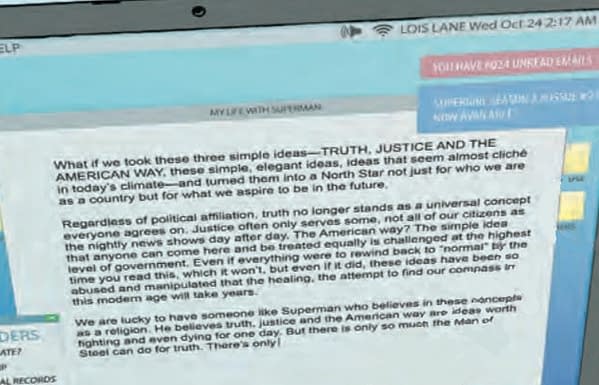 With a note to herself 'Tell Clark'… which will probably lead to that snog above… while knocking back a variety of drinks and Starburst sweets. product placement from Mars there. The people who brought us the Twix half page adverts and the current Snickers comics pages?

And as well as a bunch of news. A note suggesting she should tell Clark she's back (which she kinda does, I guess) with reference to notes to Superman writer/artist Dan Jurgens who Bendis knocked off the Superman comic, as well as comparing Bendis' own Man Of Steel comic book to that of John Byrne's. And even Curt Swan gets a mention for archival purposes.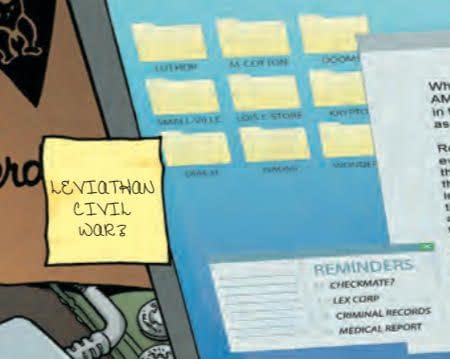 A description of the upcoming Leviathan event as a Civil War? We have seen how it will involve internecine conflict between very agencies such as Checkmate, Spyral and the like… and as for Lois's folders on her desktop, I think Wonder Woman gets a folder all to herself…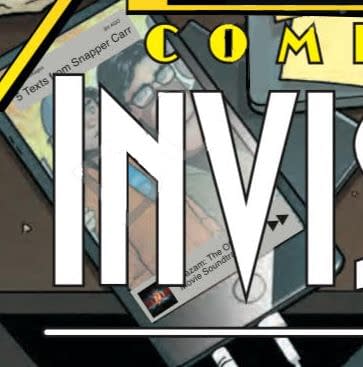 Oh and Snapper Carr is in touch (or trying to be) and Lois is listening to the Shazam movie soundtrack. Well, you know Lois, she does have sources…
Invisible Mafia by Brian Michael Bendis, Ryan Sook, Wade Von Grawbadger, Brad Anderson and Josh Reed. Out this week in Action Comics #100.
ACTION COMICS #1004 FOIL
(W) Brian Michael Bendis (A) Ryan Sook (CA) Steve Rude
Superman confronts Lois Lane and wants answers: Where is Jon Kent? What happened during Lois' trip into space with Jor-El? Why didn't she contact the Man of Steel when she returned? And most importantly, does she still love him? Or is the world-famous reporter looking to let Clark Kent down easy? Lois and Clark's relationship gets redefined in this issue illustrated by acclaimed artist Ryan Sook! In Shops: Oct 24, 2018 SRP: $3.99