Kickstarter Spotlight: Magical Girls In Love In 'Destiny, NY'
Pat Shand writes:
Fantasy stories almost always end once the hero has returned from a journey, defeated the villain, or completed a prophecy. With my graphic novel series Destiny, NY, I wanted to explore what comes after all that. "Magical girls in love."
That's the quick pitch that I've been blasting out on social media, but there's so much more to the story than that. I grew up loving tales of magic and heroes and villains like Harry Potter and Buffy the Vampire Slayer, where there was a secret, magical world that ran parallel to our own, hidden in plain sight. What fascinated me, though, was the idea of blending those two worlds, and making magic commonplace. The world of Destiny, NY is one where magic is a real and accepted part of everyday life, as normal and mundane as driving a car or playing a sport. Instead of defining our world, magic is just one part of the tapestry that makes up Destiny, NY. Within this world, we meet Logan McBride and Lilith Aberdine.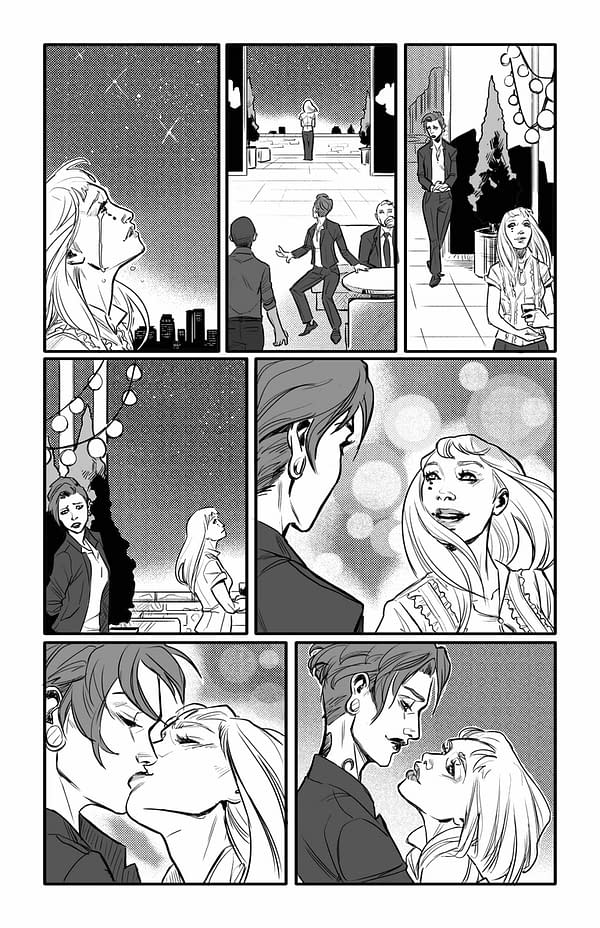 Logan McBride had a prophecy made about her when she was young. She completed it when she was thirteen, and now she's in her late twenties trying to figure out how to have a normal life.
Her girlfriend Lilith Aberdine is the only surviving daughter of a mystical crime family, and is doing everything she can to keep her past from coming back to destroy their relationship. Also? She's rich as fuck. I'm currently running a Kickstarter for Volume Two and, as of writing this, we already have almost 90% of our $20,000 goal with 21 days left of the campaign. We also ran a successful campaign for Destiny, NY Volume 1 last year, but that was much more of an uphill battle. In the last day, we made it by the skin of our teeth, but it seems that backers liked the book because they came out with a powerful showing this time around. I hope to write Destiny, NY for a long time because, honestly, it means the world to me… so all I can say is that I'm beyond moved that the first volume connected with readers. It is closer to my heart than anything I've written before and, as we get to know the characters even better, I hope readers can grow to love them as much as I do. The second volume is written by me and illustrated by Rosi Kämpe. I'm probably best known for long runs on Robyn Hood and Charmed and my creator-owned comic Vampire Emmy, but I've also written Angel and a bunch of Marvel novels starring Iron Man, Guardians of the Galaxy, Thor, and The Avengers. Rosi has worked for Marvel and Top Cow and is the creator/writer/artist of the webcomic Unknown Lands. She brings incredibly real and nuanced emotion to these characters, and I'm just so lucky to have her on board. In addition to our 160+ page main story, I like to feature guest creators for bonus stories in the last chapter. We did it the first time, and we're back for more here. We have eight stories by a team of amazing creators, including: Jenny Owen Youngs, Kristin Russo, Megan Levens, Vita Ayala, Fabian Lelay, Emily Ree, Erica Schultz, Natasha Alterici, Claudia Aguirre, Brian Cogan, Lauren Reilly, Eve Mae, Amy Shand, Lisa Sterle, Katie Kuffel, and returning Volume One artist Manuel Preitano, who is also supplying the cover and chapter breaks. We have beautiful prints, t-shirts, commissions, a variant cover by Veronica Fish, and more unique rewards available only on Kickstarter.
You can pledge to the campaign here.
Thanks for helping give Destiny, NY life. It's a dream come true and I hope to keep it going for a long time.