"Magnus Is One Of My Favorites" – Fred Van Lente On Wrapping Up The Story
Today's writer-to-writer interview is a threesome. Ben Acker and Ben Blacker, writers of KING: Flash Gordon #2, talk with Fred Van Lente about Magnus: Robot Fighter #12, both on sale March 11th. We'll have the flip to this later in the week. Cover art by Jonathon Lau and Cory Smith.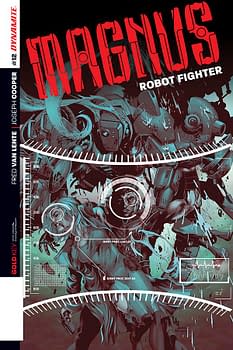 BEN ACKER & BEN BLACKER: A lot of these King titles are characters we grew up with. Flash Gordon, the Phantom and Mandrake were in cartoons and comic strips and terrible movies. Not so with Magnus. "A human raised by robots" is such a great premise. Did you know the character well going in?
FRED VAN LENTE: A little bit. Western reprinted those 1960s Russ Manning Magnus comics over and over again, and I remembered buying a bunch of them off a drug store magazine rack when I was very young — along with Solar and Dr. Spektor. When Dynamite gave me the whole run of the book when I came on to this project, it was still pretty impressive — a really well done SF adventure book for 8-year-olds.
A&B: How much and in what ways do you make your own a character you didn't invent? In my head, this started as a question about Magnus but by the end there it could be about anyone. You've written all sorts of iconic characters, for your information.
FVL: Yes. Yes, I have.
A&B: Do you have a favorite?
FVL: I've been fortunate enough to have been asked to steer the course of a bunch of characters formative to me and others' childhoods — Spider-Man, Conan, GI Joe. The fun part of each is, like you said, making them your own. And there's challenges and big-time rewards to each.
Honestly — and fortunately, given the purpose of this interview — Magnus is one of my favorites. Constructing the whole robot society of North Am, its worship of the Singularity, and planting the seeds of its destruction with the Basilisk, has been really terrific, and I've been lucky to work with great collaborators like Cory Smith, Joe Cooper, Roberto Castro and Nate Cosby.
What's really cool is, once #12 comes out, the ending of the story, it is the beginning, middle and end as set out in my original pitch. That so rarely happens! It's not always a bad thing, but it's nice to lay out a plan and execute it. And I really thank Dynamite and Dreamworks for giving me the opportunity to do that.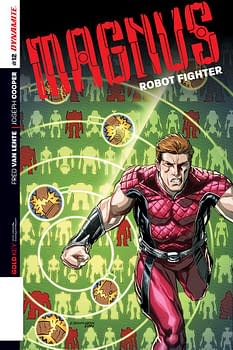 A&B: Did writing a character you haven't liked make you like the character more? One time we wrote Thor. Are there bucket list characters you haven't written yet?
FVL: You know, I never really liked Wolverine, but then I was asked to do Wolverine: First Class, I sort of got around that by making a book that was really about a 13-year-old Kitty Pryde. But I found myself warming to Wolverine by the end there. I just pretended he was a werewolf.
I've always wanted to write Mister Miracle, or any of Kirby's New Gods, really. We'll see what the future brings. I am very lucky in that a couple of months somebody asks me to tackle a franchise or character it never occurred to me to write before, so I like life to surprise me.
A&B: Should these questions be more about Magnus or the issue? Probably, right? How about this: What's a super insightful question, maybe in a Battlestar Galactica or Isaac Asimov direction, about this issue/series I should be asking and, follow up, what's the answer to that question?
FVL: How about: "What should Magnus fans bereft of this title after March do to fill that Fred Van Lente-shaped hole in their lives?"
My answer: "There's always Ivar, Timewalker from Valiant, another very science fiction-oriented title, as well as Conan the Avenger from Dark Horse. The trade of my creator-owned book Resurrectionists should be out soon. And cool new announcements are coming down the pike …
For more on Magnus: Robot Fighter #12, click here.