The Man Who Quit Comics for Beer
Matt Johnson started the comic book store Cup of Kryptonite in 2001 with his business partner, Tyler Walpole in Des Moines, selling comics and coffee. Red tape and coffee competition saw Johnson move the store with his new partners, brother Curt and Kyle Porter, move to nearby Beaverdale and stopped the coffee part of the business.
But comic book times were hard. So the Porters then turned Cup of Kryptonite into Capes Kafe, as part of the Des Moines Social Club, with a small amount of pre-ordered comics, and Johnson moved to a micro-brewery 515 Brewing Company.
It's one of the many stories in a new book by fellow Iowan Dan Gearino picked up by the Des Moines Register.
Comic Shop: The Retail Mavericks Who Gave Us a New Geek Culture looks at the rise and fall and rise and fall and rise and semi-fall of the comic store.
But that included Legend Comics and Coffee in Omaha, a very successful store that was inspired directly by the original Cup of Kryptonite, in a different location. And it defies Matt Johnson's advice to anyone looking to open a comic book store: "Don't do it."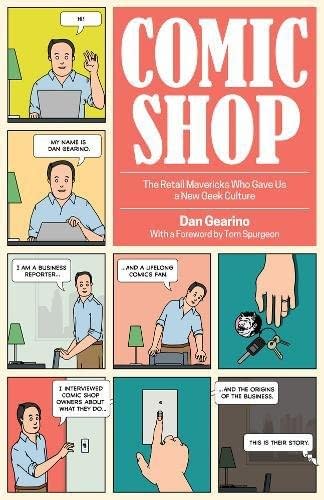 The early 1970s saw the birth of the modern comic book shop. Its rise was due in large part to a dynamic entrepreneur, Phil Seuling. His direct market model allowed shops to get comics straight from the publishers, bypassing middlemen. Stores could better customize their offerings and independent publishers could now access national distribution. In this way, shops opened up a space for quirky ideas to gain an audience and helped transform small-press series, from Teenage Mutant Ninja Turtles to Bone, into media giants.

Comic Shop is the first book to trace the history of these cultural icons. Dan Gearino brings us from their origins to the present day, when the rise of digital platforms has the industry at a crossroads even as sales are robust. He spends a year with stores around the country, with a spotlight on The Laughing Ogre in Columbus, Ohio. Along the way he interviews those who shaped comics retailing from the early days, including many pioneering women; top creators; and shop owners who continue to push the industry in new directions. A guide to forty of the most interesting shops around the United States and Canada is a bonus for fans.