Marvel Comics Presents: The Time Spider-Man Took a Fall for Animal Rights in 1990
Marvel Comics' January solicitations bring with them some of the best news we've heard in a long time: the long-awaited return of Marvel Comics Presents! The fondly-remembered anthology series, which ran from 1988 to 1995, was published bi-weekly and featured four stories, some serialized and some one-shots, from a mixture of current Marvel creators, brand new creators, and older veterans, and at its best, Marvel Comics Presents allowed Marvel to take some chances on stories a little more offbeat than those featured in their regular titles.
In a previous installment, we looked at the time Namor got political about pollution. But in Marvel Comics Presents #33, Spider-Man takes on another hot-button political issue of the day in a story called With Liberty and Justice for All, or, as the back cover more succinctly advertises it: The Amazing Spider-Man vs. Vivisectionists. The story, written by Bill Mumy, with pencils by Aaron Lopresti, inks by Sam Grainger, colors by Evan Skolnic, and letters by Agustin Mas, kicks off like many of Spidey's adventures, with the ol' webhead interrupting a robbery in progress at the university.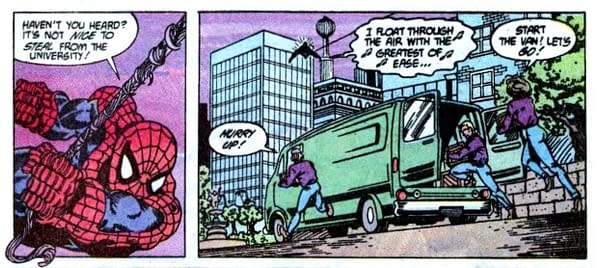 Once Spidey has rounded up the perpetrators, however, he's shocked to find that what these thieves are after isn't money or jewelry…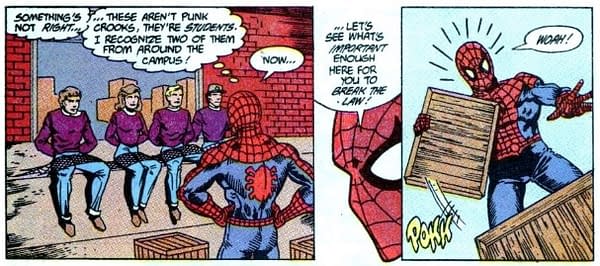 … but floppy-eared bunnies and other assorted animals! The confused Peter Parker asks for an explanation, and he gets one. It seems these students are animal rights activists, and they're liberating these animals from the university, which plans to perform cruel experiments on them.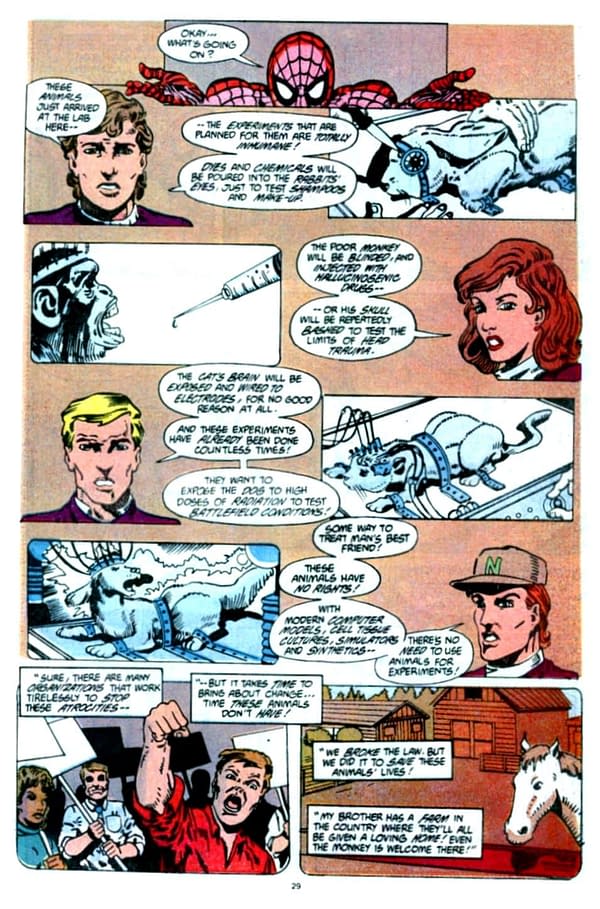 Obviously, Spider-Man must uphold the law, even if the law is wrong, right? Well, you might think so, but Spidey finds a creative way to let them off the hook.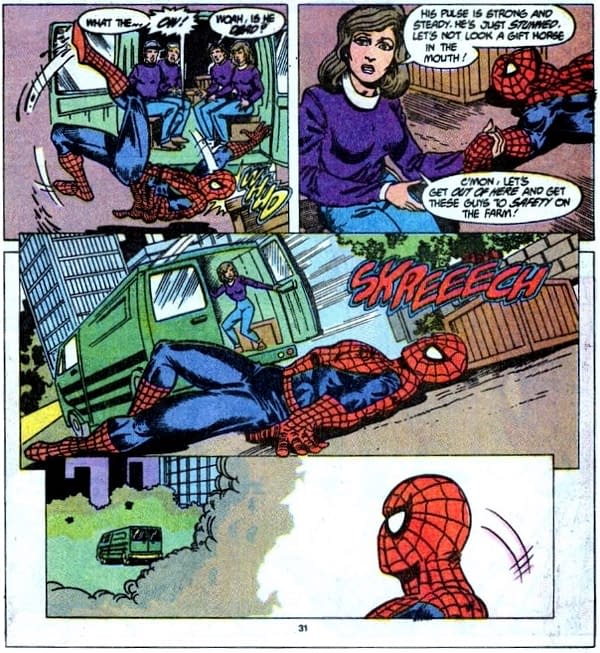 Later, Spidey heads home to Mary Jane, and to revel in the satisfaction of having made the morally correct choice, even if it wasn't the legal one.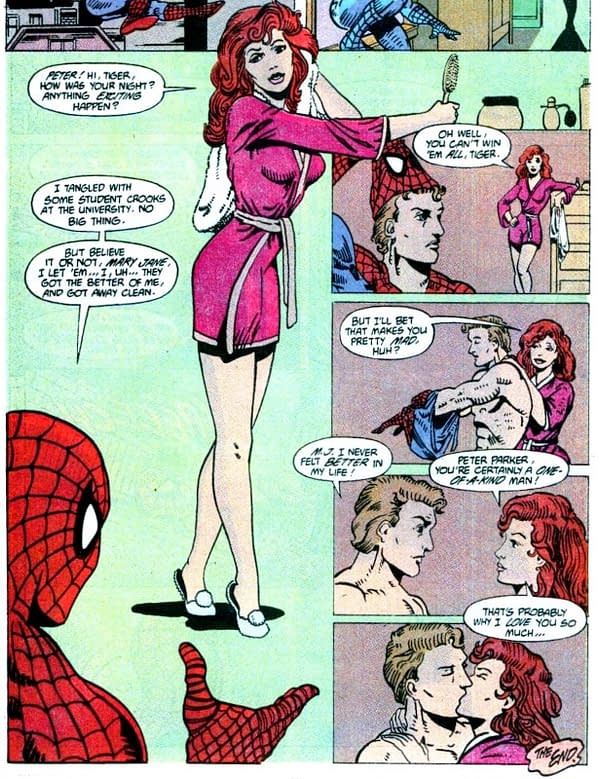 This turn of events might seem shocking if you adhere to the nonsensical argument that comics back in the 1980s and 1990s didn't feature overt political messages, but we assure you this story was published in January of 1990, and its political stance couldn't have been made more clear.
Can we expect the same thing from the series when it returns next year?
The new Marvel Comics Presents hits stores in January.
MARVEL COMICS PRESENTS #1
CHARLES SOULE, ANN NOCENTI, GREG PAK (W) • PAULO SIQUEIRA, TOMM COKER & MORE (A)
COVER BY ARTHUR ADAMS & FEDERICO BLEE
VARIANT COVER BY RON LIM
VARIANT COVER BY MARCOS MARTIN
HIDDEN GEM VARIANT COVER BY ADI GRANOV
VARIANT COVER BY TBA
THE CLASSIC MARVEL SERIES RETURNS FOR MARVEL'S 80th ANNIVERSARY!
Three titanic tales celebrating the first decade of Marvel stories! First — an all-new tale of the man they call the Wolverine begins in the 1940s! Then comes Captain America, the first Avenger of World War II still fighting for freedom today! And finally, the untold tale of Namor and the atom bomb!
40 PGS./Rated T+ …$4.99