Marvel Comics have a bunch more titles that have sold through their stock at Diamond Comic Distributors and have gone to a second printing, out on the 28th February
AMAZING SPIDER-MAN #794 LEG WW
(W) Dan Slott, Christos N. Gage (A) Stuart Immonen, Wade Von Grawbadger (CA) Alex Ross
THREAT LEVEL RED Part 1
• NEARLY ONE YEAR AGO Spider-Man hurled the dangerous madman called Zodiac a full year into the future.
• IN THIS ISSUE Spidey catches up to him, and Zodiac's had a whole year to prepare for their rematch!
SRP: $3.99
LEGION #1
(W) Peter Milligan (A) Wilfredo Torres (CA) Javier Rodriguez
Trauma Part 1
A mind-bending X-Men tale from the brains of Peter Milligan (X-Statix, Shade the Changing Man) and Wilfredo Torres (Moon Knight, Black Panther)! David Haller, the son of Professor Charles Xavier, has always had trouble containing the multiple personalities in his mind. And with each personality, comes a wild and dangerous mutant power. But now, a terrifying new personality is threatening to absorb these powers and take over David's mind and body. In a desperate attempt to save himself, David seeks out the help of renowned young psychotherapist Hannah Jones to delve into his fractured mind and fight back this dark personality. But unknown to Legion….Dr Jones brings her own demons with her…
SRP: $3.99
ROGUE & GAMBIT #1
(W) Kelly Thompson (A) Pere Perez (CA) Kris Anka
Ring of Fire Part 1
Everybody's favorite X-couple is reunited! And boy, are they not happy about that… Kitty Pryde must send Rogue and Gambit on an undercover mission to find a group of kidnapped mutants. What they discover on this mission will shock them. But will it also bring them closer together…? It's a high-stakes adventure caper that only the two hottest X-Men can deliver!
SRP: $3.99
X-MEN BLUE ANNUAL #1 LEG
(W) Cullen Bunn (A) Edgar Salazar (CA) Nick Bradshaw
THE CROSSOVER BETWEEN VENOM AND X-MEN BLUE STARTS HERE!
Spinning out of the events of Venomverse, the Children of the Atom and the Lethal Protector team up to take down an extradimensional threat! This is it, folks, the team-up you've been asking for: X-MEN BLUE and VENOM must band together in the cold reaches of space to protect our universe from a threat more diabolical than you can imagine. But will EDDIE BROCK, his faithful SYMBIOTE, MARVEL GIRL, CYCLOPS, ICEMAN, BEAST and ANGEL be enough to save this universe? I really, really hope so.
SRP: $4.99
And we mentioned how the first three issues of Donny Cates and Geoff Shaw's Thanos have all sold out and gone to second printing. Well Marvel are also giving Thonas #12 away free digitally.
Go to www.marvel.com/redeem, enter the code THANOSWINS by Tuesday and get the digital version for free…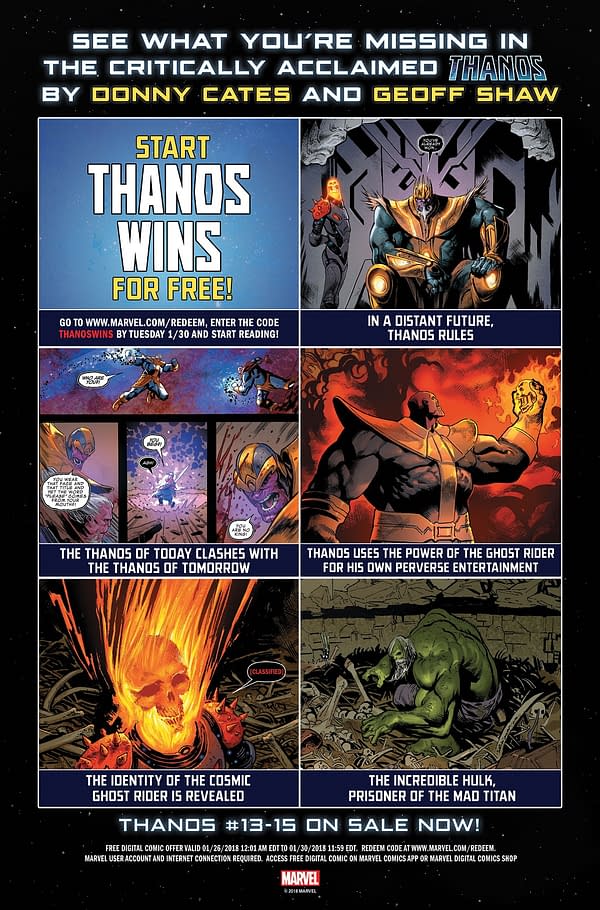 Enjoyed this article? Share it!