I'm seeing Solo: A Star Wars Story on Thursday. I am planning to be introduced to Beckett, played by Woody Harrelson, there and then. But if I really want to understand him, apparently I have to wait until August for this Marvel one-shot comic book by Marvel creators Gerry Duggan, Will Sliney, Edgar Salazar, and Marc Laming.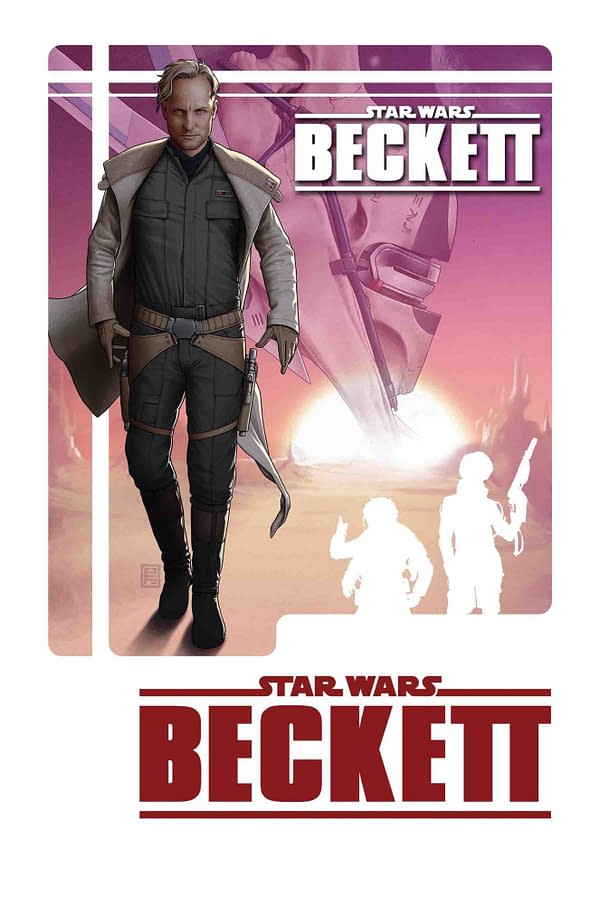 STAR WARS: BECKETT #1
GERRY DUGGAN (W) • WILL SLINEY, EDGAR SALAZAR & MARC LAMING (A)
Cover by JOHN TYLER CHRISTOPHER
VARIANT COVER BY TERRY DODSON
MOVIE VARIANT COVER ALSO AVAILABLE
THE GOOD, THE BAD AND THE DEADLY!
TOBIAS BECKETT taught HAN SOLO everything he knows about surviving hoodlum-filled cantinas and backwater worlds. But who is this career outlaw and why is ENFYS NEST— one of the galaxy's most dangerous and brutal marauders — so dead set on taking him down once and for all? Find out in this original tale of a man who has gamed star system after star system, but at a cost that no heist can make up for.
40 PGS./ONE-SHOT/Rated T …$4.99
Marvel has a few other Star Wars comics out then as well…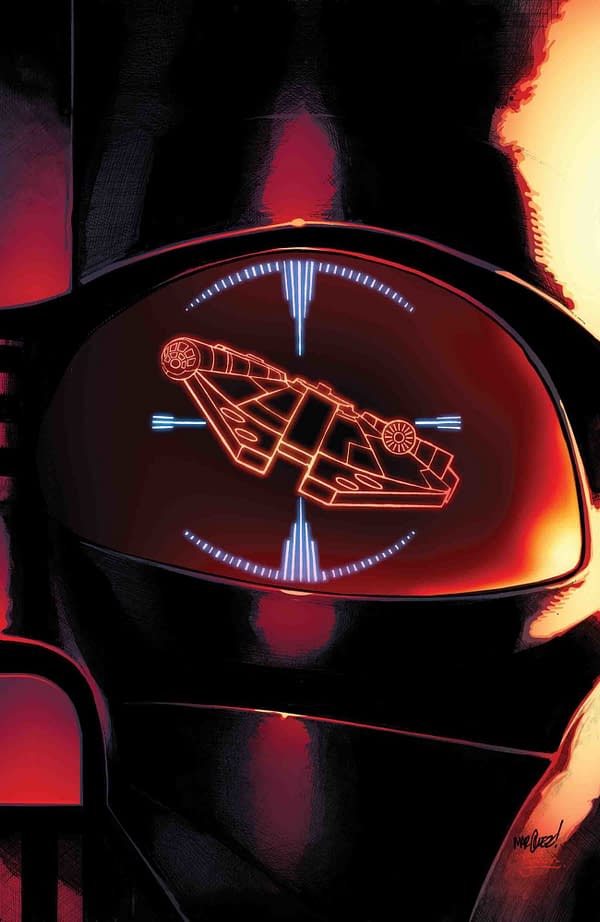 STAR WARS #52
KIERON GILLEN (W) • SALVADOR LARROCA (A)
Cover by DAVID MARQUEZ
Action Figure Variant Cover by JOHN TYLER CHRISTOPHER
GALACTIC ICON VARIANT COVER BY ROD REIS
"HOPE DIES," PART THREE
• The MILLENNIUM FALCON versus the whole IMPERIAL FLEET? No problem.
• A certain TIE ADVANCED STARFIGHTER piloted by a certain SITH LORD? Problem. Big problem.
• No human can save the day. But maybe a droid can…
32 PGS./Rated T …$3.99
DARTH VADER #19
CHARLES SOULE (W) • GIUSEPPE CAMUNCOLI (A)
Cover by GIUSEPPE CAMUNCOLI & ELIA BONETTI
GALACTIC ICON VARIANT COVER BY ROD REIS
"FORTRESS VADER" BEGINS!
• A JEDI makes a desperate deal.
• THE INQUISITORS' mission evolves.
• DARTH VADER discovers a theft.
32 PGS./Rated T …$3.99
DARTH VADER #20
CHARLES SOULE (W) • GIUSEPPE CAMUNCOLI (A)
Cover by GIUSEPPE CAMUNCOLI & ELIA BONETTI
"FORTRESS VADER," PART TWO!
• A thief faces the consequences for their crime.
• EMPEROR PALPATINE rewards DARTH VADER with three gifts.
• A thing, a choice and a voice.
32 PGS./Rated T …$3.99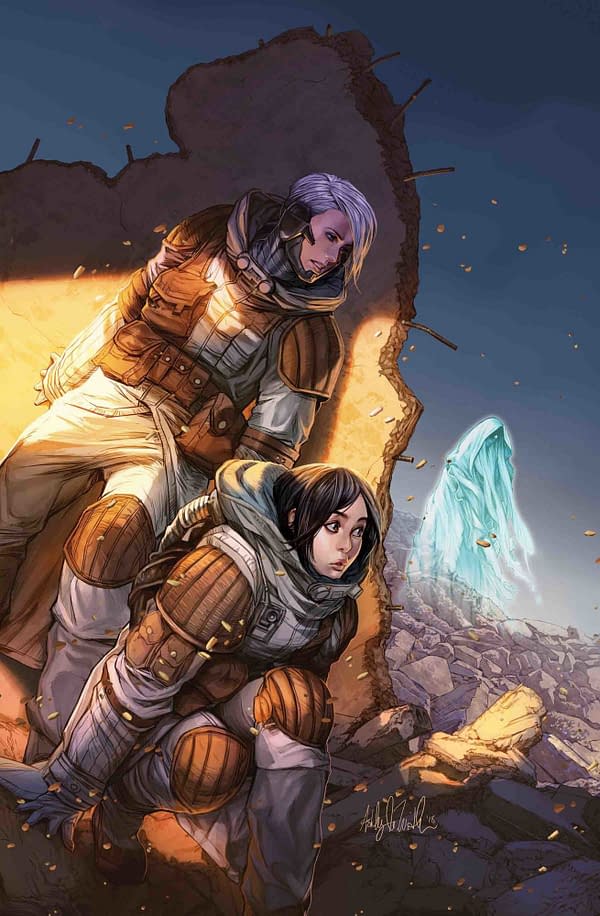 STAR WARS: DOCTOR APHRA #23
SIMON SPURRIER (W) • KEV WALKER (A)
Cover by ASHLEY WITTER
GALACTIC ICON VARIANT COVER BY ROD REIS
GOOD NEWS: THE IMPERIALS HAVE ABANDONED ACCRESKER JAIL. BAD NEWS: FIRST THEY SHOT IT AT A REBEL PLANET.
• For unscrupulous inmate DOCTOR APHRA, accompanied by former flame SANA STARROS and current flame INSPECTOR TOLVAN…
• (NB: Awkward.)
• …chances to escape are dwindling fast. Good thing Aphra's not distracted by an expensive relic, right?
•Oh, dear.
32 PGS./Rated T …$3.99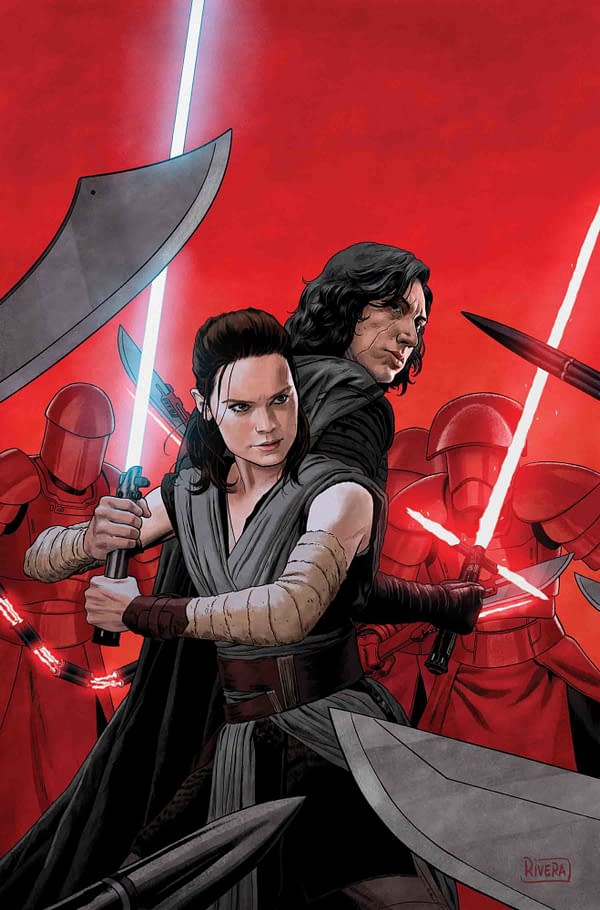 STAR WARS: THE LAST JEDI ADAPTATION #5 (of 6)
GARY WHITTA (W) • MICHAEL WALSH (A)
Cover by PAOLO RIVERA
Variant Cover by DAVID LOPEZ
REY CONFRONTS SNOKE AS THE
RESISTANCE FACES EXTINCTION!
• KYLO REN brings REY before the SUPREME LEADER — but who will turn?
• ADMIRAL HOLDO reveals a stunning plan to save the RESISTANCE!
• Plus! The return of CAPTAIN PHASMA as FINN and ROSE are betrayed!
32 PGS./Rated T …$3.99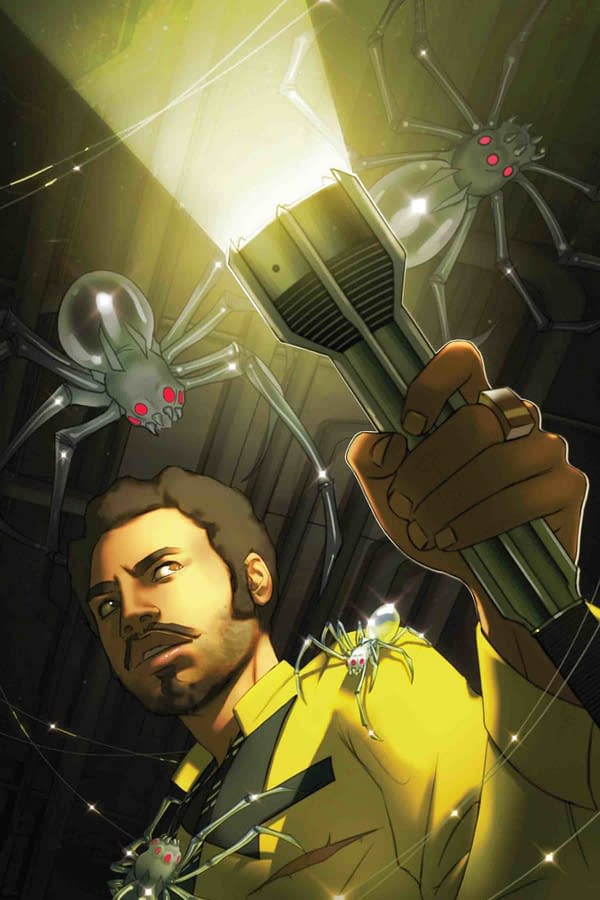 STAR WARS: LANDO — DOUBLE OR NOTHING #4 (of 5)
RODNEY BARNES (W) • PAOLO VILLANELLI (A)
Cover by W. SCOTT FORBES
VARIANT COVER BY DAVID NAKAYAMA
THE GALAXY'S MOST DEBONAIR ROGUE!
• Having been freed from BATALLA and his warrior clan, LANDO now faces a host of new obstacles.
• Will he get past the STORMTROOPERS, find RYTHUS and get the arms to him and his people?
• Is all of this possible while wearing a cape? Will his mustache start a grooming trend? All will be answered in this issue!
32 PGS./Rated T …$3.99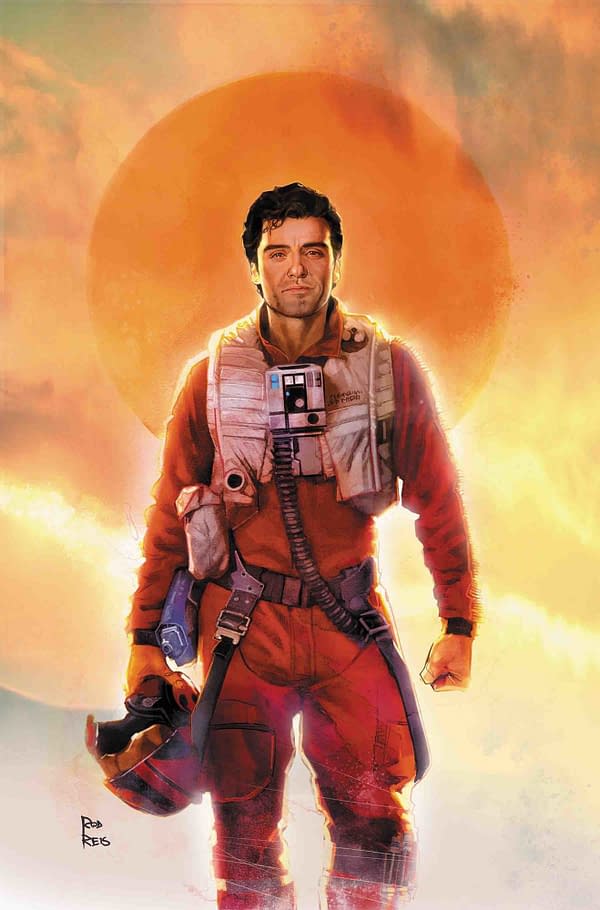 STAR WARS:POE DAMERON ANNUAL #2
JODY HOUSER (W)
ANDREA BROCCARDO (A)
Cover by ROD REIS
VARIANT COVER BY DECLAN SHALVEY
CAN POE DAMERON OUTMANEUVER ONE OF THE GALAXY'S GREATEST PILOTS?
• Rebellions may be built on built on hope, but they need more than that to survive.
• LEIA sends BLACK SQUADRON on a new mission, one that will raise important funds for THE RESISTANCE.
• Can a group of pilots really do the work of smugglers and scoundrels?
40 PGS./Rated T …$4.99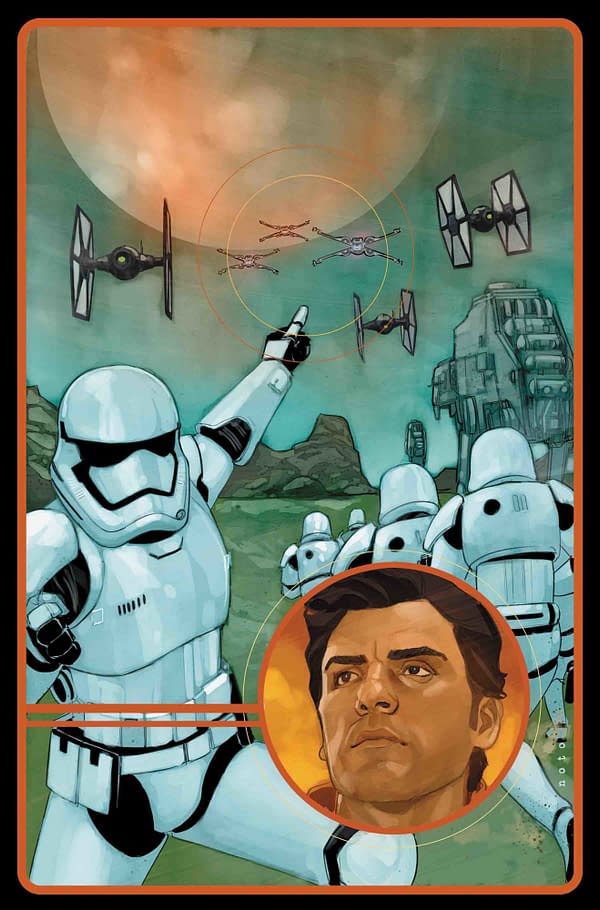 STAR WARS: POE DAMERON #30
CHARLES SOULE (W)
ANGEL UNZUETA (A)
Cover by PHIL NOTO
"AWAKENINGS," PART FIVE
• BLACK SQUADRON had its own mission during the events of THE LAST JEDI, a desperate trek across the galaxy to find aid for THE RESISTANCE, all without the help of their fearless leader, POE DAMERON. This is the beginning of the end.
32 PGS./Rated T …$3.99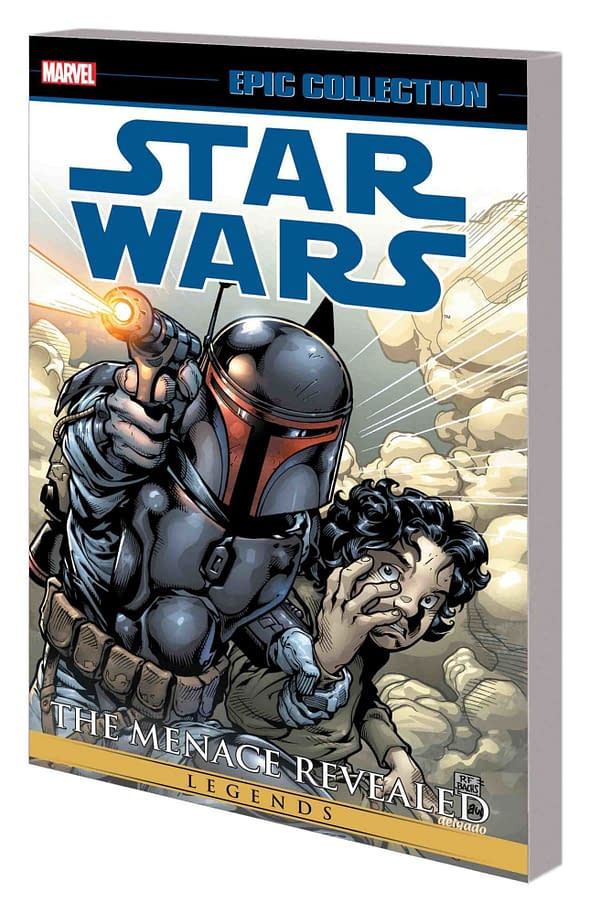 STAR WARS LEGENDS EPIC COLLECTION:
THE MENACE REVEALED VOL. 1 TPB
Written by W. HADEN BLACKMAN, TIM TRUMAN, JOHN OSTRANDER & ROB WILLIAMS
Penciled by RAMON BACHS, ROB PEREIRA, RICK LEONARDI, AL RIO, TOM LYLE, JOHN NADEAU, BRANDON BADEAUX & MORE
Cover by RAMON BACHS
Delve deep into the dark past of Jango Fett! Find out how he became a Mandalorian warrior — and battled his way through war and slavery to become the bounty hunter who caught Count Dooku's eye! Meanwhile, Ki-Adi-Mundi seeks a wayward Jedi on the backward world of Tatooine, and Jabba the Hutt will help — for a price! But Tusken Raiders and a vicious krayt dragon may mean the end of his mission! And as half of the Jedi Council heads to the planet of Malastare on a mission of peace, a phantom menace looms in the shadows! Plus: Mace Windu braves the Smuggler's Moon! And what is Jedi Darca Nyl's deadly secret? Collecting STAR WARS: JANGO FETT — OPEN SEASONS #1-4, STAR WARS (1998) #7-18 and material from STAR WARS TALES #8 and #21-24.
480 PGS./Rated T …$39.99
ISBN: 978-1-302-91373-1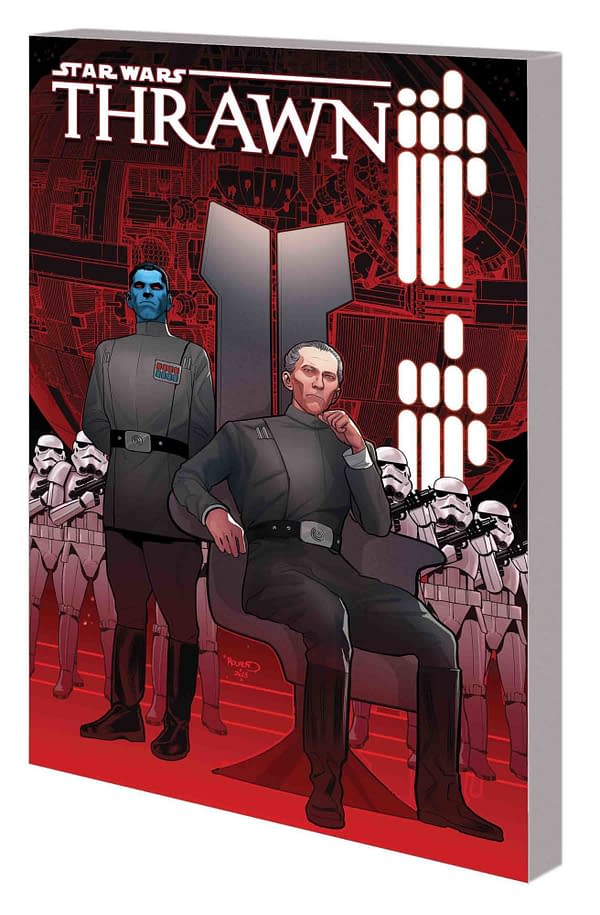 STAR WARS: THRAWN TPB
Written by JODY HOUSER
Penciled by LUKE ROSS
Cover by PAUL RENAUD
He's one of the most cunning and ruthless warriors in the history of Star Wars! Now, discover how Grand Admiral Thrawn became one of the most feared military tacticians in a galaxy far, far away. Jody Houser and Luke Ross adapt Timothy Zahn's New York Times best-selling novel about Thrawn's rise through the Imperial ranks! Meet young Lieutenant Thrawn, who graduated the Imperial Academy with the highest marks possible. He's been assigned his own personal assistant, Ensign Eli Vanto, and is ascending quickly — but that doesn't mean everyone in the Imperial Navy wants him to succeed. And Thrawn isn't the Empire's only rising star — so is Arihnda Pryce. The two rivals' paths will cross, and tensions will run high, when they discover a dark secret within the Empire. Collecting STAR WARS: THRAWN #1-6.
144 PGS./Rated T …$17.99
ISBN: 978-1-302-91156-0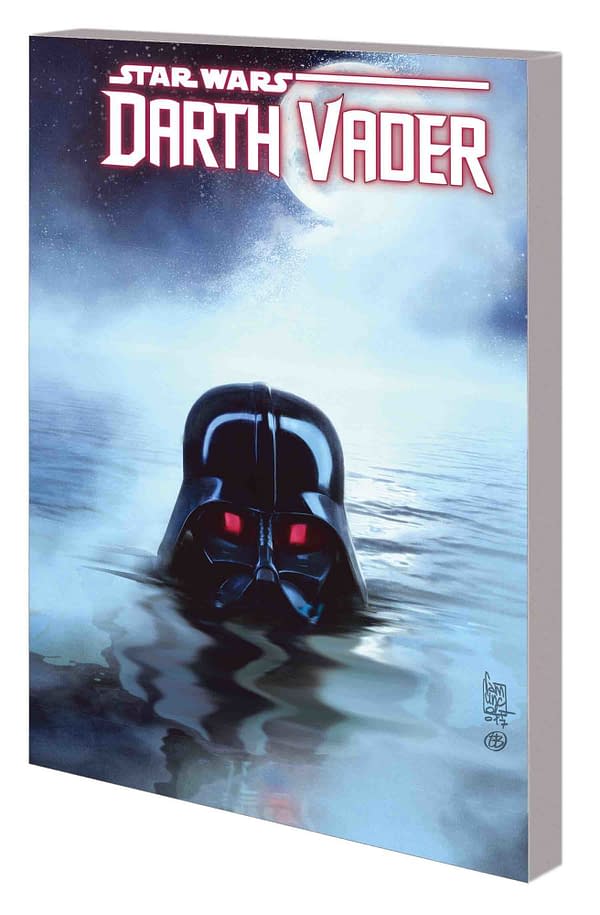 STAR WARS: DARTH VADER — DARK LORD OF THE SITH
VOL. 3 – THE BURNING SEAS TPB
Written by CHARLES SOULE
Penciled by GIUSEPPE CAMUNCOLI
Cover by GIUSEPPE CAMUNCOLI & ELIA BONETTI
As the Empire's grip tightens on the galaxy, the stirrings of a rebellion begin in the Mon Cala system. The fearsome Darth Vader knows order must be maintained at all costs — and this time the job of snuffing out hope falls to Vader, his Inquisitors…and Wilhuff Tarkin! Bringing Mon Cala to heel means finding the surviving Jedi that foment this unrest. No tolerance for rebellion can be afforded. But how far will Vader go to complete his mission? When the Dark Lord of the Sith and his Inquisitors finally track down their targets, a resistance will crumble and the seas will weep. And when the time comes for Tarkin to repay a long-standing debt to Vader, settling what is owed will require every last bit of his cunning — and will cost more than he ever imagined! Collecting DARTH VADER (2017) #13-18 and Darth Vader Annual #2.
176 PGS./Rated T …$19.99
ISBN: 978-1-302-91056-3
Enjoyed this article? Share it!