Marvel 2-In-One #2 Gives Us a New Timeline for the Marvel Universe
The Marvel Universe begins with the space flight that Reed Richards, Susan Storm, Ben Grimm and Johnny Storm took, that saw them exposed to cosmic radiation, and become the Fantastic Four.
When that is meant to have happened is a little on the dodgy side. Initially, Reed and Ben were meant to have fought alongside each other in World War II, placing their 1961 space flight in their late thirties or forties.
But the Marvel moving timeline has brought that date forward incrementally. Initially all Marvel stories were told in real time, but then that began to slow down. So while the seventies were set ten years after Fantastic Four #1, in the 1990s, it was only meant to be eleven years, and in 2010 it was stated as being 13 years. In 2014 as being about 15 years. Dates began to be avoided as they would only cause problems. I mean, it still caused some problems. This was underlined by the All-New X-Men, the original five coming from the past to the present and somehow being overwhelmed by the look of Times Square, despite it looking pretty much as it does not 13 years ago, as opposed to the sixties which is what the comic was really trying to say. Or having Tony Stark at university using smartphones having the opposite problem, seeming far too recent.
But in today's Marvel 2-In-One #2 by Chip Zdarsky, Jim Cheung, John Dell, Walden Wong and Frank Martin, we get a new date for the Marvel Universe.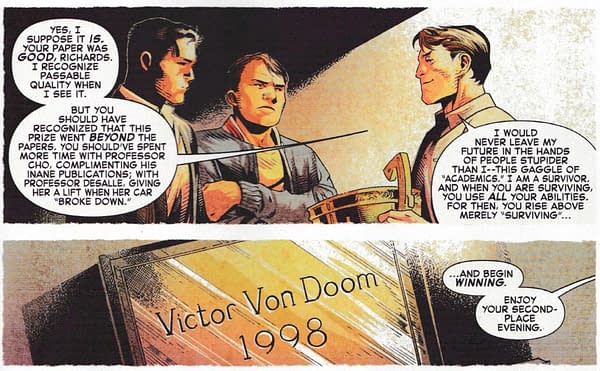 Reed, Ben and Victor all at college together in 1998. Reed no longer meets Ben in a war, but hires him as a pilot after college. So between graduating college, Ben still needs to train as one. You could,m conceivably add anywhere from three to five years onto this for the date of Fantastic Four #1.
Which also does confirm that the storyline of the Marvel Universe is now all post 9/11.
Of course, as Avengers #677 points out, that's more than enough time for some folk to be "all grown up".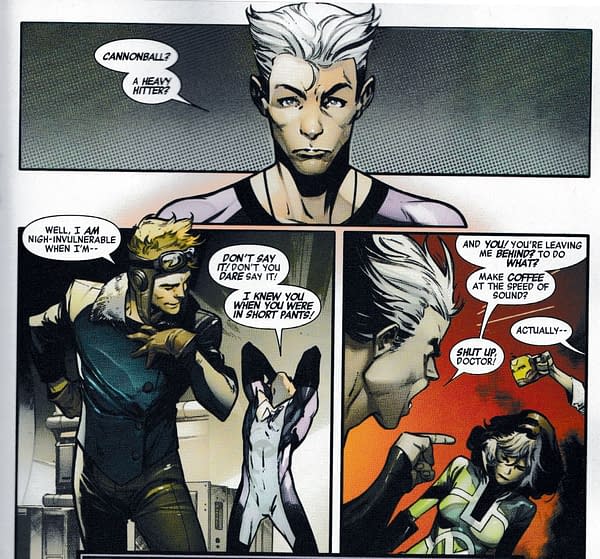 MARVEL TWO-IN-ONE #2 LEG
(W) Chip Zdarsky (A/CA) Jim Cheung
THE FATE OF THE FOUR Part 2
• What is THE SECRET OF REED RICHARDS? And is it deep within MONSTER ISLAND?
• Ben and Johnny are the only ones who can uncover it, unless DOOM beats them to it! THE FATE OF THE FOUR continues here!
Rated T In Shops: Jan 24, 2018
SRP: $3.99
AVENGERS #677 LEG
(W) Mark Waid, Al Ewing, Jim Zub (A) Pepe Larraz (CA) Mark Brooks
NO SURRENDER Part 3
NOW ON SALE WEEKLY!
Quicksilver flamed out of the Avengers, leaving devastation in his wake. But now that it's all hands on deck, is this his chance at redemption? Or will his hunger to prove himself be his downfall?
Rated T+In Shops: Jan 24, 2018
SRP: $3.99