Well, here's a thing.
Recently there has been much discussion regarding Marvel Comics decision to make the lenticular covers of the upcoming Marvel Legacy comic books tiered to orders of the non-lenticular covers, make them the same cover price and potentially leave retailers stuck with the non lenticular versions of the comic, and with disappointed customers. Some retailers have chosen to boycott the lenticular covers, some to raise the price of them, and others to just but the bullet and hope for the best.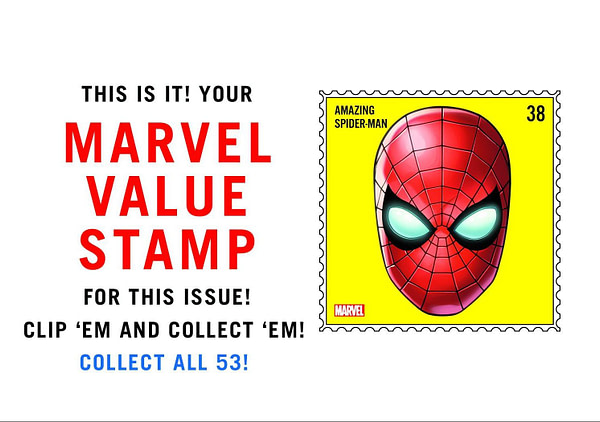 But this is a new… wrinkle. Bleeding Cool was first to tell you that Marvel were bringing back the collectible Marvel Value Stamps for the Marvel Legacy Not-A-Relaunch. A littl symbol from each comic that could be peeled off rather than cut out and collected in an album. A fun nostalgic kick with the added aspect that you don't actually have to cut them out of your comic this time around.
But they are making them only available in the non-variant non-lenticular versions of the comic.
which suddenly means, for some, the non lenticular standard covers have a new collectible appeal. Which could make a lot of retailers a lot happier.
Here are a list of the currently-solicited books that will come with Marvel Value Stamps.
ALL-NEW WOLVERINE #25 (AUG170910)
AMAZING SPIDER-MAN #789 (AUG170779)
AMAZING SPIDER-MAN: RENEW YOUR VOWS #13 (SEP170818)
AMERICA #8 (AUG170922)
AVENGERS #672 (AUG170838)
BEN REILLY: SCARLET SPIDER #10 (SEP170823)
BLACK PANTHER #166 (AUG170808)
CABLE #150 (AUG170826)
CAPTAIN AMERICA #695 (SEP170802)
CHAMPIONS #13 (AUG170843)
DAREDEVIL #595 (SEP170831)
DEFENDERS #6 (AUG170899)
DESPICABLE DEADPOOL #287 (AUG170830)
DOCTOR STRANGE #381 (SEP170847)
FALCON #1 (AUG170785)
GUARDIANS OF THE GALAXY #146 (SEP170868)
GWENPOOL, THE UNBELIEVABLE #21 (AUG170906)
ICEMAN #6 (AUG170916)
INCREDIBLE HULK #709 (AUG170804)
INVINCIBLE IRON MAN #593 (AUG170792)
IRON FIST #73 (AUG170818)
JEAN GREY #8 (AUG170919)
JESSICA JONES #13 (AUG170894)
LUKE CAGE #166 (AUG170821)
MIGHTY THOR #700 (AUG170848)
MONSTERS UNLEASHED #7 (AUG170903)
MOON GIRL AND DEVIL DINOSAUR #25 (SEP170863)
MOON KNIGHT #188 (SEP170853)
OLD MAN LOGAN #31 (SEP170859)
PETER PARKER: THE SPECTACULAR SPIDER-MAN #297 (SEP170827)
ROYALS #9 (AUG170882)
SECRET WARRIORS #8 (SEP170878)
SHE-HULK #159 (SEP170842)
SPIDER-GWEN #25 (AUG170877)
SPIDER-MAN #234 (SEP170809)
SPIDER-MAN/DEADPOOL #23 (SEP170813)
SPIRITS OF VENGEANCE #1 (AUG170798)
THANOS #13 (SEP170873)
THE MIGHTY CAPTAIN MARVEL #125 (AUG170814)
THE PUNISHER #218 (SEP170838)
U.S.AVENGERS #11 (AUG170874)
UNCANNY AVENGERS #28 (AUG170870)
VENOM #155 (AUG170887)
X-MEN: BLUE #13 (AUG170863)
X-MEN: GOLD #13 (AUG170857)