Recently Bleeding Cool ran a missive from Roy Thomas, regarding Captain Marvel and Avengers Endgame.
His collaborator on the Kree/Skrull storyline which will be appearing in the upcoming Captain Marvel movie, Neal Adams, wanted to put a few things straight, a few decades later. We reproduce Neal's letter in full below:
---
Dear Rich,

Word is kind of getting around that Roy Thomas, my great dialoguing partner, and John Buscema, had something to do with the creating of the Kree Skrull War concept at Marvel.

First, of course, the great John Buscema had nothing to do with the story. He took over art chores after I had to bow out because of difficulties I ran into with Roy.

I had agreed to work at Marvel with Stan Lee only if I could work the commonly known "Marvel Method".

As most in the industry know the Marvel Method is; the artist creates/writes the story, leaves notes, that guide the dialoguer, as to what's happening in the story. That was the only condition under which I would do work at Marvel, that I explained to Stan Lee, and Stan agreed 100%, and that never changed. (Even when I drew and wrote a two-part Thor story with Stan, a bit later.

Stan asked, since he was so busy, would I work with his new assistant, Roy Thomas, as dialoguer. I agreed, since Roy had a literary background, and seemed to be doing a good job. We proceeded. I wrote 10 or 11 issues of X-Men, Roy dialogued them, with no interference as to the story, and I then switched to Avengers, and I decided to do the Kree-Skrull Wars.

Roy dialogued it, and according to my agreement with Stan, Roy never wrote a script, nor an outline, or even notes to me, in any way. I was free to work the Marvel Method to do the Kree Skrull War.

People should gain credit for what they do, but not gain credit for what they do not do, what-ever the reason.

I was totally in charge of the story, and there is not one word of writing from any editorial person that gave me any direction.

Let's keep the record straight. This is not an argument. I have no argument with anyone. This is simply a statement of facts. I love the dialoging that Roy did, (except in the case of the title of the first book, which I suggested be "Three cows shot me down", and Roy changed to "Beachhead Earth ".

(If further explanation is needed, just contact me.)

Neal Adams
Opening salvo of a Kree/Skrull war of a very different type?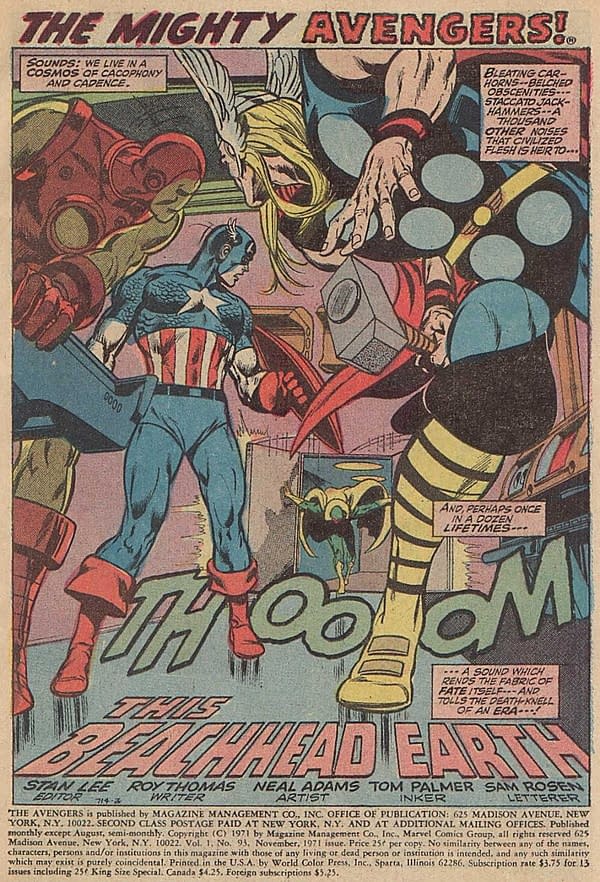 Enjoyed this article? Share it!