A Brand-New Midnight Sons for Marvel? [Damnation Spoilers]
We mentioned in February that Marvel Comics ads seemed to be suggesting a return of the Midnight Sons brand.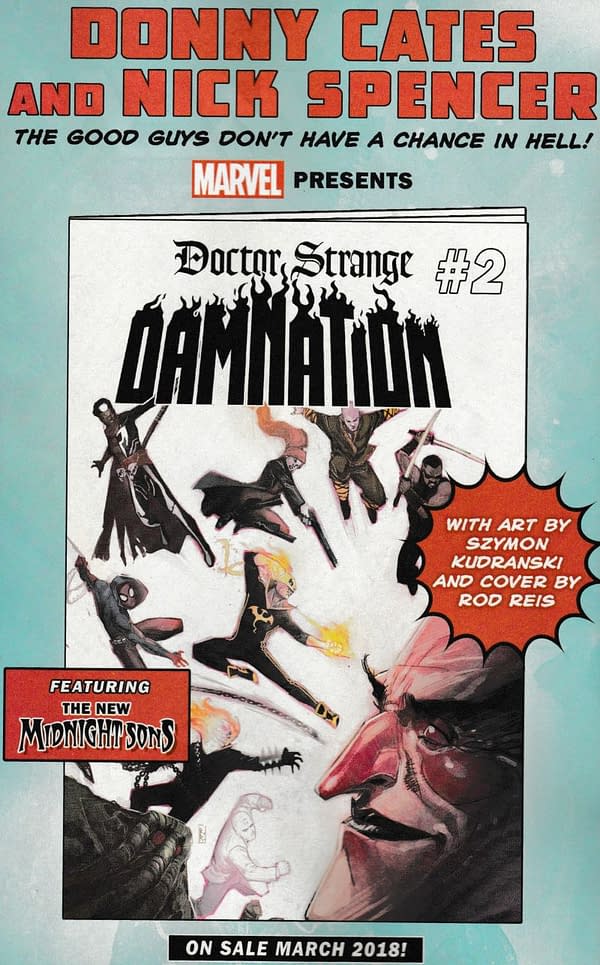 The New Midnight Sons.
Well, the conclusion of the Doctor Strange Damnation events seemed to suggest that was exactly being planned. As Doctor Strange summarised: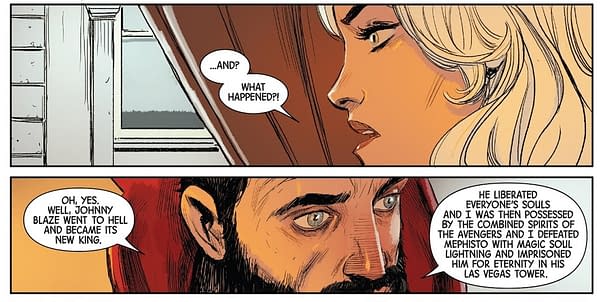 But at the end of Damnation, that wasn't a matter they were prepared to let lie.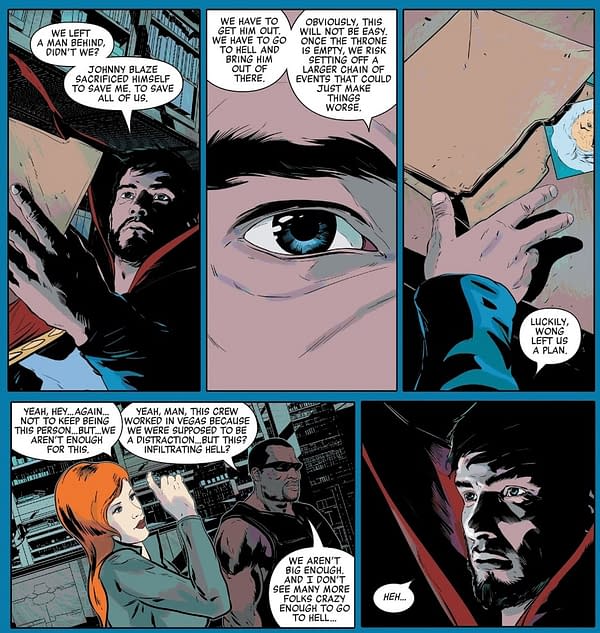 And to join Blade, Eliza Bloodstone, Doctor Voodoo, and Moon Knight?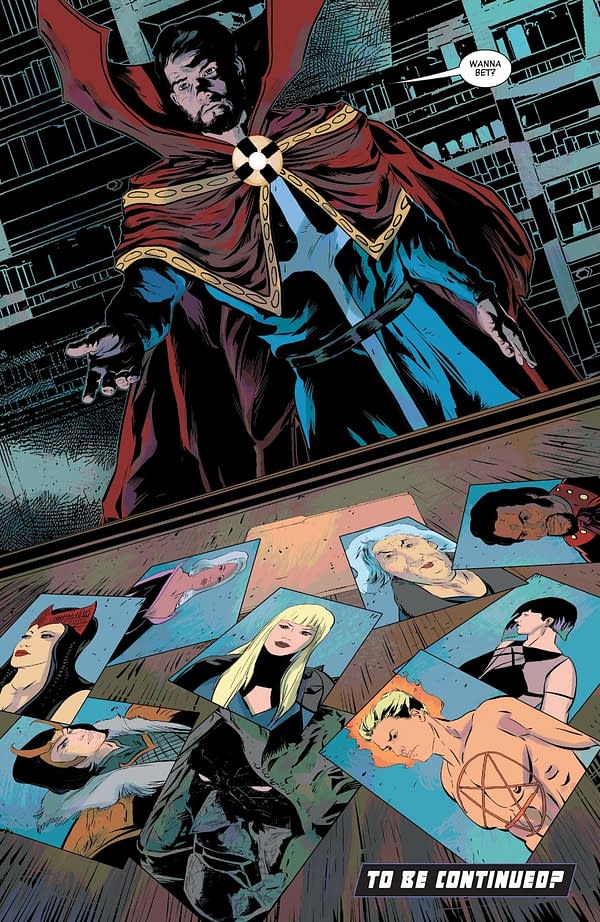 Scarlet Witch, Loki, Magik, Doctor Doom, Clea, Hellstrom, Agatha Harkness, Nico Minoru, Señor Mágico…?
Greg Smallwood tweeted out his own preferred version earlier this year…
https://twitter.com/SavageSmallwood/status/946441314417168385
…with Moon Knight, Blade, Ghost Rider, Doctor Strange, and Hannibal King.
Maybe we'll finally get that Avengers of the Supernatural as teased in Uncanny Avengers Annual #1 all those years ago?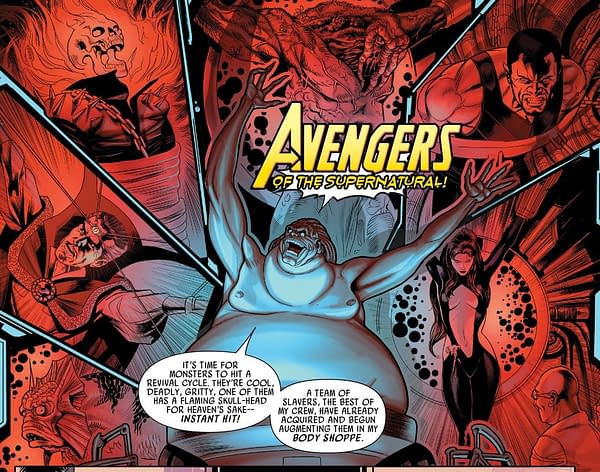 The Midnight Sons was a team of supernatural superheroes, including Hellstorm, Jennifer Kale, Morbius, Werewolf by Night, and Ghost Riders Danny Ketch and Johnny Blaze. The team first appeared in Ghost Rider #28 in 1992. From December 1993–August 1994, Marvel branded all stories involving the group with a distinct family imprint and cover treatment.
The team was formed by Ghost Riders Daniel Ketch and Johnny Blaze after Ghost Rider received a vision in which he learned that Lilith, Mother of All Demons, was being resurrected and posed a great threat. She planned to use her demon children, the Lilin, to take over Earth. Though Lilith had many children, she had four children who were very loyal to her. Their names were Pilgrim, Nakota, Meatmarket, and the most powerful of the four, Blackout, Ghost Rider's old enemy (Blackout was not an actual child of Lilith originally, but rather a grandchild. He was later killed and Lilith gave birth to Blackout along with her other children, thus indeed making him one of her actual children). Though she would have a lot more of her children to help her, the rest had forsaken Lilith. After she was imprisoned, many of the Lilin were either scattered or killed. Those who were scattered forgot the ways of Lilith and moved on with their lives, except Lilith's most faithful servants.
The team consisted of the Nightstalkers (Eric Brooks / Blade, Frank Drake and Hannibal King), Morbius, the Living Vampire, the Spirits of Vengeance (Danny Ketch / Ghost Rider, Johnny Blaze / Ghost Rider, and later Michael Badilino / Vengeance), and the Darkhold Redeemers (Sam Buchanan, Victoria Montesi, Louise Hastings, and later Modred the Mystic and Jinx). While secretly assembling the team and the sub-teams within, from behind the scenes, Doctor Strange didn't officially join the team until the Siege of Darkness storyline.
The Midnight Sons appeared in several 1990s multi-issue crossovers of Marvel's supernatural titles. The first, 'Rise of the Midnight Sons', launched several books in the Midnight Sons line, including Morbius in Darkhold: Pages from the Book of Sins and Nightstalkers all in 1992.
The group appeared in the nine-issue anthology comic book Midnight Sons Unlimited, which ran from April 1993 to May 1995.
Their final crossover was the 17-part Siege of Darkness, which ran from December 1993 to January 1994. It was featured in two consecutive issues of each Midnight Sons title as well as four issues of Marvel Comics Presents #143-146, and two issues of Doctor Strange, a title that was newly included in the line.
It really was the epitome of nineties comics.
Siege of Darkness marked the cancellation of Darkhold: Pages from the Book of Sins, and the Midnight Sons brand didn't last much longer. Nightstalkers only lasted three more issues. A Blade and Blaze series failed to catch interest. The Midnight Sons logo was eventually dropped from the remaining titles, cover-dated September 1994, although Morbius, Blade, Blaze, Doctor Strange, Ghost Rider, Marvel Comics Presents and the final three issues of Midnight Sons Unlimited continued on under the normal Marvel logo.
The Marvel Edge imprint debuted in 1995, incorporating some of the same ongoing titles as Midnight Sons, including Doctor Strange: Sorcerer Supreme and Ghost Rider. But that was some time ago.
But it does look as if Damnation might have brought them all back together again. A few new members as well…