No Tops Or Bottoms For Bob Beerbohm
One of the earliest comic book retailers and comic historian Bob Beerbohm (author of Comic Book Store Wars) set up the Californian comic book store Comics & Comix Store #1 near UC-Berkeley campus with Bud Plant and John Barrett, which went on to host comic conventions, and become the first comic book chain store. In a recent post to Facebook, he talked about buying directly from comic book newsstand distributors when setting up his comic selling business, using the phrase "no tops or bottoms" when picking the comics to take from them. He elaborated when doing so again. Bob Beerbohm writes, with permission to republish;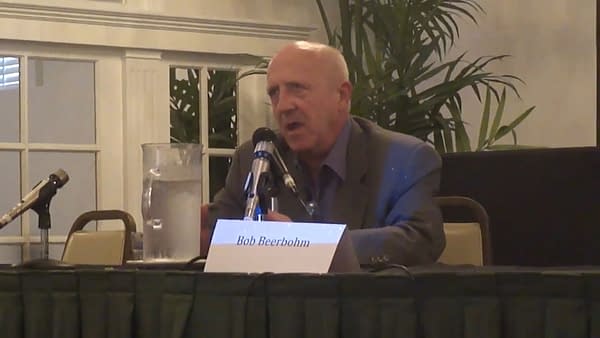 After I got to Houstoncon in 1967, then Dallas summer 1968, I learned from adults there who had begun opening early comic book stores one could actually pre-order copies in advance. And was told to say, "No "Tops and Bottoms" from 50 count bundles wrapped in a wire which cut in to the top few and bottom few of any bundle.
So nothing to do with nudist resort clothing mandates then. Bob Beerbohm continued;
I began my comics quests more than 50 years ago now still in Jr High School. Once I got RBCC #45 May 1966 the world of actively buying and selling comic books took on a whole new quantum evolution for me. Set up at my first comicon in Houston June 16-18 1967 turning 15 there after a 28 hour non-stop bus ride from Omaha to Houston. There was a Hinky Dinky grocery store which had a spinner doing the 3 for cheaper in a sealing plastic bag gig. Did not buy much there. Then there was the Greyhound bus depot which also had a spinner. If I got there on Tuesday and Thursday when new periodicals got there, I would look thru their offerings. There was an OP Skaggs grocery store which also got in Charltons. They used a double decker rack which gave up not much cover space showing only titles. That was my secondary source after my main one which was…. Fremont News and Travel. The pic below is an earlier sample of what and how their store was laid out along one long wall. The left side was all travel agent desks. Back then one had to have "experts" book you a plane, rent car, hotel bookings, etc.
Being still in high school then, I did not think in terms of the comic books I was accumulating as "inventory." Rather, my beginning to and then increase copy counts pre-ordered, it was more so acquiring extras in demand to trade for other stuff I did not have. Or sell to raise bucks to buy other comic books.
The earliest of comic book speculators there, folks.
Some where in the early 70s the wire used for 50 copy bundles are changed to a plastic thing zip sealed one turned over and simply pulled apart. By the 1980s those zip ties disappeared altogether

Swamp Thing #1. The week we opened that first Comics & Comix store near UC-Berkeley. This was 10 days after the first El Cortez Hotel San Diego comics show. When John Barrett and I went down to Gilboy Agency in Oakland, we were able to score a few hundred copies. As the weeks wore on over the next month, we were able to score another 300 or so off returns coming back to them. As months wore on we were buying more copies from those who had been able to score extras. Wrightson was a very 'hot' artist creator then. I did not "believe." I knew for a fact one could not get enough copies.

I was after at least one of every comic book ever printed. By the time of Best of Two Worlds Fen 1986 warehouse flood destruction of over a million comic books, Mark Stichman and I in the early 1980s figured and calculated BTW was more than 80% "there"…
Best of Two Worlds was Beerbohm's first solo comic book store, opened in November 1976, later expanding into a chain with other partners. Best of Two Worlds went out of business in 1987 due to the massive flooding of its central warehouse in Emeryville, California a year earlier. He wrote about that previously…
In Feb 1986, Best of Two Worlds' central warehouse of a million comic books and related artifacts was destroyed in northern Calif flooding. The firm controlled most of the back issue market in the Bay Area by virtue of having the product when others simply did not in such depth.Mark Stichman and I estimated we were fielding at least 80% with at least one copy of every comic ever printed from 1934 up. Stuff like Amazing Spider-Man #1, there were upwards of 50 copies stashed any one time. We worked very hard to have virtually everything ever published with two staples on those folded up pamphlets, plus ancillary artifacts extending in to original art, movie posters & lobby cards, toys, ERB, OZ, pulps, so much more.

Then almost 90% of BTW's extensive assets worth then over $4M were destroyed in a weekend just 43 miles south of where Eclipse Comics was washed down the Russian River which had gone some 57 feet above its flood banks.
Water is a comic book collector's worst enemy, in a tag-team with fire.