Oops – Risque Cover Of Bettie Page #1 Ships Without Black Bag
It's unlikely that many retailers will have put out a comic book on the racks with a topless photo on the cover. But just in case, Dynamite Entertainment has let retailers know that they forgot to put a black bag around the Bettie Page #1 Black Bag Photo Cover that came out last week. The black and white cover of Bettie should have been partially obscured by a black bag, to allow it to be stacked on the rack in an American-retailer-friendly fashion. But it somehow got skipped by the production process.
Dynamite tells retailers that "the Bettie Page #1 Black Bag Photo Cover did not ship in a black bag, as solicited. As some nudity is displayed on the cover, retailers are urged to use discretion in offering it to customers."
Here's how Bettie Page #1 Black Bag Photo Cover was solicited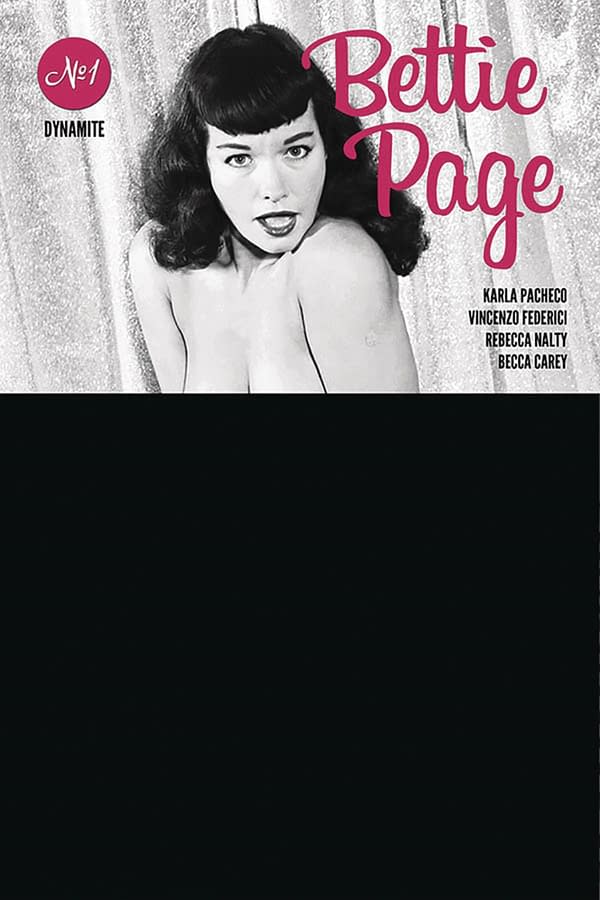 BETTIE PAGE #1 BLACK BAG PHOTO CVR (MR)
APR201137
(W) Karla Pacheco (A) Vincenzo Federici (CA) Photo
Bettie Page, the Queen of Pinups, was known equally for her fierce fashion modelling and her bold nude pictorials! This Black Bag Edition – available only as a variant for the first issue of BETTIE PAGE – features the same great story, but with a rare risque photo cover of the original bombshell, posing in all her natural beauty! In Shops: Jul 15, 2020 SRP: $10.00
Betty Page was an American model who gained a significant profile in the 1950s for her pin-up photos. Born in Nashville, Tennessee, Page lived in California before moving to New York City to pursue work as an actress. There, she found work as a pin-up model, and posed for dozens of photographers throughout the 1950s. After years of obscurity, she experienced a resurgence of popularity in the 1980s. In Dave Stevens' The Rocketeer, Cliff Secord's girlfriend Betty is modelled after Bettie Page and Dynamite has been publishing Bettie Page comic books for a number of years.