When looking at the original Marvel Legacy covers and title, Bleeding Cool's Joe Glass got quite excited: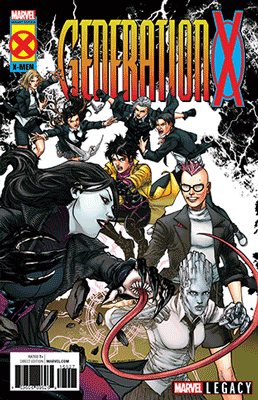 "Generation X will have an arc called 'OG Gen X', as it reverts to it's classic numbering of issue 85. This one is particularly interesting as it would imply an arc focusing on the original Generation X team (the Gen X fan in me squee'd loudly), but at last count some key members of this team were missing. Jubilee, M, Husk, Penance (now going by the name Hollow at last check in) and Chamber are all still kicking around, so maybe it's just these four coming together. But could we also see a return of Skin (crucified, cremated against his wishes, and given a headstone with the wrong name) and Synch (blown up in a terrorist incident committed by Emma Frost's sister)."
That does indeed look like that's what we're getting. Written by Christina Strain and drawn by Amilcar Pinna, it's the return of the original team, as created by Scott Lobdell and Chris Bachalo. Monet (bonded to Emplate), Jubilee, Chamber, and Husk.
But no mention of Skin or Synch… yet. But the team will also be turning up in the time-travelling exploits of X-Men Blue #18 as the team undergo their own cross-time caper.
Enjoyed this article? Share it!