We have been following former Vice President of Purchasing, Bill Schanes, as he takes time out to remember early details of his career in comic book publishing and distribution, through the seventies, eighties and nineties.
Bill Schanes mentioned publishing the return of Jack Kirby to comics with his publisher Pacific Comics, but he has also been detailing his dealings with other legendary creators, including Gil Kane and Steve Ditko.
We had originally reached out to Gil Kane to launch our Pacific Comics line of full color comic books. Gil had a very interesting project called Blackmark, which had originally been published as a paperback book in 1971 by Bantam Books. We sold these in our chain of retail comic book stores back in the day.

Gil very much liked our creator friendly contract, but Gil was really old school, and he wanted to have Blackmark on newsstands nationwide. Gil was quite stubborn and was challenging to have a conversation with. We didn't believe in the newsstand channel of a viable distribution model, as the sell through percentages often were as low as 20%, and we felt the whole old school fully returnable system was so out of date and fundamentally flawed. Also, when we were going to launch our line of full color comic books, we wouldn't have any advertising revenue, just sales from the actual comic books.
We couldn't come to terms with Gil, but instead lead with the king, Jack Kirby! Can't get any better than that.

Side note: I seem to recall Gil wanted Blackmark published as a black and white comic book Vs full color.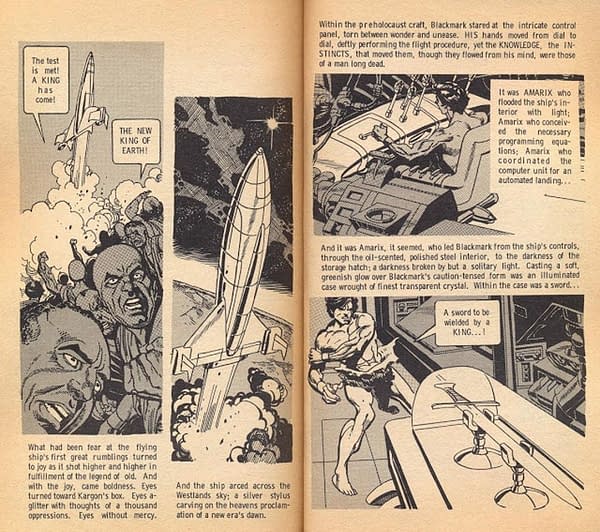 Blackmark, an early graphic novel from 1971 from Bantam Books, has later chapters published by Marvel Comics and was most recently republished by Fantagraphics. And of Steve Ditko, Schanes recalls
My first meeting with Steve Ditko was pretty surreal. We had exchanged letters, and Steve invited me to his apartment in New York City. Steve had already agreed to do some short back up stories for Pacific Comics, and we couldn't have been more pleased (We already we're publishing Jack Kirby's new creator owned property – Captain Victory).

Steve's apartment was really small, as it had a very small drawing board/desk set up in the corner of the room, shelving units around the walls, one small window, and a bed right in the middle of the room. I do not believe there was a bathroom inside of his apartment at that time, but there was a common bathroom down the hallway which was shared by all of the occupants on that floor.

His one room apartment had comic books everywhere, not organized, or stacked in any particular way, on the floor, on the shelves, some on his bed. I sat on one end of his bed while he sat on the other, and after chatting for a few hours, after which my meeting with Steve concluded.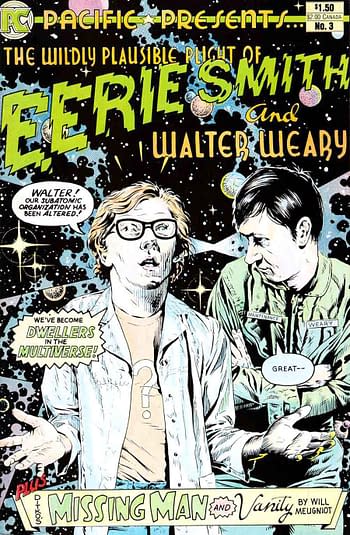 Keep these coming Bill… it's an education.
Enjoyed this article? Share it!