Paul Ryan: Salary Gain from Tax Overhaul Could Pay for Up to 2 Comics Per Month
A lot has been said about the Republican tax overhaul passed by Congress in December. For critics of the bill, most of the changes benefit the richest Americans while providing only small benefits to working Americans. Some say that the elimination of state tax deductions will cause citizens of high-tax coastal states to pay more in taxes. On the other hand, proponents of the tax overhaul say that it will provide a boost to the economy, creating jobs and driving up wages. We've even seen some companies provide bonuses to employees as a result of the cut, like Disney, proving that all those donations to Donald Trump made by Marvel Chairman and Disney shareholder Ike Perlmutter are finally paying off.
But there's another way that the comic book industry could benefit from the tax overhaul beyond Marvel's close personal relationship with President Trump. According to a Tweet by House Speaker Paul Ryan, the gains from the tax cuts could allow one public high school secretary to buy upwards of two comic books per month!
Ryan originally stated the gains in terms of a Costco membership, tweeting: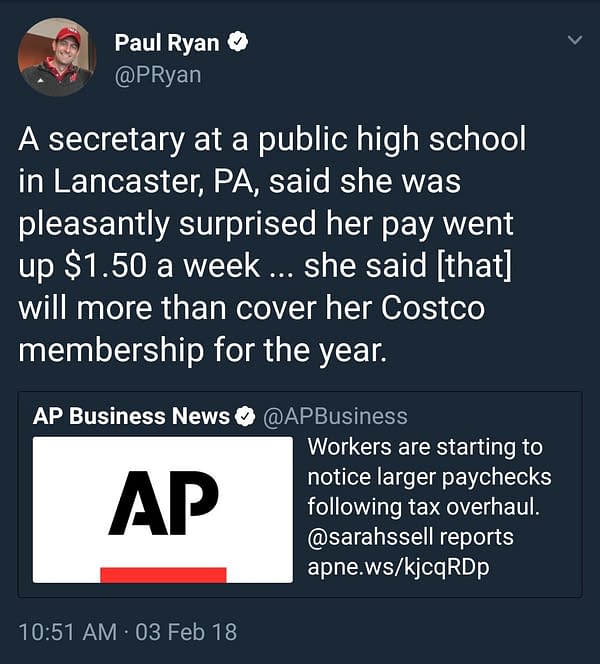 But Ryan later deleted the tweet, possibly because he was receiving a lot of backlash and mockery over the suggestion that $6 a month is a significant gain for working people when rich people and corporations stand to gain millions from the cuts. However, it's also possible that Ryan deleted the tweet because he realized there's an even better way to quantify the average gains the tax cut provides.
Bleeding Cool is today able to EXCLUSSSIVELY confirm that using the extra $1.50 per week, that high school secretary from Lancaster, PA could conceivably purchase as many as two comics per month from a local comic shop. Exactly how many comics could be purchased, of course, depends on the comic. Standard issue DC comics with regular covers, for example, cost $2.99, which means that a person earning an additional $1.50 per week could afford to buy 2 DC comics in a single month. Marvel comics, however, tend to be most costly, running $3.99, $4.99, or even $7.99, depending on whether it's a number one issue or a milestone issue, whether or not it contains a lenticular cover, and exactly how much useless filler material the comic is packed with to convey a sense of "value."
Our Lancaster secretary, for example, would need to save up for six weeks in order to purchase certain special issues of Deadpool, but could in most cases purchase an entire Marvel comic each month and still have room left over for ramen noodles and Kool-Aid, a luxury often to pricey for serious comic collectors who must devote all of their available income to keeping up with the comic book industry's latest stories. Over the course of a year, buying only the cheapest superhero comics, the secretary could collect as many as 24 comics, which by modern decompressed storytelling standards would result in roughly four complete serialized storylines, an amazing value!
And that's just if we're talking about single issue comics. True bargain hunters might be able to find even better deals by purchasing the comics of yesteryear, and what would be more fitting for the tax overhaul of a political party stuck in the past than that? For example, a savvy taxpayer could pick up a trade paperback copy of Fantastic Four Epic Collection: Strange Days, featuring art by The Real Paul Ryan, no less, for under $30 on select online retailers, or roughly 20 weeks of saving those extra payroll earnings. A digital copy could be had for half that, or just ten weeks of labor, at regular pricing. When Marvel runs one of its end-of-quarter sales boost discounts, the entire collection could likely be had for a single week's work, a massive benefit that Republicans really should have put at the forefront of their messaging for the bill.
Hopefully, Paul Ryan The Lesser will take our advice and phrase his next assessment of the benefits of the tax bill in terms that regular people can understand, such as comic books. Although, if we're being honest, one could easily subside by eating nothing but the free samples provided at Costco each day if they're willing to make multiple trips to the warehouse store each day for meals, so we'll need to do the math to see how many comic books could be afforded if one chose to go that route.
Of course, now that we think about it, we're beginning to regret writing this article. Once somebody at Marvel reads this, they may realize it's been a few years since the last line-wide price-gauge, and the Republican tax plan could allow them to raise the price of their monthly comics to $5.50 each, allowing employers to pass their savings along to employees who can, in turn, pass their savings along to Marvel, who can, in turn, pass them back to Donald Trump through Ike Perlmutter's political donations. Now that's what we call economics!