Pete Doree writes,
ITEM! When did I first get into comics? Hey, thanks for asking. I know EXACTLY when I first got into comics! It was 'Week ending Oct. 7 1972' because that was the week The Mighty World Of Marvel #1 was unleashed upon an unsuspecting British public.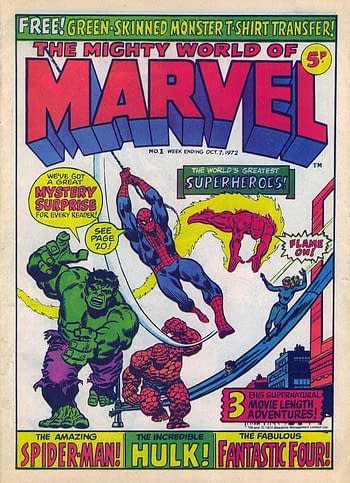 I know I would have seen Batman or Superman before this, and I have vague sense memories of reading Harvey comics ( possibly Hot Stuff ) when I was very little, but MWOM #1 was Year Zero for me. In its black & white ( and tonal green! ) pages, I first met The Hulk, Spidey, Reed, Sue, Ben & Johnny, and fell in love with them all. I also became aware, for the first time, that there were actual people who wrote and drew comics. Who were 'Stan Lee', and the mysteriously named 'J.Kirby' and 'S. Ditko'? I didn't know, but I was sure gonna find out. With one single comic, I was instantly a Merry Marvelite, a lifelong comic fan AND a True Believer ( Stan told me so, right there on the intro page! ) And immediately after, Spider-Man Comics Weekly started, and then The Avengers and Savage Sword Of Conan and Dracula Lives and Planet Of The Apes. By the time the actual American comics started coming in, me & my friends couldn't run to the newsagents quick enough.
Time passed, we all got older, and as you know, we sadly lost Jack, and Steve, and Stan, and so many other wonderful creators over the years. But what if we hadn't? Like most of us I'm sure, I remember being disappointed when I found out there wasn't really a Blushin' Bullpen, there wasn't really a happy troupe of writers and artists hanging out together and producing masterpieces on a monthly basis, that Lee & Kirby quite often didn't actually get on that well. But what if they had? What if the Bullpen had existed the way Stan described it? What if he & Jack really were best buddies who occasionally drove each other crazy? And if you haven't already guessed where I'm going with this, well, you clearly haven't read any comics in the last fifty years, Frantic One…
My new comic, Stan & Jack, is about exactly that. It's as if ol' Smilin' had put a back-up starring himself & Kirby into every late Silver Age / early Bronze Age book, or as if the boys had had their own strip in Mad. I decided my version of Jack would talk like a cross between Ben Grimm & Nick Fury, barking 'Whatta revoltin' development!' with an ever-present stogie in his mouth, always good-naturedly exasperated by his old friend and partner in comics history.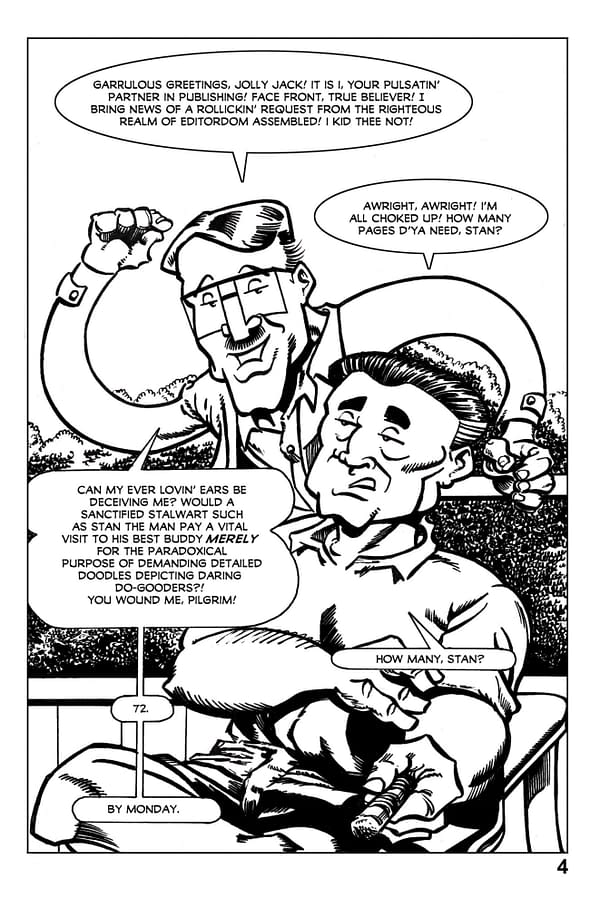 And Stan? Well, Stan would talk like Stan. All peppery pronouncements and pitch-perfect patter, pilgrim! I'd bring them back to life, and they'd go on wacky adventures of their own, always getting back to the office just in time to beat the Dreaded Deadline Doom.
And I wouldn't just stop at Lee & Kirby. If Stan & Jack were going to head off into time & space, why wouldn't the rest of the gang be involved? So in this first issue alone, our harried heroes team up with fellow legends Gregarious Gil Kane, Wondrous Wally Wood and of course, Shadowy, Secretive Steve Ditko. And just wait'll you see the guest list for ish #2! So join me and the rest of the Batty Bullpen for the first senses-stunning issue of Stan & Jack. You wouldn't wanna keep us waiting, would you, effendi? We hate starting without you! Excelsior! Stan & Jack #1 is available now at https://petedoree.bigcartel.com
Enjoyed this article? Share it!