Eric Patridge from comic store Fat Jack's Comicrypt writes,
I'm writing this letter because my boss, and friend, needs help and is too proud to ask for it. He has been doing his best on his own to make things work, more on that below. I'm also writing on behalf of everyone at Fat Jack's Comicrypt – the employees and the customers who love our store. This letter may be a bit all over the place as I'm writing it quickly as we're coming up on Christmas and hoping that in the holiday season everyone can help. The last few years have been really tough for us, not only because sales in the industry have been softer as the industry has shrunk a little, but because many costs have gone up. Two major costs that have gone up are health insurance and rent. Collection sales have fallen due to the ability of individuals to sell on Ebay and Amazon selling some collections even at below wholesale. Some customers have lost their jobs and cut their orders or haven't picked up their hold box comics in a while (we work with our customers, but when customers just can't afford to buy all of the books they pre-ordered, we are understanding; the problem then lies in that the books may not sell months later). This has all added up over the last few years. We've all worked hard, and no one harder than Mike. He's been in the industry well over 40 years as the oldest comic store in Philadelphia, and one of the first and oldest in the country. But again, times have been tough.
As I mentioned, Mike has been doing his best to make this work and not burden anyone else with this. Mike has made many sacrifices for everyone at the store and for our customers who are family. He's gone without pay for stretches of time to ensure we've all been paid and had our health insurance taken care of and ensuring the fans have gotten their comics on time each and every week. Mike loves the industry and treats all of our customers as family, and their enjoyment is first and foremost. If fans can't buy their books, or they decide to stop buying comics, we all lose out. We've fallen behind on bills to a few vendors, and we're trying to get out from under. Our long-term relationships with suppliers and our landlord have helped us through some tough times, but they are running businesses too. We appreciate all of the leeway that they have been able to give us, and we've come through, but again, need more help to get past this.
As I mentioned, Mike is proud, and only recently shared this with me as he didn't want to burden me or anyone else here at the store. It's been tough for Mike.  We are behind in our bills, and the store is long overdue for repairs and upgrades that we simply can't afford to make. We do our best to patchwork the areas that need work but that only goes so far before it becomes an even bigger problem.
Mike has sold all of his personal comics and collectibles and other personal items to raise money to help get out of debt, which has helped through some tough weeks when there weren't enough new books to sell to ensure everyone was paid and we were able to pay rent and other expenses. Making sure that each week's new titles are available for our fans is paramount, since if we missed any week, that would probably be the end.  We've gotten some help from friends in the industry and for that we are eternally grateful, but we need to do more. We're deep discounting a lot of books and having ongoing sales to help generate money. In a perfect world, it would be great if you could come and check out the store and find comics you want to buy.  If not, we are asking for any help you can give.
I've worked for Mike and been at Fat Jack's for over 25 years. There are employees who have been here for many years, and customers who are like family.  We cherish each moment with everyone. I'm not even asking for myself, more so for Mike and everyone else. For over 40 years (before me and while I've been here) Mike's run a family friendly store that has introduced thousands of readers to comic books over the past four decades. We've made so many friends at the stores and have enjoyed sharing our passion for comic books with everyone who has visited with us.
There's a lot of history here at Fat Jack's. We've had great creators such as Matt Wagner, Joe Matt and Bill Willingham as customers and friends, and had signings with other creators including Neil Gaiman, Neal Adams, Tom King and many others. We want to continue to bring comics to the world. We want to continue to help spread the word. We want to continue to be in this industry, as this industry is family and the most important family we can have.
In this season of giving, we would like you to consider helping us continue to provide the comic books and other products you desire, in a pleasant and friendly atmosphere where collectors and readers can rely on Fat Jack's Comicrypt.
Please help us if you can. Come to our store or help via GoFundMe page.
With much appreciation for your time.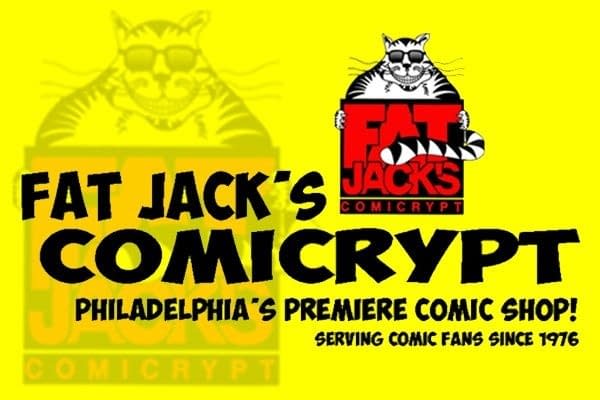 Enjoyed this article? Share it!