Photographic Review: Exploring The Life Of Photographer Graciela Iturbide Isabel Quintero and Zeke Pena's graphic novel Photographic: The Life of Graciela Iturbide is a biography of Graciela Iturbide, an influential Mexican photographer who focused on intimate portraits of Mexico's indigenous peoples. The book is hardcover and well made, with a solid feel when held without making you wonder if your hand will fall off at the wrist.
The interior art is done in slick, expressive grayscale, with delicate shading that gives more context to the chosen interior photographs. The text flows with and complements the art and photographs, lightly balanced and with an easy flow for the eye to follow. The book, simply, is beautiful.
Following Graciela through Mexico, America, and India, the book follows the flow of her life, from a constrained childhood to adulthood, where tragedy propelled her to find her photographic gift as a way of coping and learning to notice the magical moments in life. The writing is poetic, accented with notes of Mexican Spanish, conveying what she sees: the lives of peoples who don't always fit in — or don't fit how a dominant culture says they should. Indigenous cultures, home traditions, life and death, and nature all blend together, as people who are normally considered invisible are made visible and elevated with the magic of photography.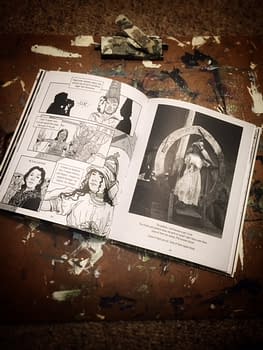 I would recommend this book to pretty much anyone. It's a blessing to be able to learn about another person's life and works, as well as to explore what other people see in the world. There's darkness and death; but it's not a morbid story. It's about learning to find who you are and be brave and true to yourself, and finding beauty in forgotten places and people.