D&D Without the Scariness – Adventure Zone: Here There be Gerblins, Reviewed
[rwp-review-recap id="0"]
The Adventure Zone: Here There be Gerblins is a graphic novel based on the first storyline in the McElroy's Adventure Zone podcast, where the family (Clint, Justin, Travis and Griffin McElroy) play D&D (and later, other tabletop RPGs), and you get to enjoy their antics. This is a humorous, brightly-colored and colorful tale of a trio of adventurers is a delightful bit of fun, the perfect reading for pretty much any time you need a break from the oh-so-serious, gloomy and doomy real world. You do not need to be familiar with Dungeons & Dragons to enjoy this book.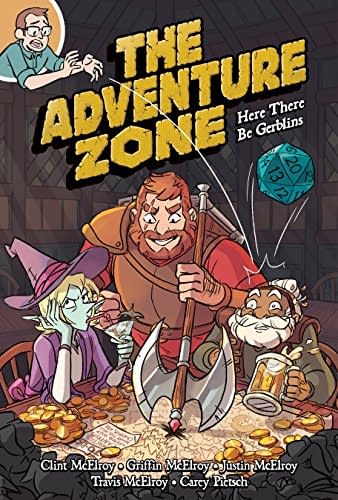 Here be Gerblins is a decent read, coming in at 256 pages, and took me several hours to read over the course of two days. Familiar with its namesake podcast, it was interesting seeing how the artist, Carey Pietsch, turned the book into something refreshing and just as delightful as the irreverent, profane and goofy podcast.
If you're tired of the gloom and doom, and would love some high-fantasy and fourth-wall breaking silliness in your life, this is the book for you. If you need a break from massive epics with political machinations that span generations and continents, this is for you. If your heart has a place for murder hobos, and Mexican food jokes, this is the book for you. And if you'd like to introduce your pals to the fun and insanity that D&D is, without scaring them away… this is the book for you. It really was a delightful and fun read, and something I would heartily recommend to most.
[rwp-review-ratings id="0"]
[rwp-review-form id="0"]