Porcelain Offered By Diamond In July, Thanks To Improper Behaviour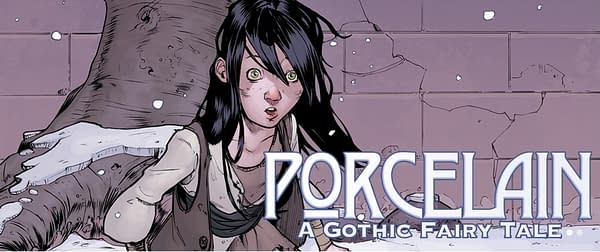 Alasdair Stuart writes for Bleeding Cool;
Porcelain, the first release from Improper Books, has made a hell of an impression since release. Written by Benjamin Read with art by Chris Wildgoose, Andre May and Alexa Rosa and letters by Jim Campbell, it was initially offered for sale through Page 45 and the branches of Travelling Man. Porcelain has now sold out at the printers and the only copies left are any the stores have left.
It's no surprise either, the book is fantastic. Here's how the Improper website describes it;
'Set within a world that's a darkly magical echo of our own. It follows the story of a street urchin, known as Child, who leaves the cold streets of a snowy city behind when she climbs the high wall into the Porcelain Maker's secret garden in a bid to steal whatever she can.
The Porcelain Maker discovers Child trespassing but, amused by her audacity, he offers her the chance to stay. He's a lonely man, kept company only by his alchemically-powered automata, and he and Child form an unlikely friendship.
Shut off from the world beyond the wall, Child wants or needs for nothing as the Porcelain Maker heaps affection and luxury upon her, indulging her like a daughter. In return, she can do as she pleases, except for one command, one rule that must never be broken, she must not look behind the workshop door.'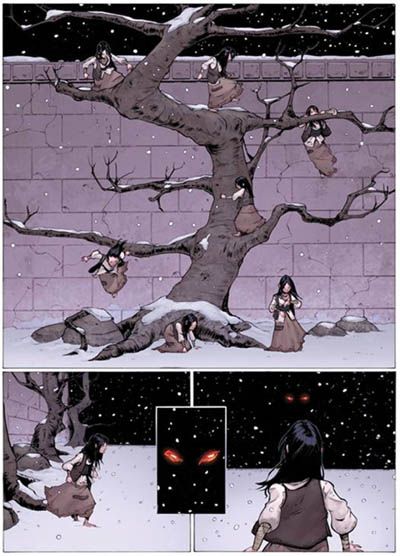 It's an excellent book that's garnered excellent reviews from Small Press Big Mouth, Down The Tubes, Page 45 and SFX (That one was me. Like I say, it's an excellent book.). With the critical response, to say nothing of pros like Kurt Busiek, Andy Diggle and Antony Johnston singing it's praises and the book selling out, Diamond have now picked it up. Matt Gibbs, of Improper, said:
'We've been getting fantastic feedback and support from creators such as Kurt Busiek, Andy Diggle and Antony Johnston. In addition, our own UK indie release in February via a handful of independent shops has been incredibly successful, and feedback from readers has been overwhelming.'
Porcelain will be released in July and has been given it's STAR code. So, if you want this, and trust me you do, go and see your retailer and give them this code:
MAY131178
Or get in touch with the nice people at Travelling Man and Page 45. If they have any left, they'll help you out too.