Nominative determinism is a phrase for the observation that people's names can often directly influence what they choos to do in life. There are more butchers with the surname Butcher than there would be by random chance.
Anyway. SFSX (Safe Sex) is a new comic book series written by Tina Horn. Previously a nonfiction writer and journalist whose work investigates sex work, queer identity, kink communities, and cultural criticism. And an educator dedicated to relationship communication, pleasure liberation, and ethical BDSM.
Drawn by Michael Dowling, who thankfully resisted the urge to work in interior fittings, it is to be published by Image Comics and up for Final Order Cut-Off this week. Which, yes, does sound like a dominatrix thing, but really isn't. Unless you are picturing Steve Geppi in a gimp mask.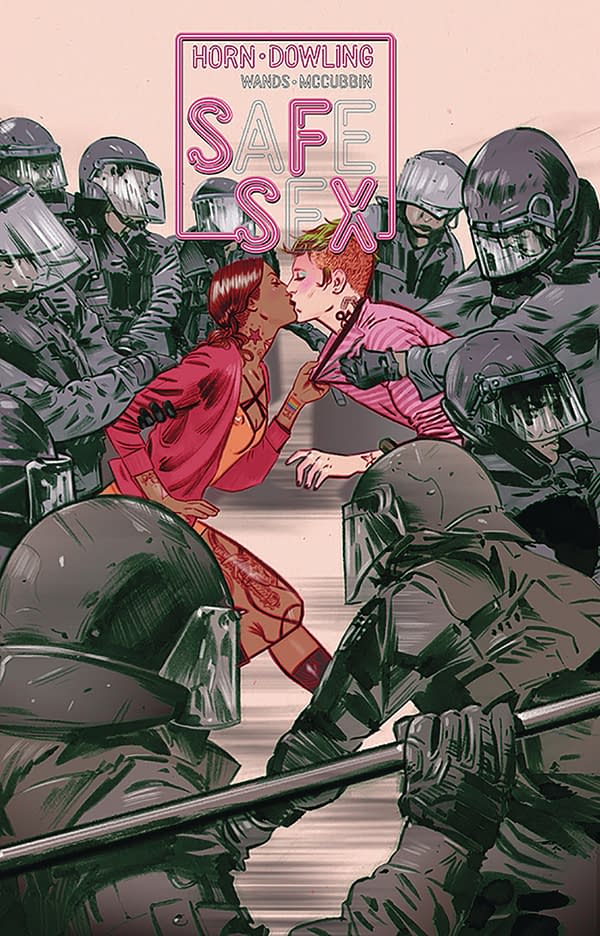 SFSX (Safe Sex) is set in a world where sexuality has become bureaucratised, where there are purity surges, form-filling and a narrow form of feminist thinking has been singularly institutionalised.
The comic was initially launched as coming from DC Comics/Vertigo, but as we've seen, the only penis DC Comics can publish in their comics is a blue one, recent purity surges of their own after the publication of Batman Damned saw the series dropped, and picked up by Image Comics.
Here's a little preview… with a few amends for our own editorial guidelines. Sorry. The first issue will be fully returnable to registered retailers as part of Image's Risk Number One programme.
SFSX SAFE SEX #1 (MR)

(W) Tina Horn (A) Michael Dowling (CA) Tula Lotay
SERIES PREMIERE

Notorious kink writer TINA HORN teams up with artist MICHAEL DOWLING (Unfollow, Death Sentence) for SFSX, a social thriller about sex, love, and torture that reads like SEX CRIMINALS in Gilead crossed with Oceans 8-with a SUNSTONE twist!

In a draconian America where sexuality is bureaucratized and policed, a group of queer sex workers keep the magic alive in an underground club called the Dirty Mind. Using their unique bondage skills, they resolve to infiltrate the mysterious government Pleasure Center, free their friends, and fight the power!In Shops: Sep 25, 2019
Final Orders Due: Sep 02, 2019
Enjoyed this article? Share it!