Posted in: Comics, Marvel Comics | Tagged: Comics, entertainment, punisher
---
The Punisher Has Words For Police Who Use His Skull Logo (#13 Spoilers)
It has been noted that the US police and members of the US armed forces often seem to have an affinity for Marvel Comics' The Punisher character. A psychologically traumatised veteran going around the streets blowing away criminals. You can see how it might make for an emotional release, escapist fantasy, but when they start actually wearing the logos and referring to themselves in such terms, you can see why it may be worrying.
Creator of the Punisher, Gerry Conway, has been known to despair about this,
"The vigilante anti-hero is fundamentally a critique of the justice system, an example of social failure, so when cops put Punisher skulls on their cars or members of the military wear Punisher skull patches, they're basically sides with an enemy of the system. They are embracing an outlaw mentality. Whether you think the Punisher is justified or not, whether you admire his code of ethics, he is an outlaw. He is a criminal. Police should not be embracing a criminal as their symbol. In a way, it's as offensive as putting a Confederate flag on a government building. My point of view is, the Punisher is an anti-hero, someone we might root for while remembering he's also an outlaw and criminal. If an officer of the law, representing the justice system puts a criminal's symbol on his police car, or shares challenge coins honoring a criminal he or she is making a very ill-advised statement about their understanding of the law."
The Punisher's logo became a symbol of 'Blue Lives Matter' picking up on the iconography of American Sniper, the 2015 film based on Navy SEAL veteran Chris Kyle's life.
In 2017, according to the Lexington Herald-Leader, the Catlettsburg Police Department, added the Punisher skull, complete with Blue Lives Matter slogan and flag decal, to eight of its vehicles. The city council and mayor approved the designs, funded by local taxpayers and part of a statewide effort to legally safeguard "Blue Lives Matter," a pro-police movement, including a bill (which passed the House earlier this month) that would make attacking police officers a hate crime. But they removed some decals from their police cars after a series of complaints about how inappropriate it was for police officers to pay tribute to a cold-blooded killer.
Not everyone removed theirs though. "The Punisher symbol on the patrol vehicles of the Solvay Police Department, while similar to the symbol featured in Marvel comics, is our way of showing our citizens that we will stand between good and evil," said New York police in a statement about their decision to keep them on their cars.
Well, today, The Punisher made his own views clear. In Punisher #13 by Matthew Rosenberg and Szymon Kudranski, Frank Castle is back in New York and comes face to face with those police…
…who don't have quite the reaction he was expecting.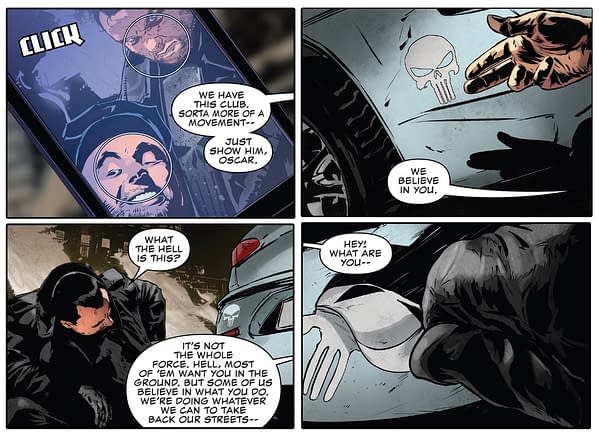 He's… peeling off the decal?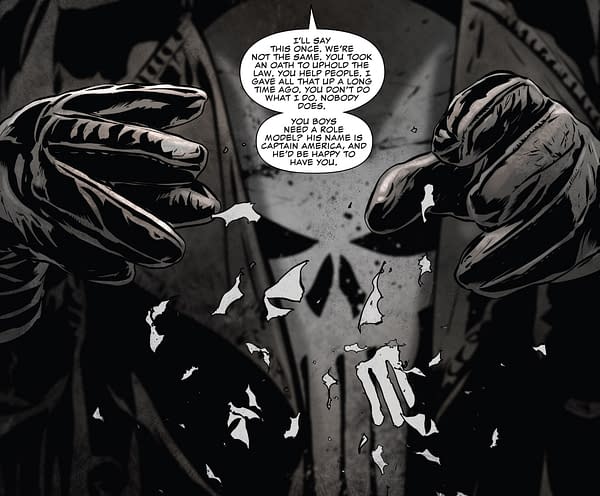 And ripping it into pieces?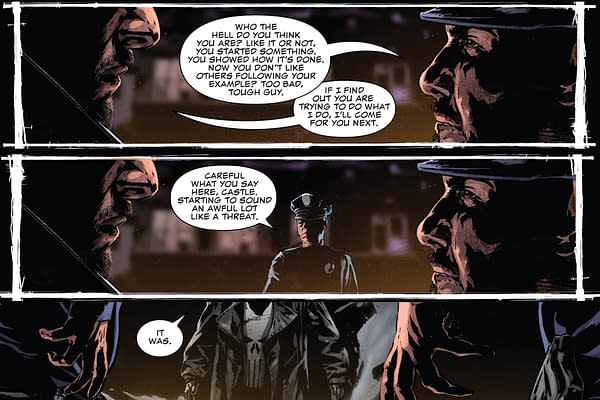 It was… will any take it to heart?
PUNISHER #13
(W) Matthew Rosenberg (A) Szymon Kudranski (CA) Greg Smallwood
THE HOME FRONT! Frank Castle is back in New York, but being labeled an international terrorist has made it an inhospitable homecoming. One man who is certainly not happy Frank's back: NYC's new mayor, Wilson Fisk, the "former" Kingpin of Crime. And Baron Zemo's not done with Frank yet…
Parental Advisory In Shops: Jul 03, 2019 SRP: $3.99
---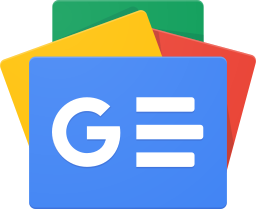 Stay up-to-date and support the site by following Bleeding Cool on Google News today!