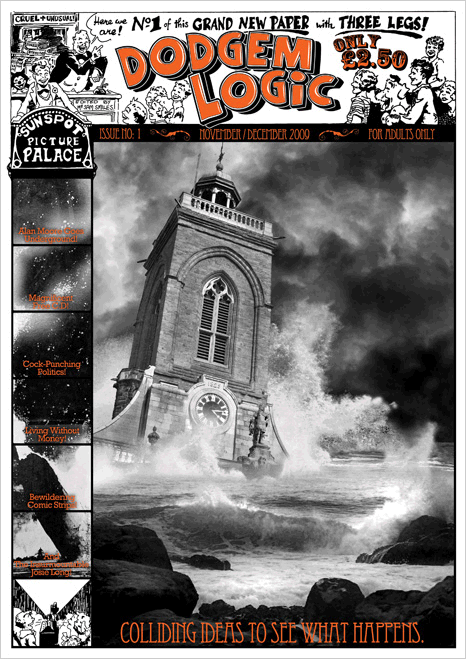 Alan Moore's first published work was in fanzines, such as the oft-sought after Embryo series he wrote and edited back in 1970. When he worked for Marvel UK, he would run fanzine reviews in comics such as Daredevils. And, in reaction to the government Clause 28 legislation, he self published and edited the AARGH anthology, as well as the first issue of Big Numbers. And while he has been published by the biggest and the best, he has repeatedly of later disowned working for big corporate publishing, his current work restricted to Avatar, Top Shelf and Knockabout.
And now he's back to square one. Dodgem Logic is a new bi-monthly fanzine created by Alan Moore which, in a press release, he calls "the 21st century's first underground magazine from his home town of Northampton" to be published by Knockabout, the UK publishers of The League Of Extraordinary Gentlemen: Century.
Dodgem Logic will use Northampton-based talent as well as "numerous friends and co-conspirators from comic books, the arts or entertainment" including Kevin O'Neill, Edward Pouncey, Graham Linehan, Josie Long, Steve Aylett, Dave Hamilton and Melinda Gebbie and is described as providing "a splash of subterranean exotica in a bleached-out cultural and social landscape."
A forty page colour mag, it will have an eight-page section devoted to local Northampton interest, and the intention is to invite other areas to publish their own versions by adding their own local inserts.
Bagsy London.
Dodgem Logic will include recessionary-conscious columns from cheap recipes, medical advice, cheap clothing creation, "guerilla gardening" and living without money. Though you will need to find £2.50 ($4) for each issue. And the first issue comes with a free CD full of Northampton music over fifty years. Moore realises that if the cover by Tamara Rogers is to reference British comics of old, there needs to be a free gift with the first issue, and this is a step up from a cut out mask…
Issue one of Dodgem Logic will be available from November. Enquiries should be made to Knockabout Comics.
Enjoyed this article? Share it!