AMC's 'Better Call Saul' Season 4 Preview: Nacho Looks to Cover His Tracks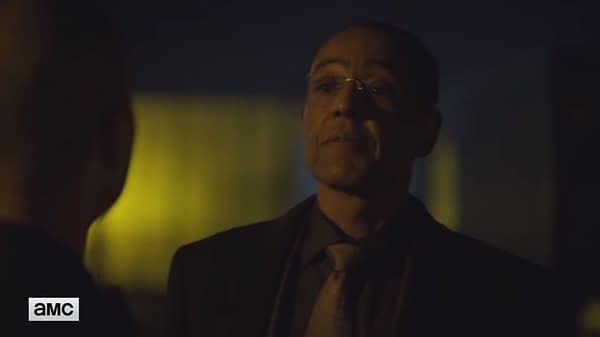 With less than a week to go before Breaking Bad prequel/mini-sequel series Better Call Saul returns for a fourth season run and only days after the network announced that it was renewing the Peter Gould/Vince Gilligan series for a fifth season, AMC is offering us a sneak preview of what viewers can expect when the season premiere, 'Smoke', drops on Monday, August 6th at 9 p.m. ET/8 p.m. CT.
After Ignacio "Nacho" Varga's (Michael Mando) move against Hector Salamanca (Mark Margolis) doesn't go as planned, Nacho's left to cover up his actions by cleaning up the evidence — and deal with Gustavo "Gus" Fring (Giancarlo Esposito), whose own plans for Hector might just have to be adjusted…
Better Call Saul s04e01 'Smoke': Jimmy struggles to cope with Chuck's tragic death; Mike ponders his role at Madrigal; Howard makes a startling confession.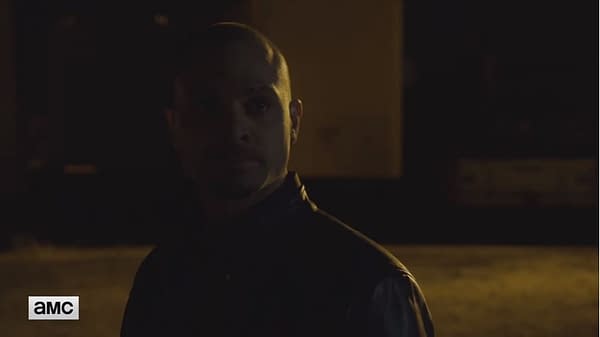 In Better Call Saul's fourth season, Chuck's death catalyzes Jimmy McGill's transformation into Saul Goodman. In the wake of his loss, Jimmy takes steps into the criminal world that will put his future as a lawyer — and his relationship with Kim — in jeopardy. Chuck's death deeply affects former colleagues Howard (Patrick Fabian) and Kim as well, putting the two of them once again on opposite sides of a battle sparked by the Brothers McGill; while Mike takes a more active role as Madrigal Electromotive's newest (and most thorough) security consultant.

It's a volatile time to be in Gus Fring's employ, as Hector's collapse sends shock waves throughout the Albuquerque underworld and throws the cartel into chaos — tearing apart both Gus and Nacho's well-laid plans. While Gus changes course, Nacho finds himself in the crosshairs of deadly forces.
Better Call Saul stars Bob Odenkirk, Jonathan Banks, Rhea Seehorn, Patrick Fabian, Michael Mando, and Giancarlo Esposito. Gould, Gilligan, Mark Johnson, Melissa Bernstein, Thomas Schnauz, and Gennifer Hutchison serve as executive producers. Created by Gilligan and Gould, the series is co-produced by Sony Pictures Television and AMC Studios.
"I get to sit up here and unabashedly say now that I'm a bit removed, this show is just so damn good. I could never sit on these panels and say that before because it sounded like a jagoff. Season four is just so good. Everyone on this panel did such great work. I can't believe the level of quality on this show. It gets darker, it gets richer. It's still got has funny in it. God forbid that would ever go away completely. But on the venn diagram of "Breaking Bad" and "Better Call Saul"…the overlap in the center is getting bigger and bigger." – Vince Gilligan, Executive Producer/Co-Creator