'Brooklyn' 9-1-1, 'Lethal' Recast, Cobra Kai, Sharknado, and More! [The Weekly Static s01e39] Let me get this straight, do you want me here — as I struggle through each and every year? And all these demons, they keep me… The Weekly Static!
With much love and respect to the fine fellas of Blink-182… which is a lot more than Punky Brewster's (Soleil Moon Frye) friends and family got after they were knocked off serial killer-style in the 1985 episode 'The Perils of Punky': The Weekly Static is Bleeding Cool's look at the past week in the land of the networks, cable, streaming, smoke signals, cloud formations, and shadow puppets from an interesting and entertaining perspective. So The Weekly Static's "The Five Musketeers" (myself, Rocky, Trejo, Bat-Murr and Margo Staten) makes you these three promises:
● Offer blunt, honest perspectives on five TV topics from the past week covered by Bleeding Cool's team of news-thirsty writers. Just to be clear? My views are my views and don't reflect on the writers. We own what we say 110%.
● Spotlight a news item that we missed when it first hit, but we're pretty sure you'll want to know about.
● Feed my insatiable-yet-fragile ego with buckets of praise, adulation, social media shares, pizza, Superman Funkos, Eisner Awards, at least one write-in vote for the 2020 U.S. Presidential Election… and the green, green grass of home!
Lethal Weapon Reportedly Recasting Lead in Hopes of Saving Series
SCTV Netflix Documentary Directed by Scorsese Gains Rick Moranis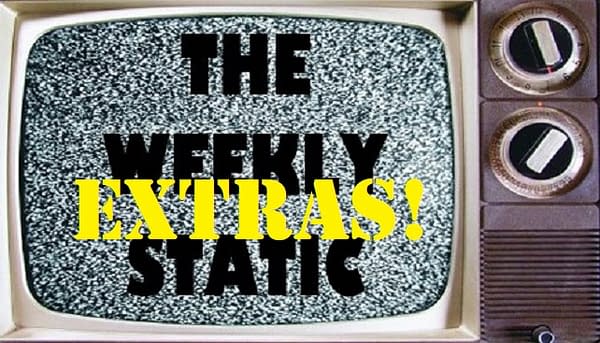 Fox Picks Up Drama Pilot 'The Passage' Starring Mark-Paul Gosselaar To Series
"Fox has made its first pilot-to-series order of the upfront season with drama The Passage, starring Mark-Paul Gosselaar, from Liz Heldens, Matt Reeves, Scott Free and 20th Century Fox TV.

The Passage, based on Justin Cronin's best-selling fantasy book trilogy, is a retooling success story. Originally shot last summer, the pilot was reworked and partially recast and reshot this pilot season as three characters were replaced with new ones. The second pilot was very well received and had been considered the clear frontrunner on the drama side at Fox."